This blog post is all about a Snow in Love themed bridal shower.
A snow-in-love-themed bridal shower is an amazing bridal shower theme for the winter months. There are so many heartwarming ideas that really make this theme stand out.
For the most part, a snow-in-love bridal shower theme will take place indoors. We have the best ideas for this theme that you can implement right away.
In this blog post, we will review the best snow-in-love bridal shower ideas that the bride and the guests will love. By the end of this post, you will know everything you'll need for a snowy-themed bridal shower.
This post may contain affiliate links. That means I'll receive a commission if you purchase through my link, at no extra cost to you. Please read the full disclosure HERE.
Snow In Love Bridal Shower Invitations
When looking for winter bridal shower ideas, it's so easy to get into the holiday categories of party planning. That is not necessary because you could have a snow theme. A popular snow theme bridal shower theme is "Snow in Love."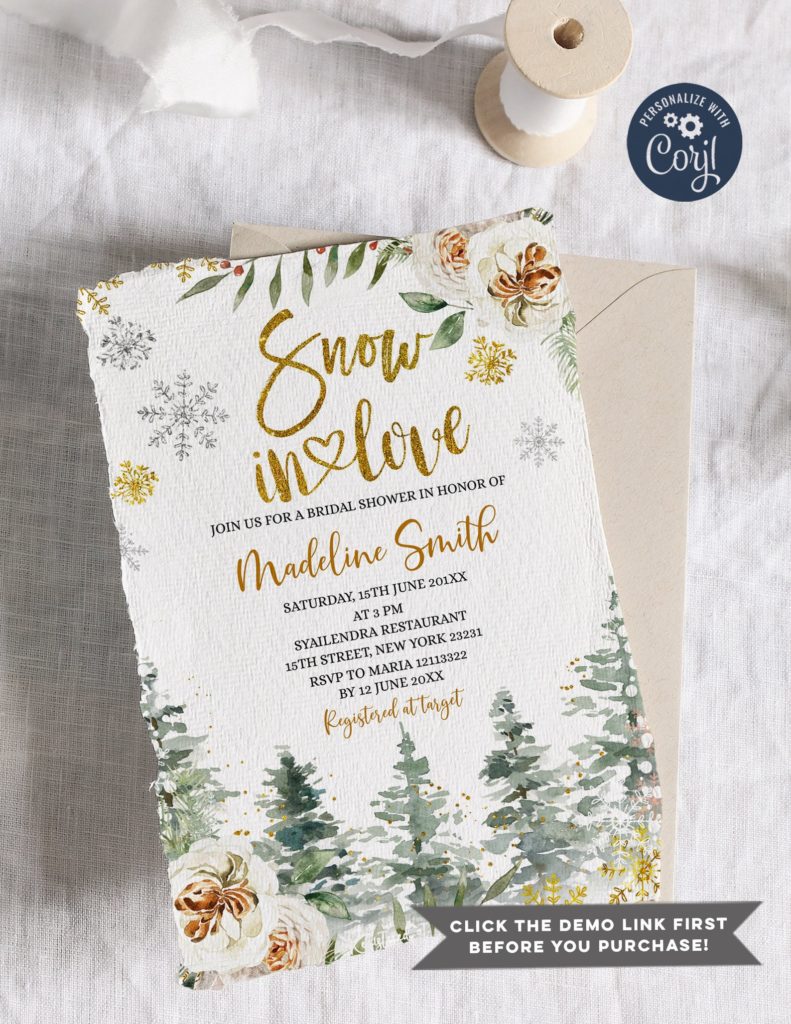 If you actually know someone who has the privilege of their last name is Snow. Please show them the ideas in this post. Even if they are not having a bridal shower, this makes a great anniversary or engagement party theme as well.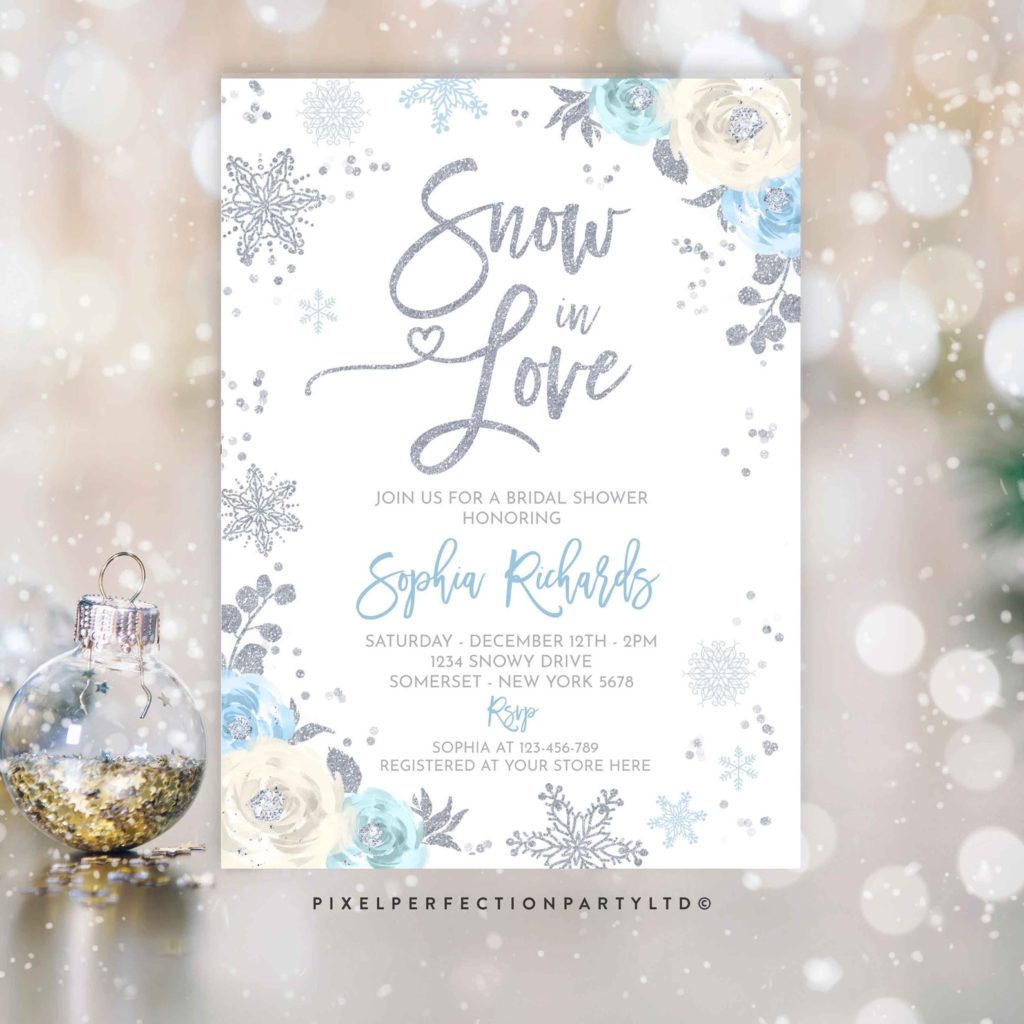 Snow in love bridal shower invitations will highlight the snowy weather. In this example, there are several sparkling snowflakes that really define this theme. Just reminds you of a winter wonderland and the beauty of this whimsical season.
Bridal shower invitations will also have cute sayings like "Snow much fun," "It's snow time," or "snow engaged." These are great ideas for signage. For example, the dessert table for a Snow In Love bridal shower could have signage that says "love at first bite."
Snow In Love Bridal Shower Decorations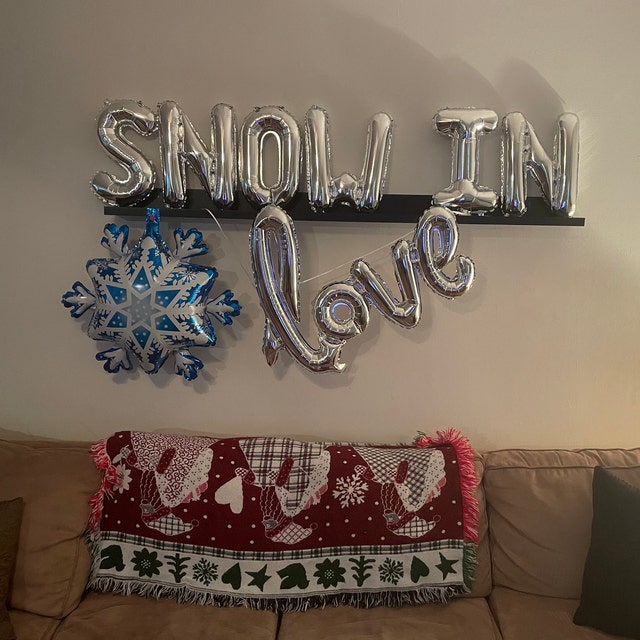 There are a variety of balloon options for a snow-in love bridal shower. Options include silver and gold letter balloons on Etsy. You could combine that with some snowflake-shaped balloons or with a winter-inspired balloon garland.
An example of a snow-inspired balloon garland will have a mix of white, light blue, and silver balloons. You could also add some evergreen leaves if you want them to be extra festive. Use it at the front entrance of the event or on a wall above the dessert table.
This snow-in-love winter table setting is the perfect color palette. Love the mix of the red and green that shows holiday time, but they also have the blue and white that really highlights the winter theme.
If you don't want to use a holiday-inspired table setting, you could use the same color scheme as the balloon garland we mentioned earlier. For example, a white table cloth, a blue table runner, and silver accessories (candle holders and tableware) are a good look for this theme.
Snow in love banners is another great decor option for this theme. They are so easy to find and you could even make them yourself. Our favorite place for themed bridal shower banners is the print shops on Etsy. They pay close attention to detail. You could even personalize your item and there are digital (PDF file) options available so you could DIY.
Snow In Love Bridal Shower Desserts
This wouldn't be a bridal shower without some sweet delicacies. Thinks like desserts and sweet treats are a must-have for a bridal shower. So let's talk about some of the amazing dessert styles you could copy for a Snow in Love event.
We adore these winter-inspired cookies. There are just so many things to love about them. There are Flannel snowflakes and champagne-shaped cookies, it doesn't get any better than this. This will be perfect for a flannel, fur, and fizz party.
These cookies are very clean and crisp. Delicious sugar cookies that show a bit of frost on the top. Love that they have some winter clothes-shaped cookies in the mix and the cookie with the wedding date on it looks like it has been sprinkled with snow.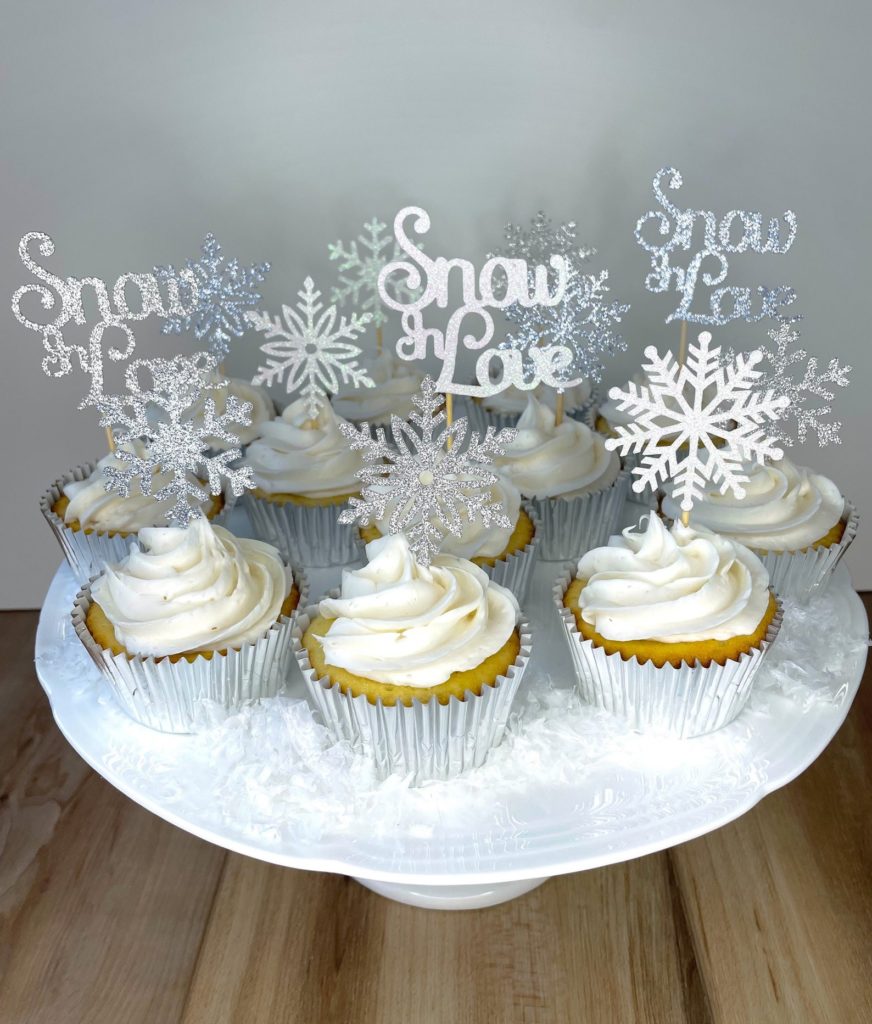 If you haven't read our blog post on bridal shower cupcakes, please check it out HERE. The possibilities are endless when it comes to cupcakes. They are just so cute and elegant and they are so easy to serve in comparison to cutting cake.
The Snow cupcake toppers are a great way to elevate the look for a bridal shower. In this example, they use some silver cupcake holders and silver glitter cupcake toppers.
Snow In Love Favors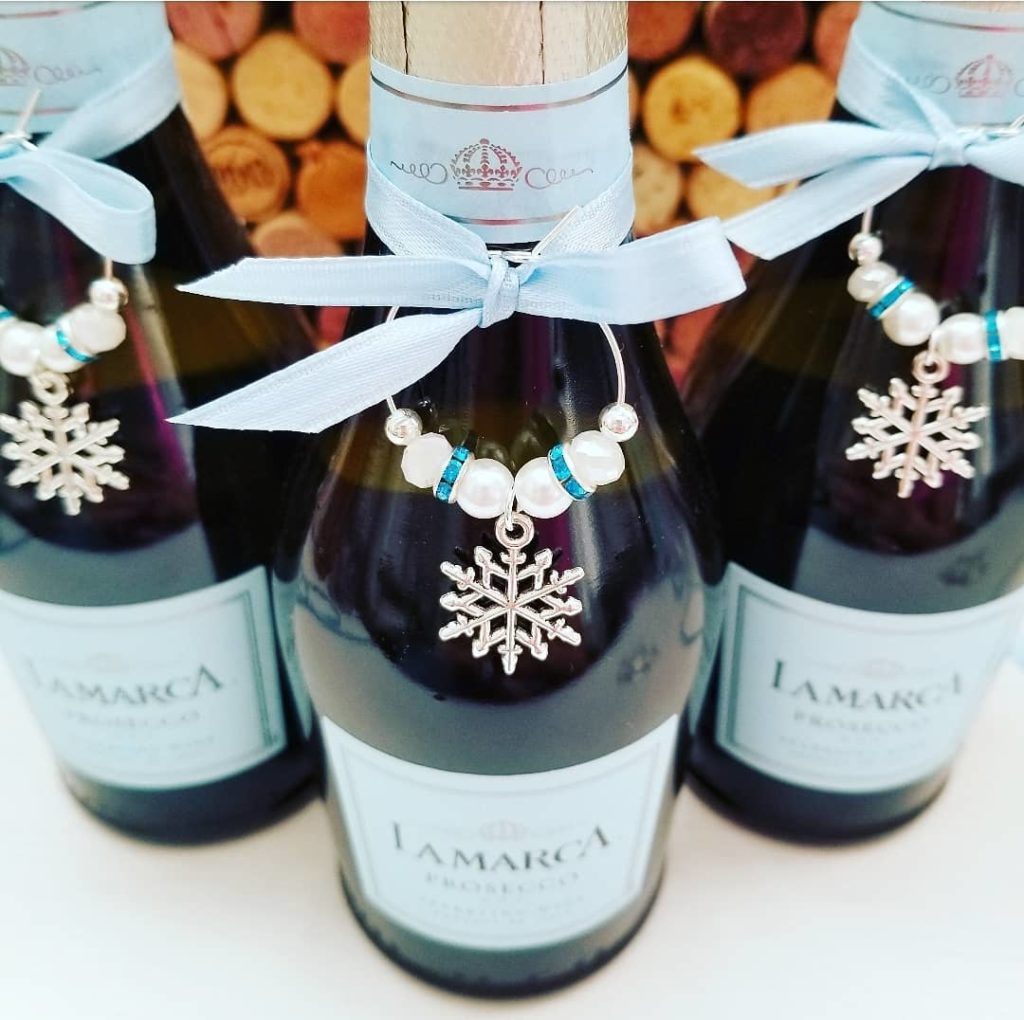 At most bridal showers the favors are typically candy or small souvenirs, but you could get really creative with favors with this theme. In this example, not only do you get a bottle, but you also get a cute snow keychain favor with it.