As soon as I opened the folder of photographs for today's wedding I fell in love. From the pale green Bettle, to the super cool Whistles suit worn by the bride and the quaint seaside setting – there's a lot to adore.
Please welcome Sammy, who works in London for Red Bull and Jack, a professional footballer at Wycombe Wanderers, who wed on 2 June 2021. The venue for their contemporary and intimate celebration was The Seafield Arms Hotel in Cullen, Scotland, close to where Jack's grandparents live and a seaside town which a lot of special memories for the couple.
"Cullen is a special place to us because Jack's grandparents have lived there their whole lives so it holds a lot of great memories, and it is a stunning little seaside town."
Photography Emma Lawson Photography
Sammy opted for a fitted, three-piece suit from Whistles, featuring a simple cami top, high-waisted, buttoned trousers and a long-line jacket.
The look is cool and trendy, whilst still bridal. Her gold, pendant necklace was her great-granny's.
The ceremony was held in The Seafield Arms Hotel and Sammy walked down the aisle together with her father.
"I couldn't have walked in with anyone else. It was to a song of ours, 'With Me' by Sum 41. That become our song back in our teenage years and we always knew that would be part of our wedding day."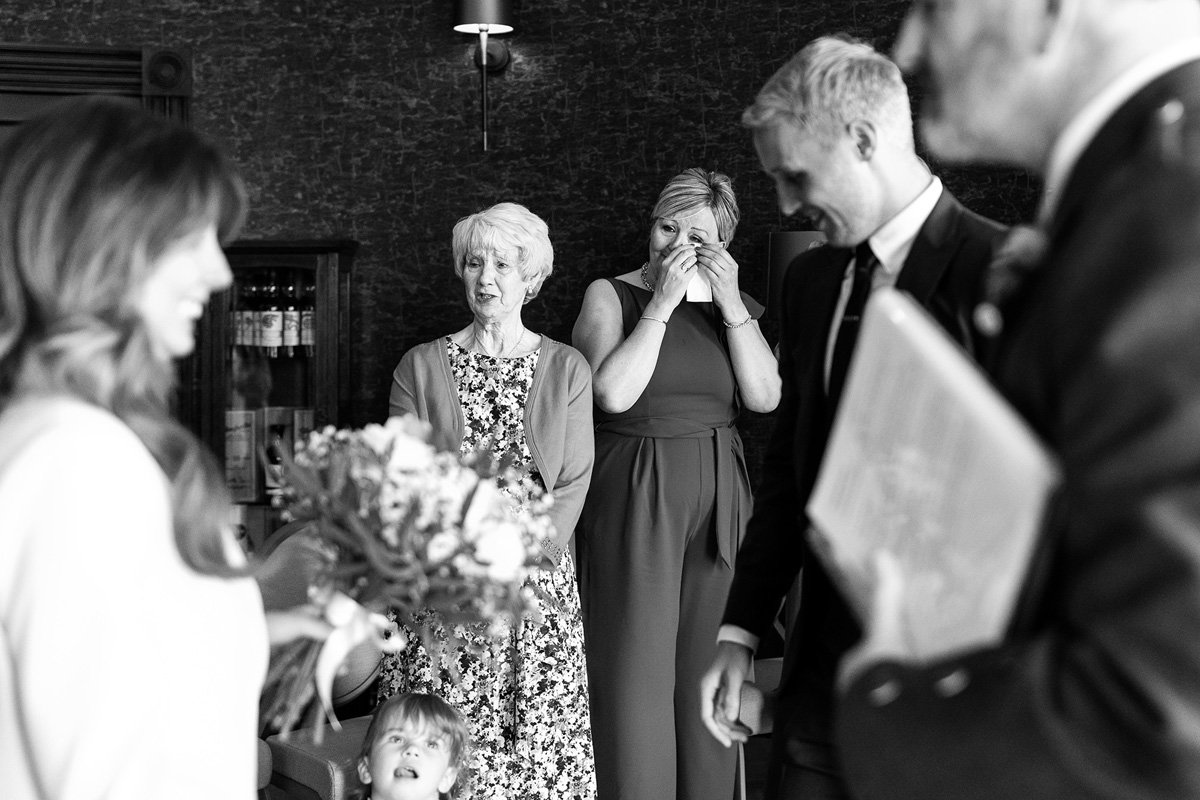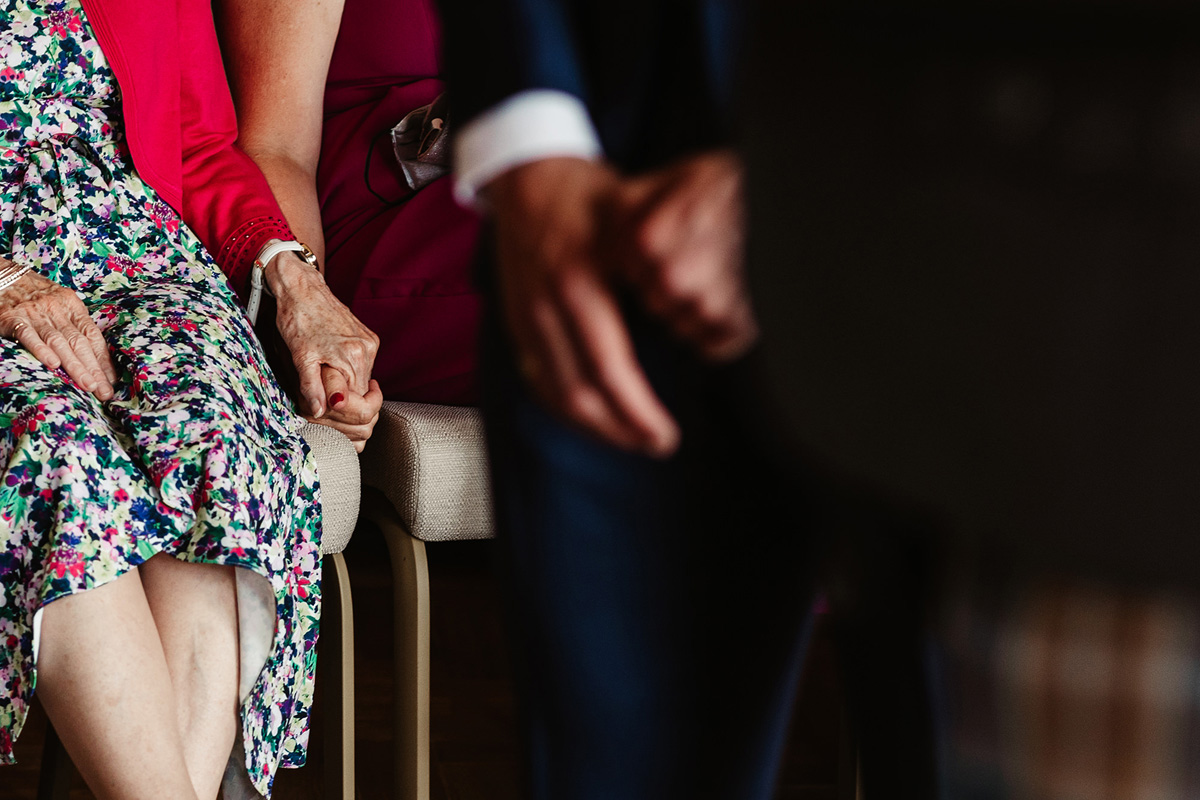 The groom's wedding band was from Tiffany and the bride's was a family heirloom.
"My wedding band was my grandma's. It was given to my mum on her and my dad's wedding day, then passed to me by my mum."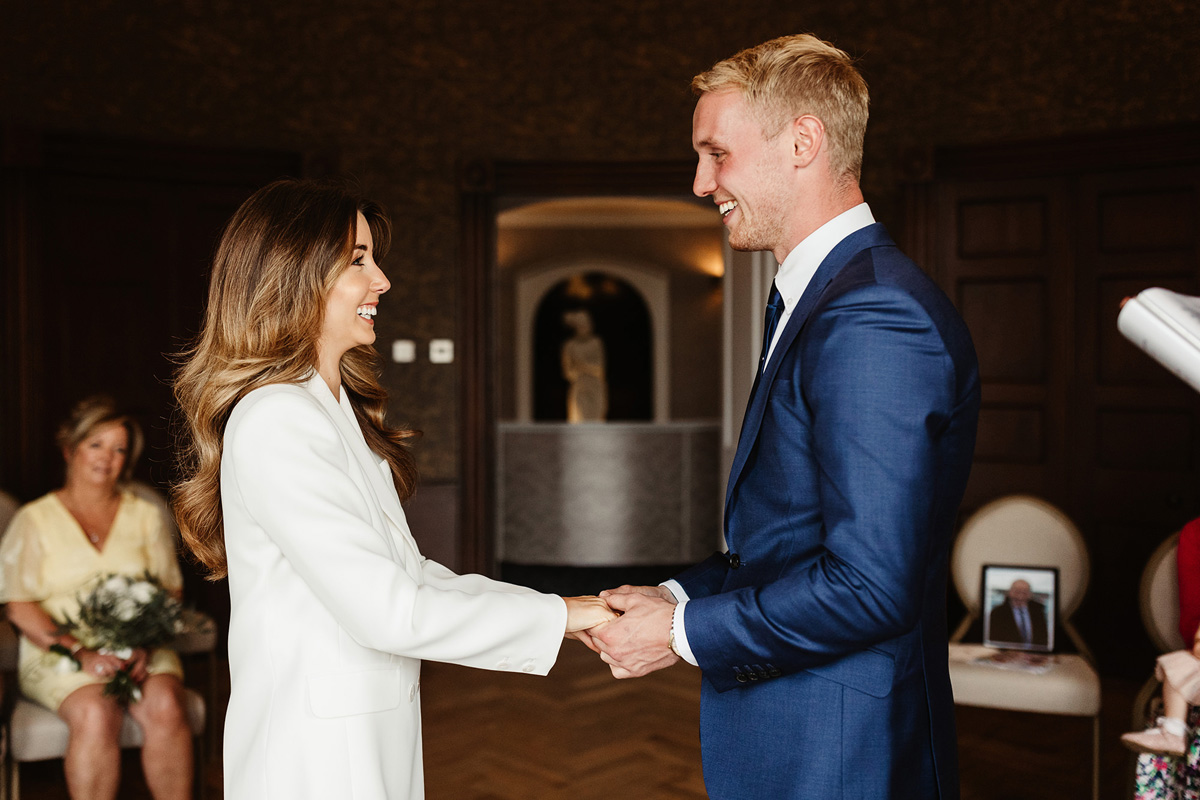 The ceremony was officiated by Neil Lynch and Jack and Sammy wrote their own vows.
"We had the best time writing these and would recommend it to anyone before they get married. Neil gave us 'Wedding Homework' which was each to write the story of us, what made us fall in love and what we were hoping for from our marriage. The rule was to do this separately then when both were finished, we had a nice meal at home with wine and we read it out to each other – EMOSH!"
Emma Lawson Photography's fresh, modern style shows off the seaside town and the beautiful couple so perfectly.
"Emma Lawson is the bloody BEST". We loved her natural style rather than formal, posed photos. I could not recommend Emma enough. As the day was so small too, Emma actually felt like she was part of our day."
Sammy and Jack met at school, at the young ages of thirteen and fourteen.
"We were always drawn to one another but meeting so young meant life took us in different directions for a while, especially when Jack moved to London for football."
"However, we were never long without contact and it was as if we both knew that when we were ready, we would make the commitment. When we were twenty, we had the conversation to make it official and that was it."
"Four years later, we got engaged in Santorini. Although we were still quite young, looking back, all our friends and families wanted to see the day coming for what felt like forever – any holiday we went on people were hoping for an engagement and I was the only person that seemed to have no idea Jack might have proposed that trip."
"Thankfully, Jack proposed on our private balcony overlooking the amazing views. He knew anything in public would not go down well with me."
The couple were engaged for three years and, considering Covid restrictions, opted for a small, intimate wedding ceremony with a larger celebration planned for summer 2022.
"We were engaged for three years before we got married and a lot happened in that three years. We both moved to London and were able to move into our first place together but spent a lot of time back up in Scotland, in and out of Covid lockdowns."
"Although it was a difficult few years for everyone, we were able to spend time with our families at home that we don't usually get with Jack's work."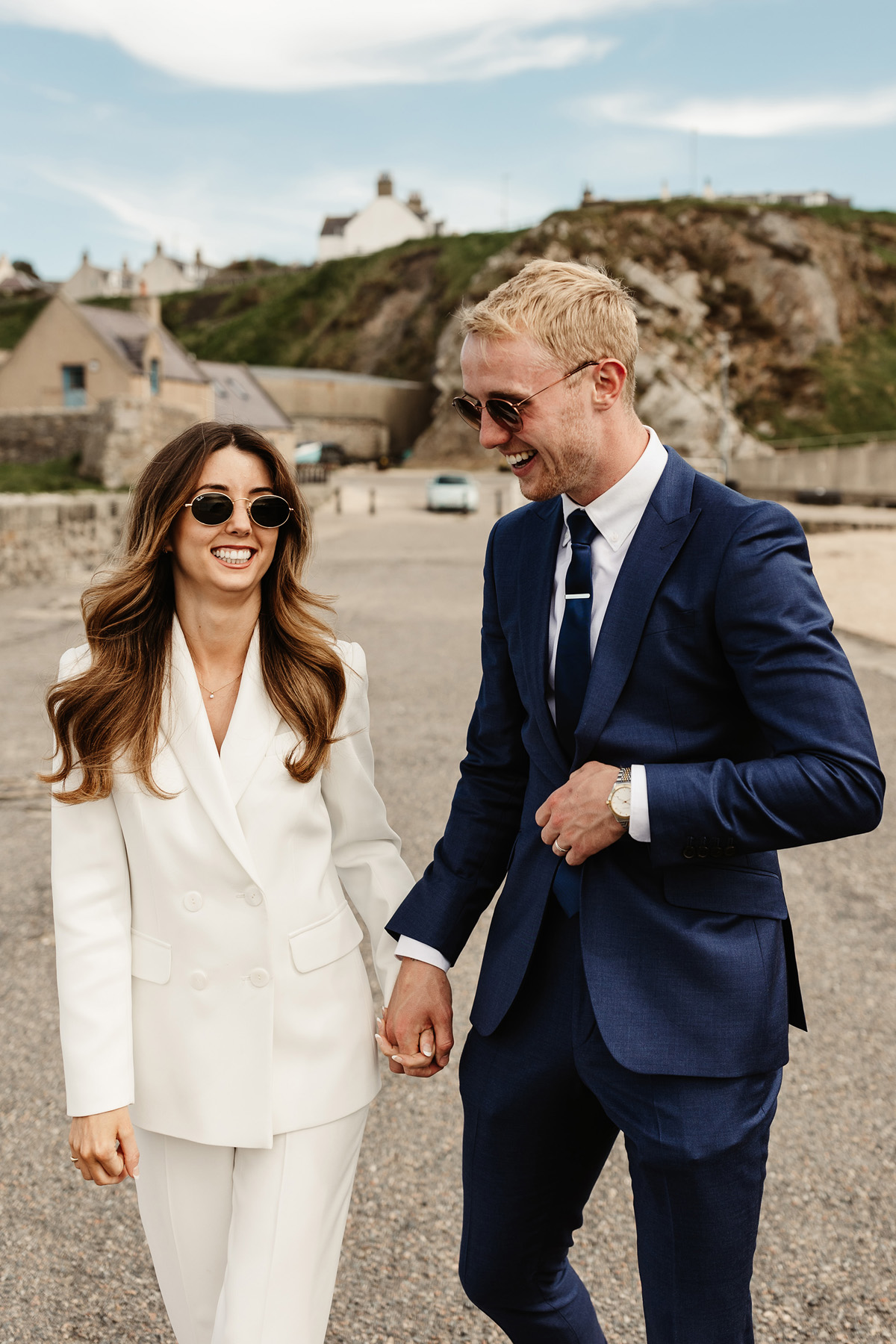 "When everything was up in the air with the pandemic we spoke one day about how excited we were to be husband and wife, and that's where the idea of ​​the day came from. We knew having it so small would reduce the possibility of Covid getting in the way and we saw it as an opportunity to be married but have some fun with it (hence the suits, trainers and shades!).."
"All our family wore shades too (even Jack's granny was rocking them!) and we loved that vibe. We know the day meant a lot to our immediate families too as we could spend the whole day together, something that isn't possible at a big wedding. We are planning a big celebration in June with all of our family and friends and we can't wait."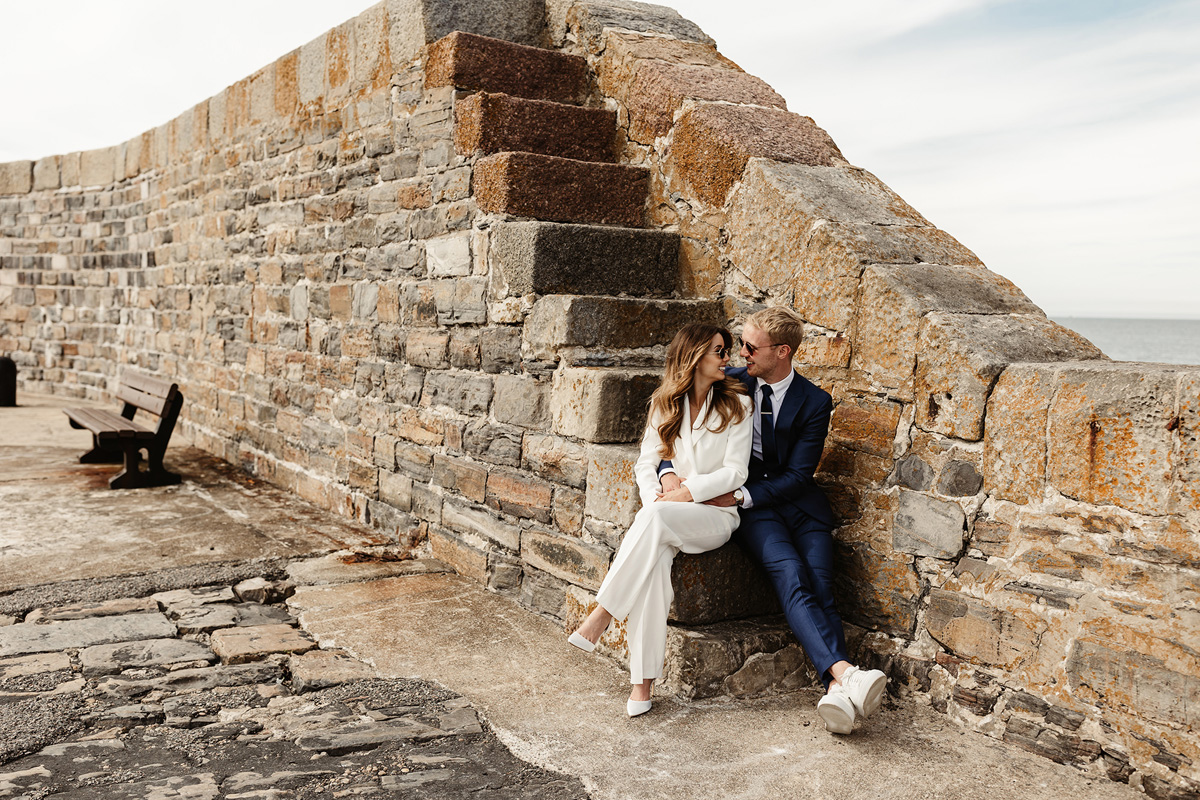 "The Seafield Arms was just amazing and very safe, but also realistic where it was safe to be flexible. For example, they allowed us to take off masks in the ceremony as we were in a room of only us, but the staff made sure to keep theirs on."
"They also had the usual measures in place which filled us with so much confidence."
Jack wore a navy blue suit and matching tie, both from Reiss, with box-fresh, white trainers.
"Jack's tie had a photo of his Granda on the inside, who sadly passed away a few months before the day. He also wore his Granda's wedding ring as a signet ring, which was really special. He still wears that today."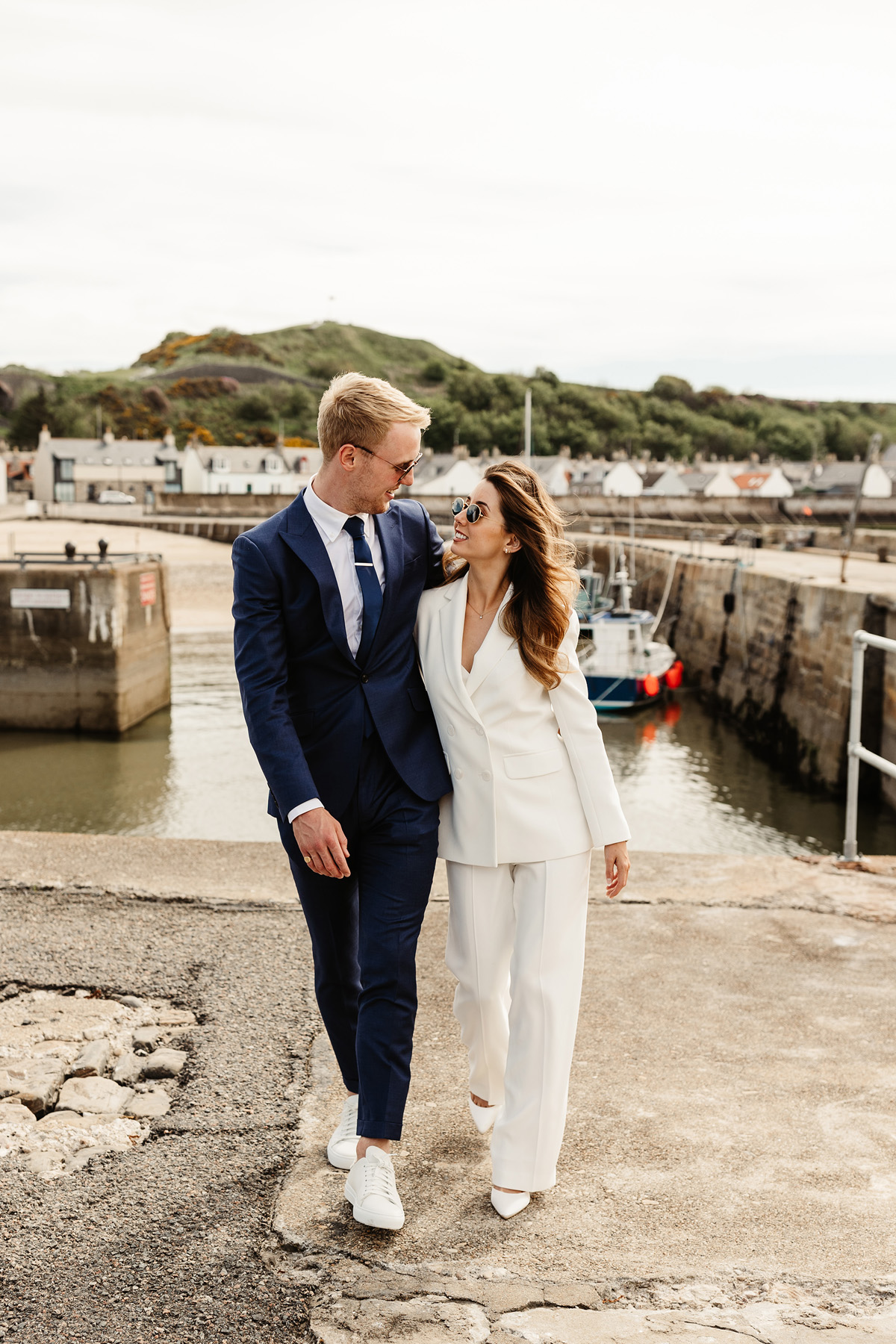 "We chose what we wanted to do but probably wouldn't have done at a traditional wedding, hence the suits and trainers. Jack wore braces on his shirt, which isn't something he would usually wear."
The reception table had been styled and dressed by Faye at Boho Belles, who also created the stationery suite.
"As it was a small, intimate day, we didn't feel the need to have an event planner. The Seafield Arms Hotel was so great at helping us with what we needed. Nothing was an issue for them and they wanted to make the day perfect. We did have a stylist who styled our table setting, Faye at Boho Belles, who was just amazing and so talented."

Words of Wedded Wisdom
"Don't forget the reason you are planning this day, to get married to the person you love. Weddings always bring unnecessary stress but it doesn't have to be that way – just enjoy it."
Lovelies, please join me in sending thanks and congratulations to Sammy and Jack on their wedding. I hope you have a glorious second celebration, too. Emma Lawson, it's been a joy to share your work here today, thank you.
For more seaside weddings, please do enjoy these Love My Dress features.
xx
.