I'm taking you to the beautiful, rolling moors of Devon in full summer today, where Phoebe and Alastair hosted a fun-filled, sail cloth tent celebration.
On 24 July 2021, teacher Phoebe wed chartered surveyor Alastair in a church followed ceremony by a sail cloth tent (via Sperry Tents) reception in the open spaces of Oak Tree Gardens, Ashprington, Totnes, Devon. The couple wanted a Devon wedding, close to where the bride's parents live, with a circus-like atmosphere, full of fun and dancing.
Photography Johnny Dent Photography
"I knew that I wanted to get married in Devon and to be near my parents, as this would be the only wedding to be at home."
"Devon has always been such a happy place for me growing up and luckily, Alastair felt the same way."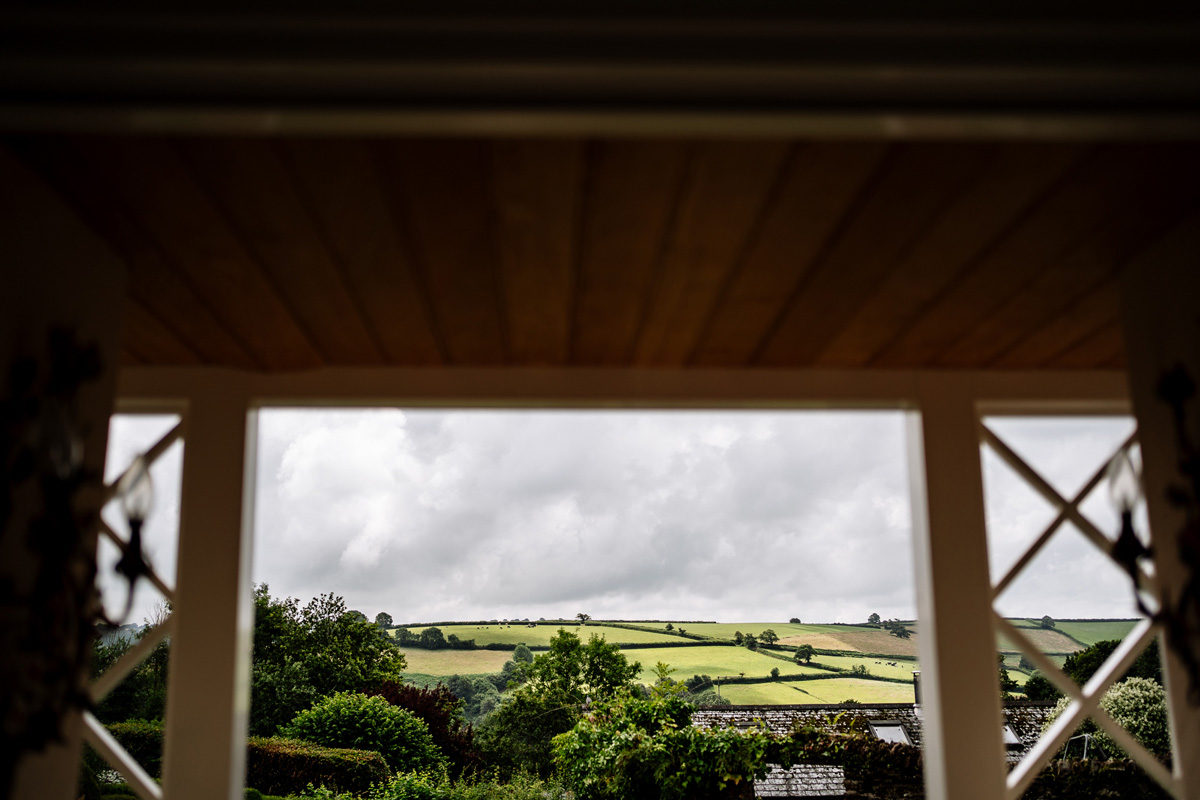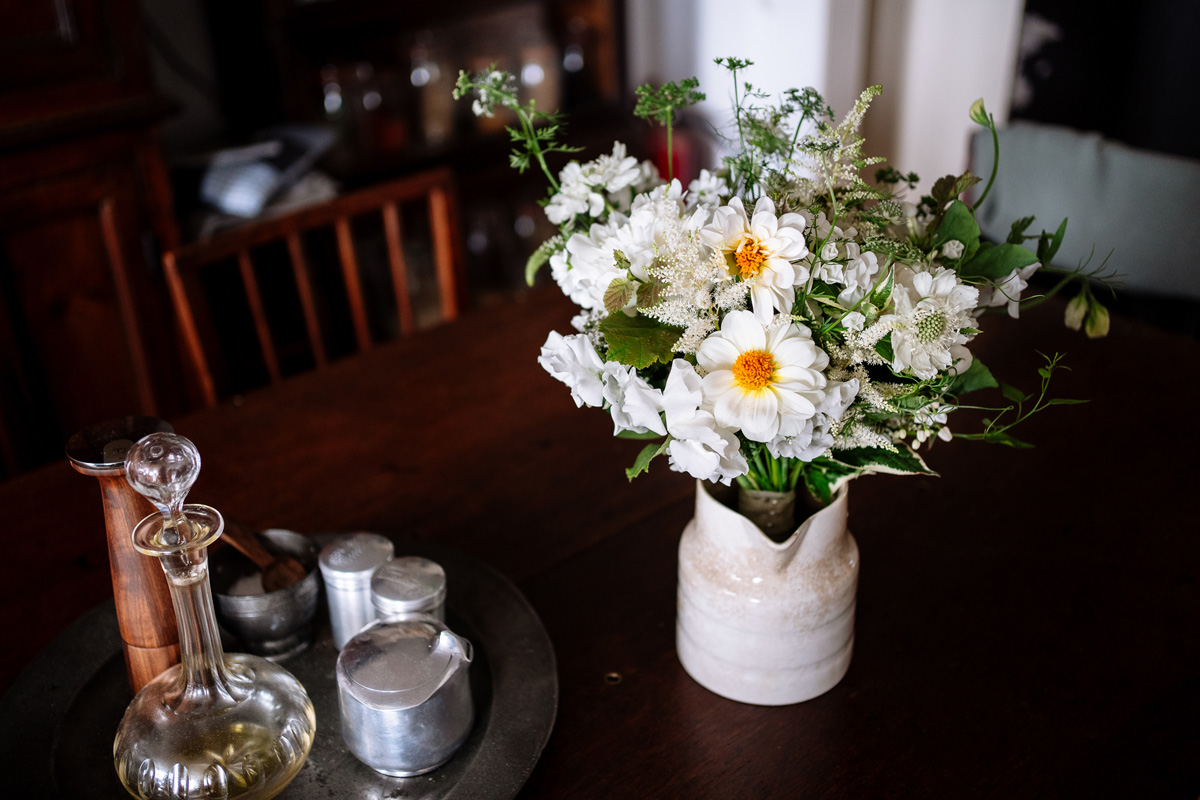 Phoebe applied her make-up herself and wore her blonde hair in an elegant low chignon, styled by her hairdresser Alan Kenny. Her perfume was by Sisley.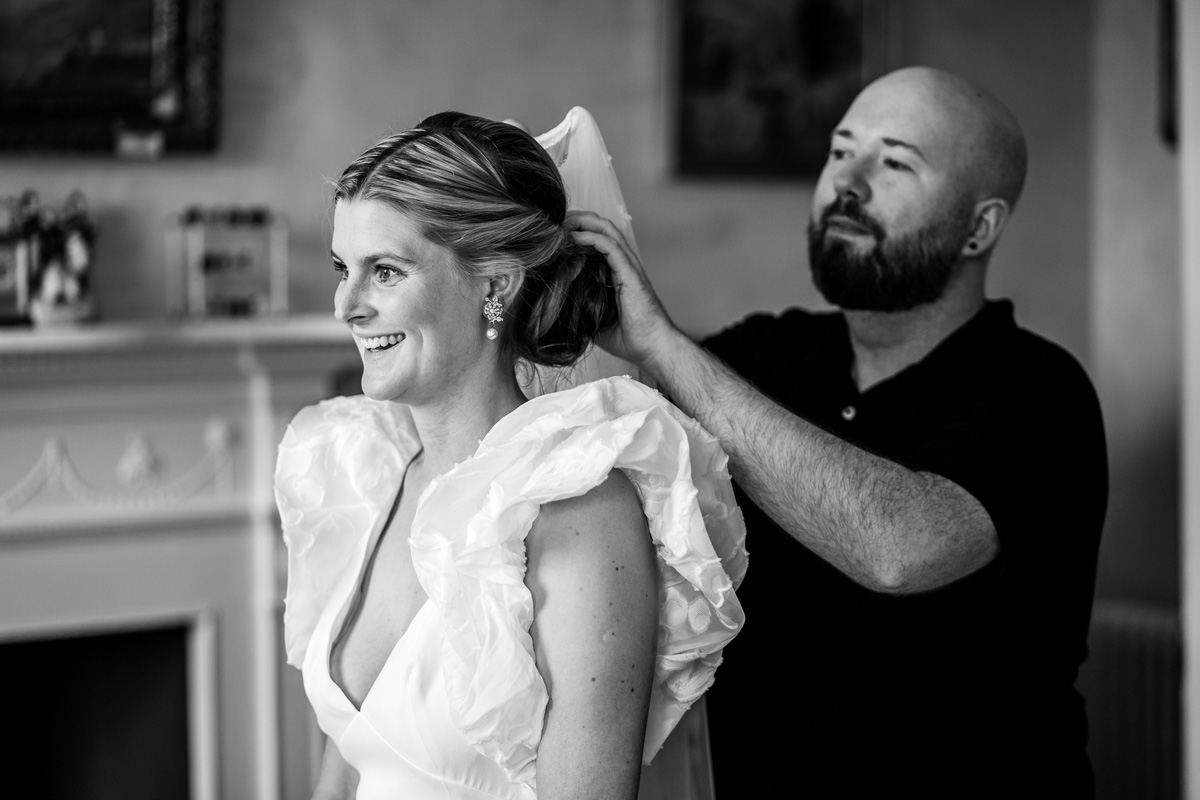 She made a dramatic statement with her Rime Arodaky gown, featuring a simple and elegant fitted body and train, plunging neckline and bold, structured ruffle sleeves.
"I got my dress through The Mews Bridal in Notting Hill. They were brilliant and very good at their job. They were honest about fittings and the whole process. They really liked the originality of the dress, shoes and veil. I even featured as their bride of the month for all these features."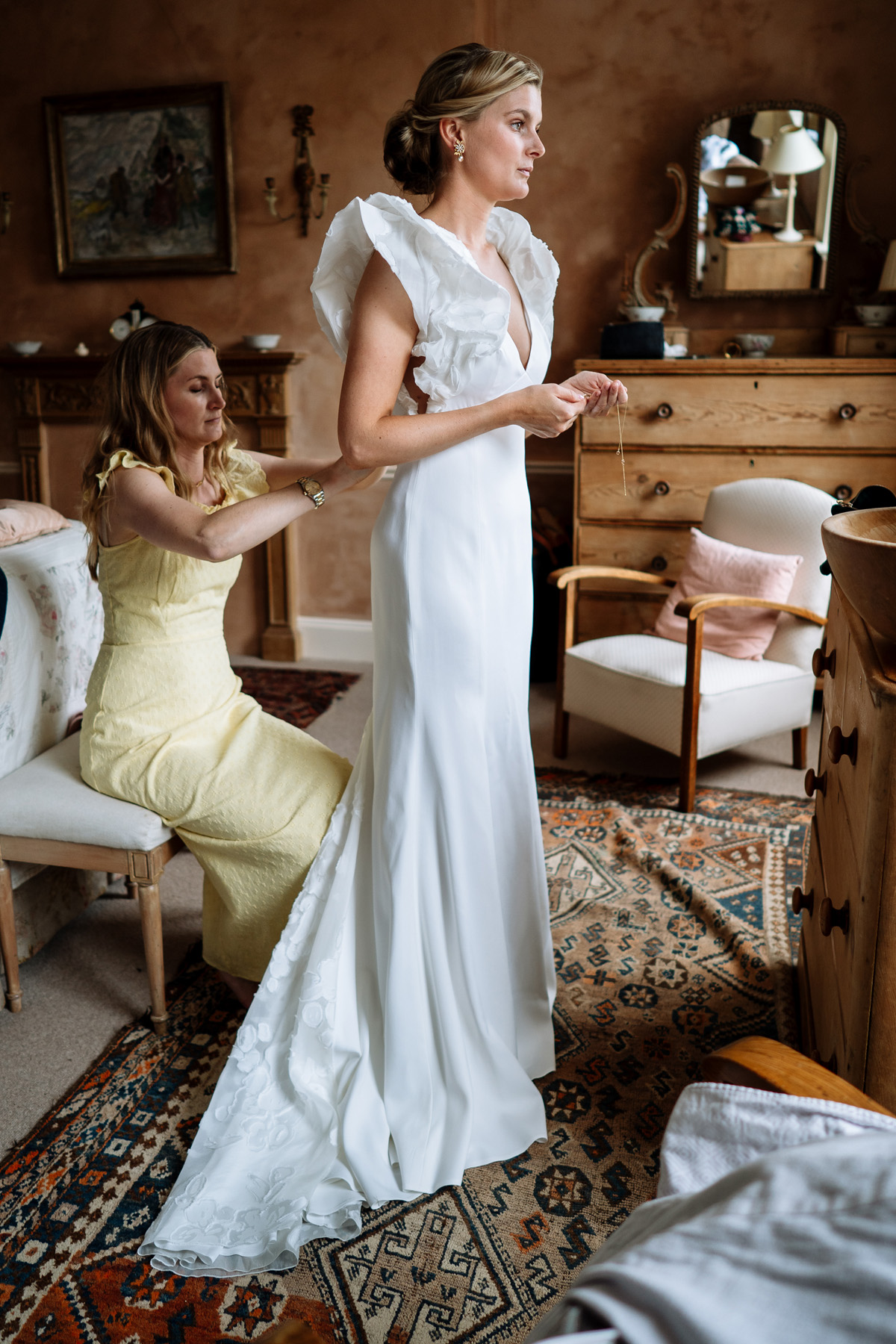 "I wanted something that resembled me; it was loud in places but simple in others. I loved the boldness of the sleeves and elegance of the dress and the subtle lace in the train and the way it fitted me."
"I paired the gown with a veil that had small flowers sewn in. I had it made via I Do Bridal, who I found on eBay. She was able to make what I had found for a fraction of the cost."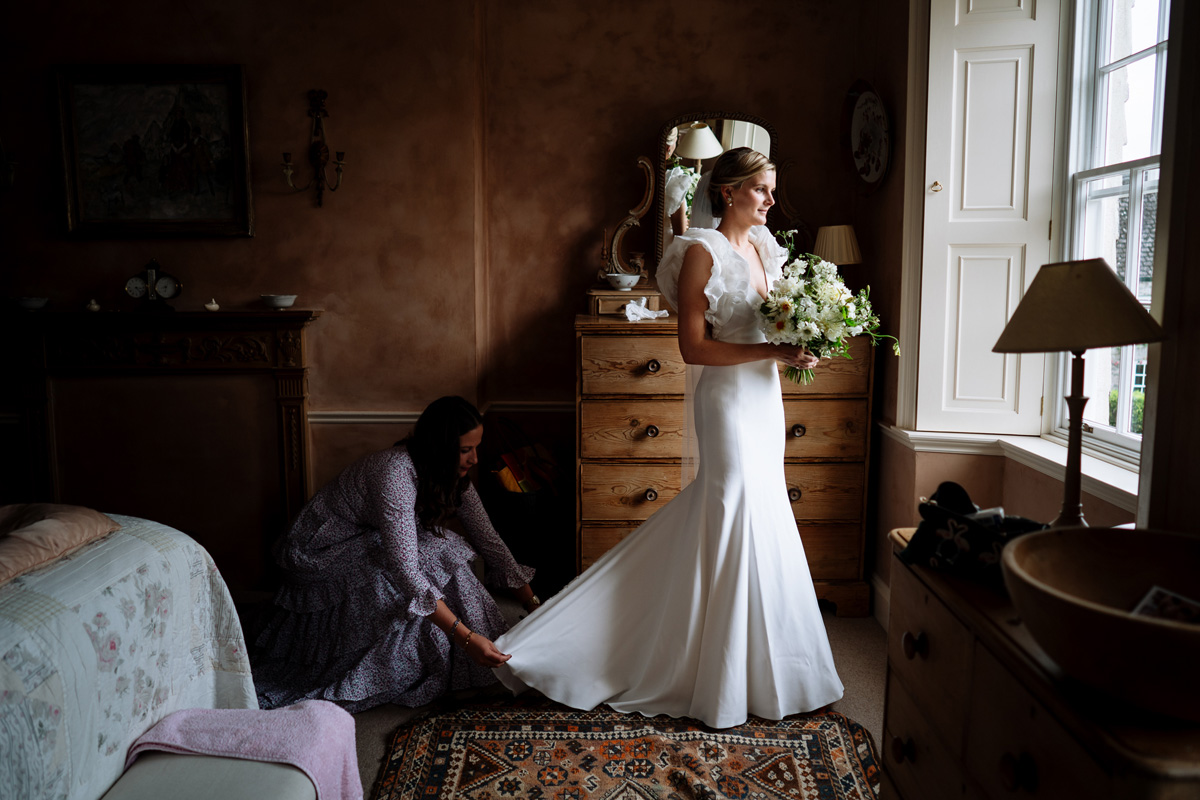 The bride added block heels in pink velvet from Roberto Festa and wore earrings from my mum to let the gown's beauty shine.
"They were some costume jewelry she had from years ago."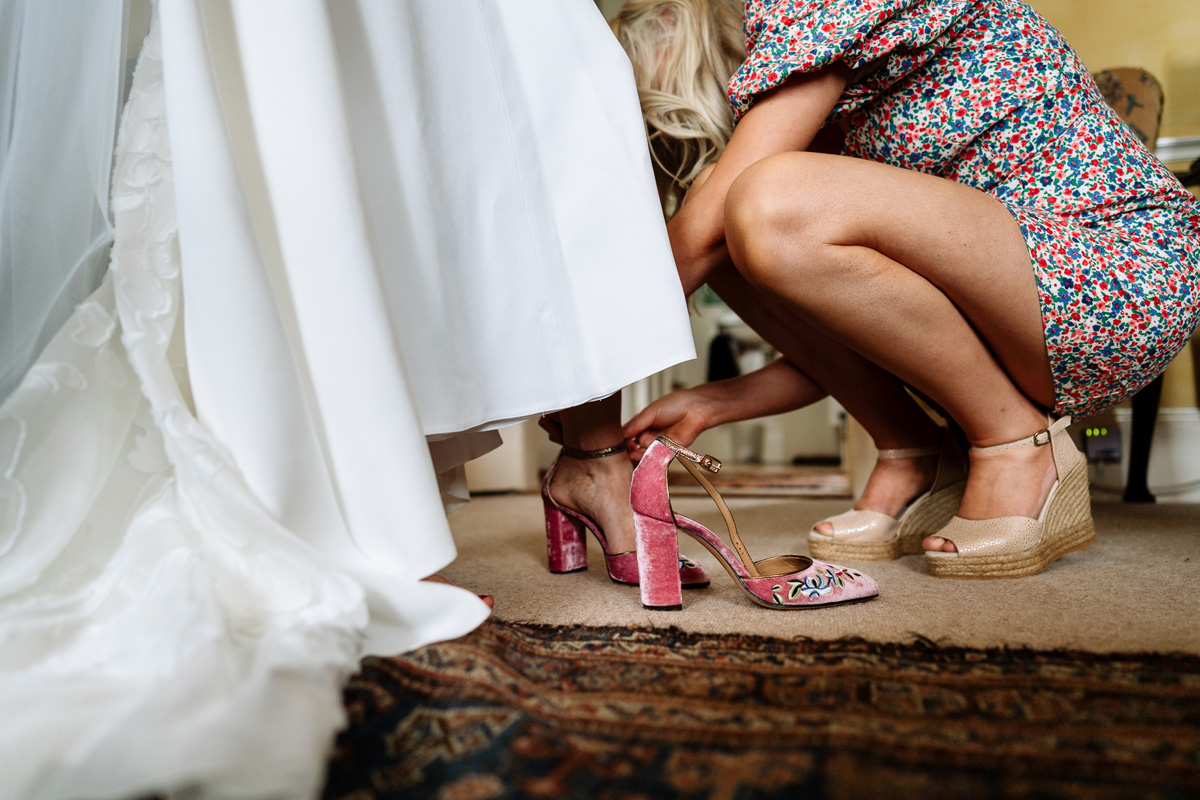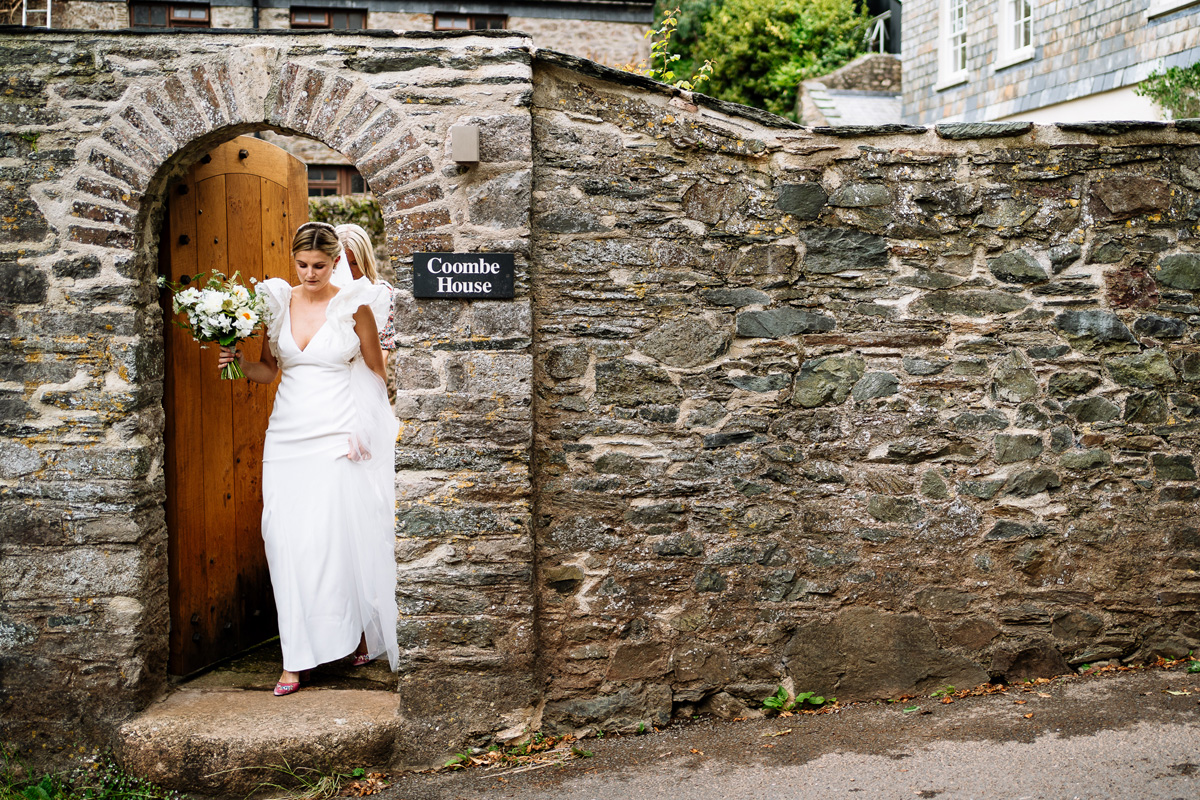 The bride carried a simple bouquet of pure white blooms and green foliage, put together by a friend of the family.
"We knew that because of the view, we didn't have to over-compensate by going mad with the flowers so we kept it very simple."
"We used the displays in the church in the tent as well and hired some birch trees from a local supplier."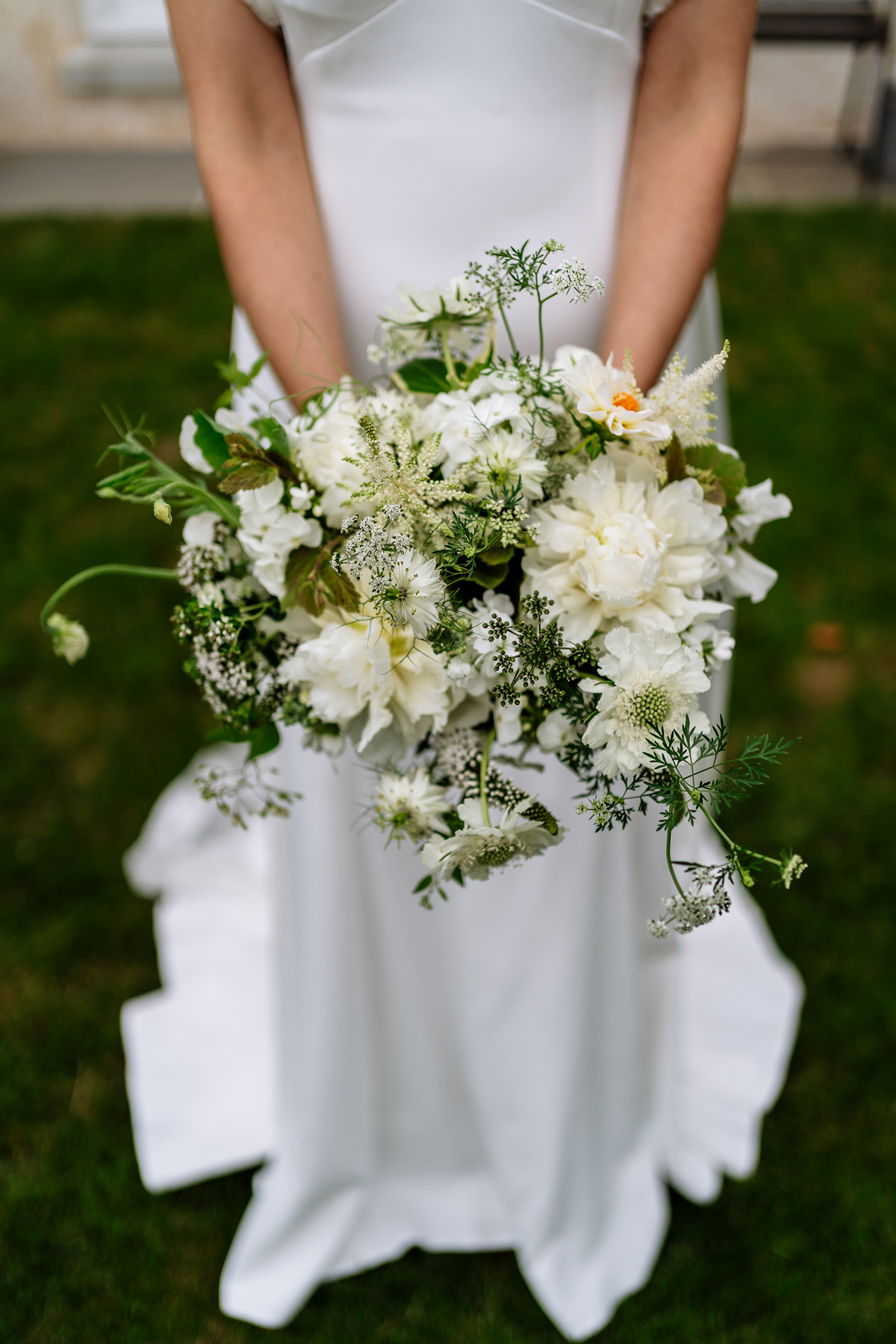 Alastair and Phoebe met whilst they were traveling age eighteen, but they didn't start dating until the end of university.
"We got engaged in Devon during a family weekend. We had been engaged for approximately eighteen months before getting married. It would have been earlier but we have been postponed due to the pandemic."
"We decided to postpone the wedding by a whole year. We had to make the decision within two months of getting married. We didn't want to call it too early in case we still had a chance of going through with it."
Alastair chose to wear a classic morning suit with a green waistcoat, custom-made for him. He added Liverpool FC socks in a nod to his passion for football.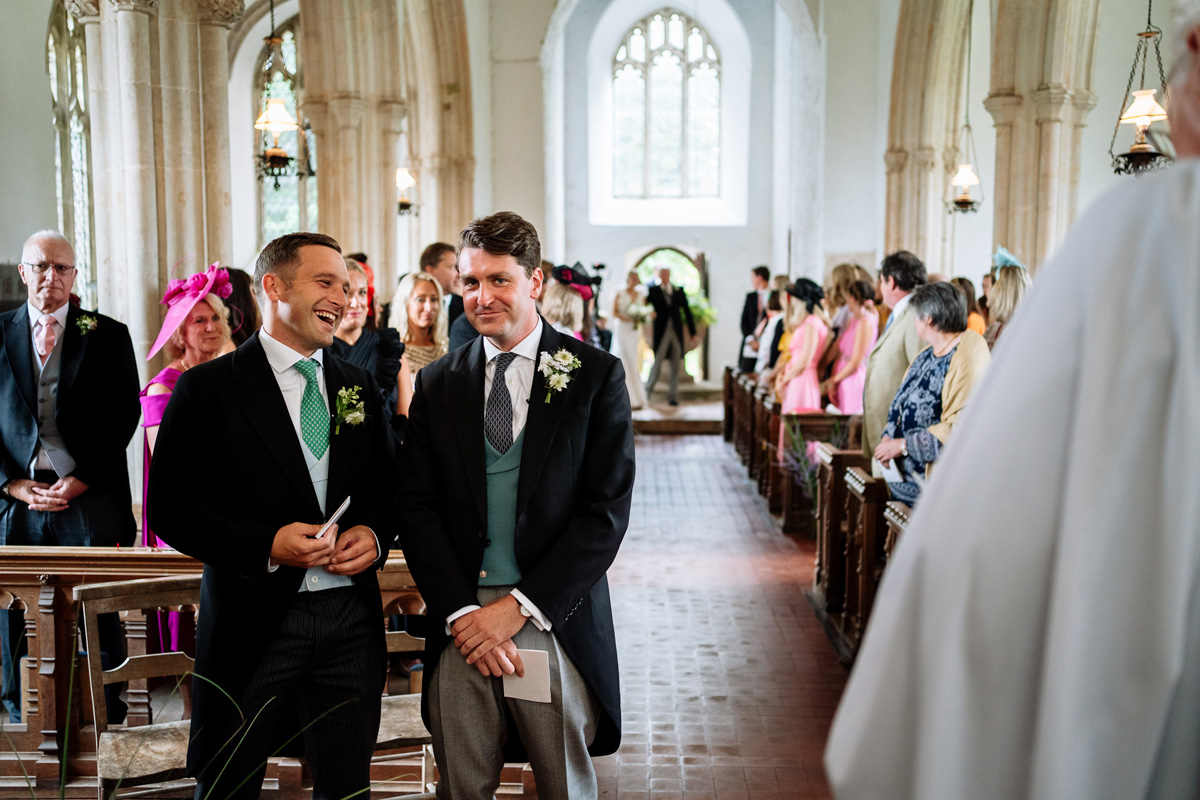 "Luckily, all our suppliers were more than obliging and flexible, which made the whole process much more easy for us. When the wedding day arrived, we asked everyone to test beforehand and we had hand sanitiser and masks available everywhere."
"All the sides of the marquee were open and we checked with all our suppliers if they were happy to proceed. Luckily, they were."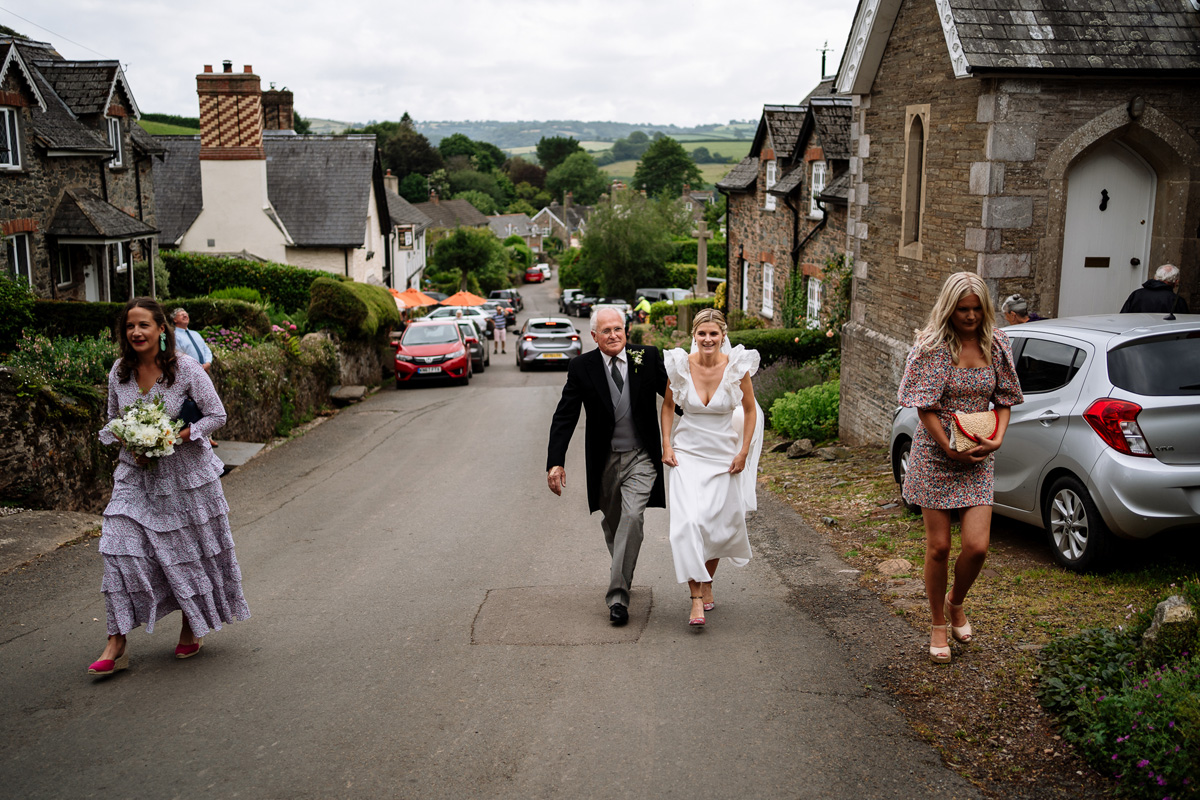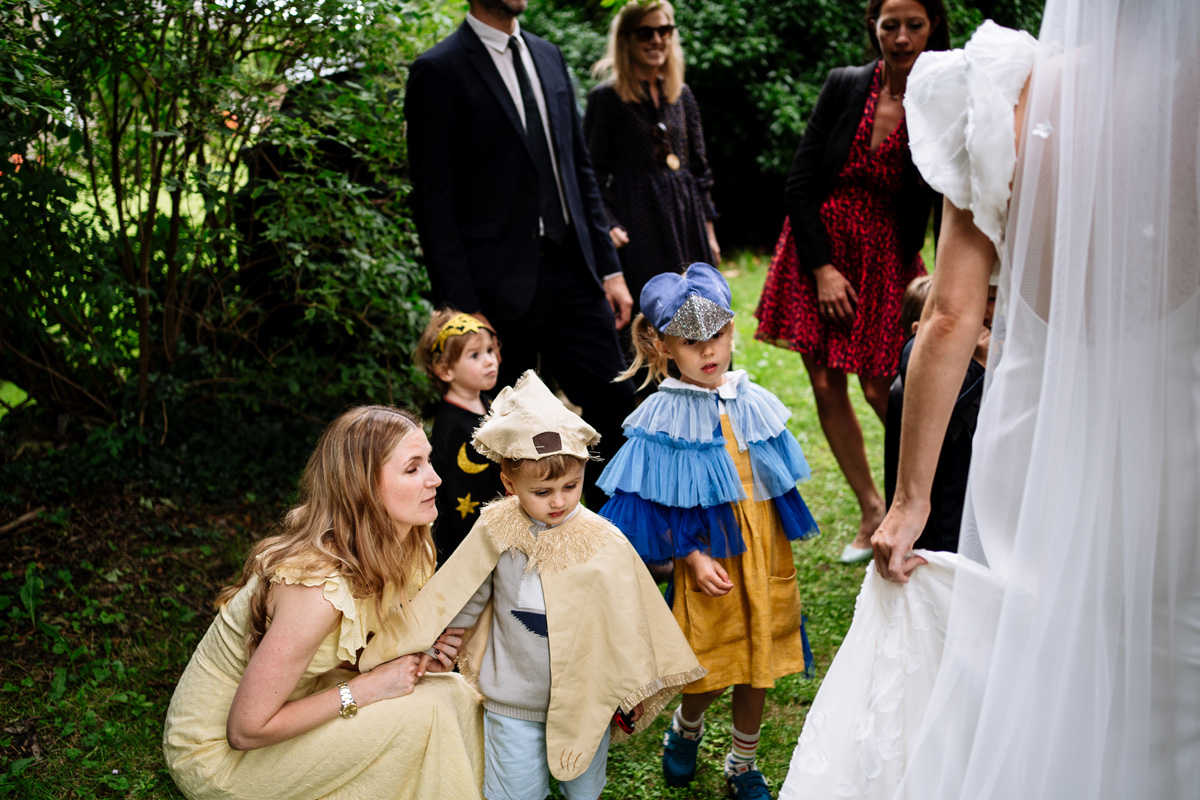 Alastair and Phoebe exchanged their vows in the local church, with the ceremony led by the bride's uncle.
"My uncle Anthony Goddard had just been ordained and was able to officiate at the wedding. It was his first wedding and he rocked it."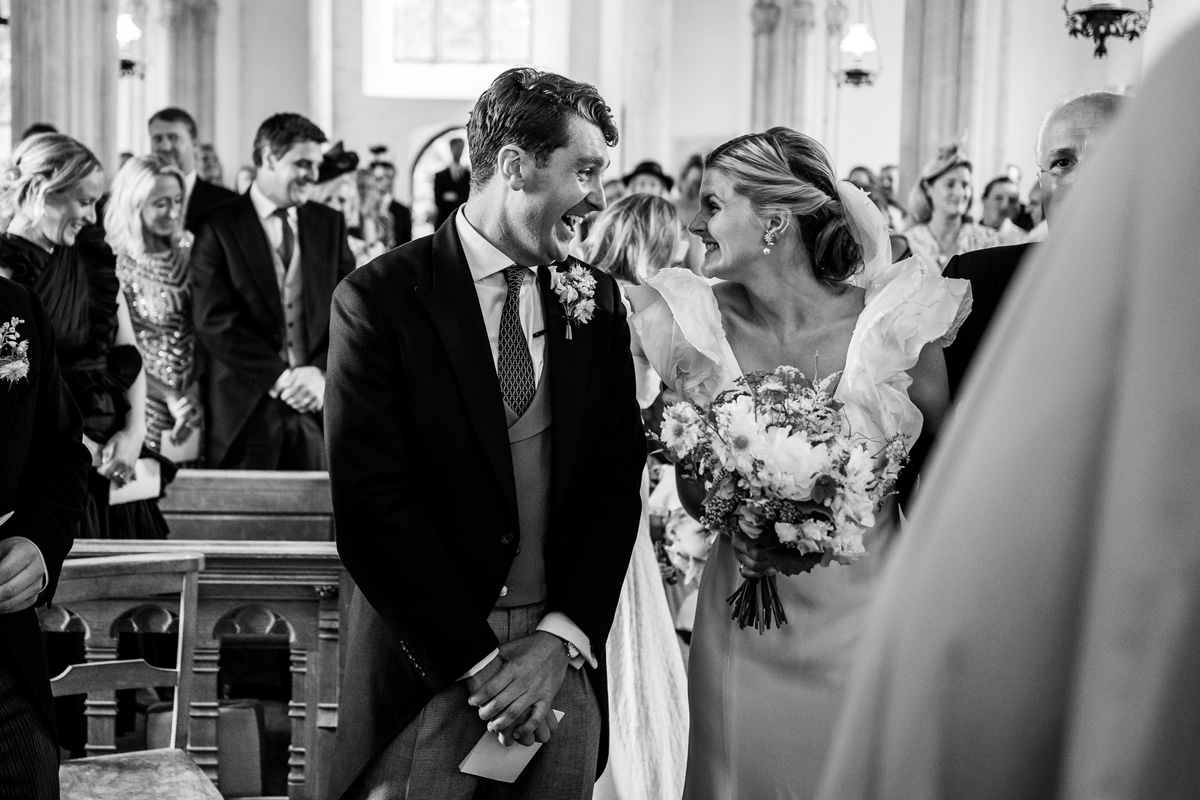 "All the normal church vows were used. We had three readings – one by Tracy Emin, one religious one and one taken from 'The Lord of the Rings'. We chose these because we felt they emanated so much with us as a couple. We chose my brother, my sister in law and a friend we had made as a couple to do the readings."
The couple's wedding bands were made by Lucy at Margot & Mila.
"We used a private jeweller for the making of my engagement ring. The wedding band is an octagonal shape which matches the shape of my engagement ring. It's also the eighth year we've been together. That wasn't planned (it was the pandemic that made us wait another year) but it makes a good story for having an eight-sided ring."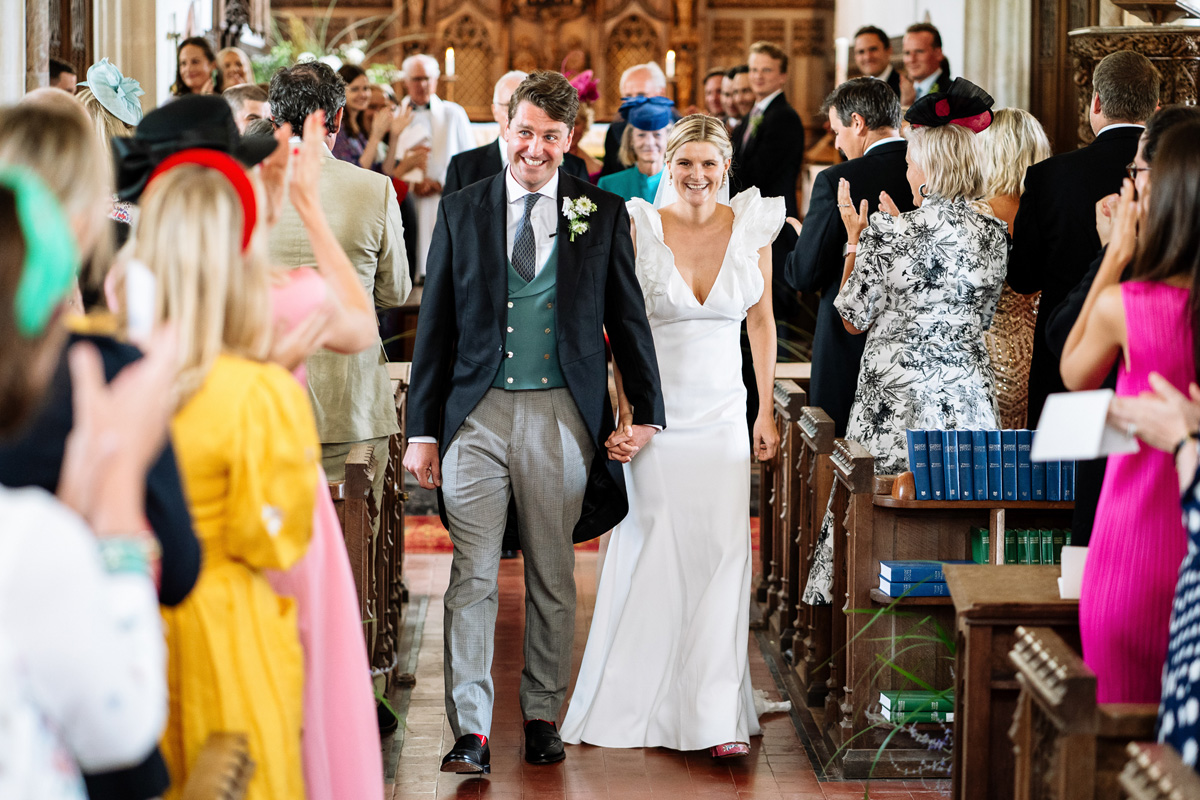 After the ceremony, the newly-weds drove to Oak Tree Gardens in a green Austin Healey, ready to get their festival-style reception started.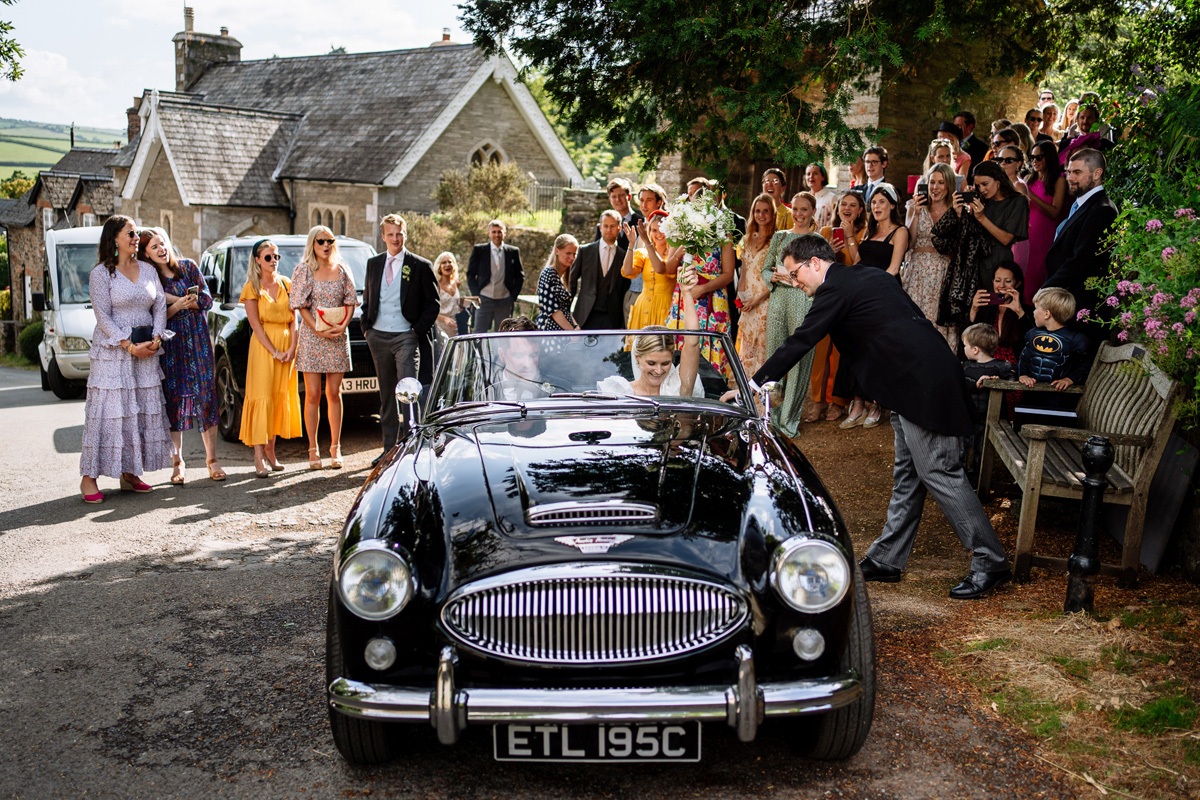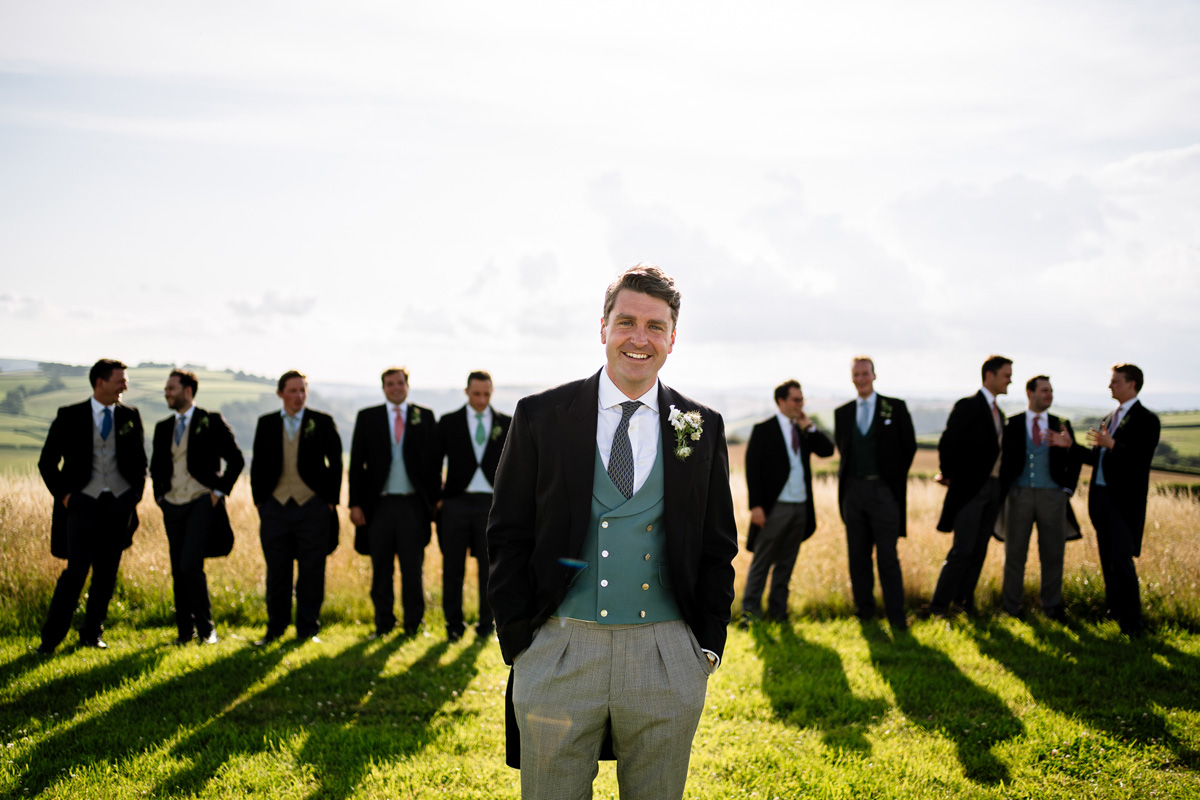 "Our reception was at Oak Tree Gardens, behind a pick your own farm in a village called Ashprington. We chose it because it was close to the church and had the most amazing views of the river Dart and the moors."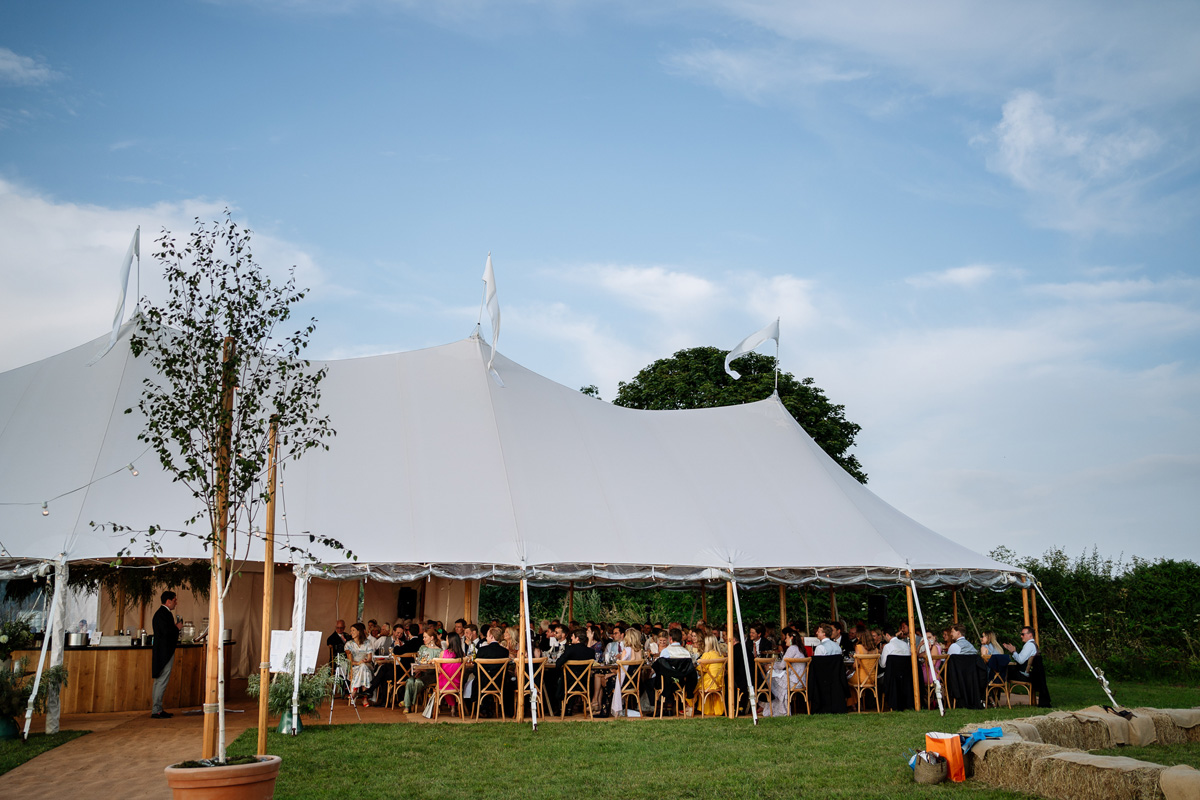 "We wanted a circus-themed tent but couldn't find anything within budget, so a sail cloth tent was our next best option. I worked as an event photographer for years and saw it once and thought it looked great in the pictures."
Luckily for us, the heavens parted and the sun shone for us, making everything look even better. The sides were all pulled up so everyone could admire the views. It was perfect!"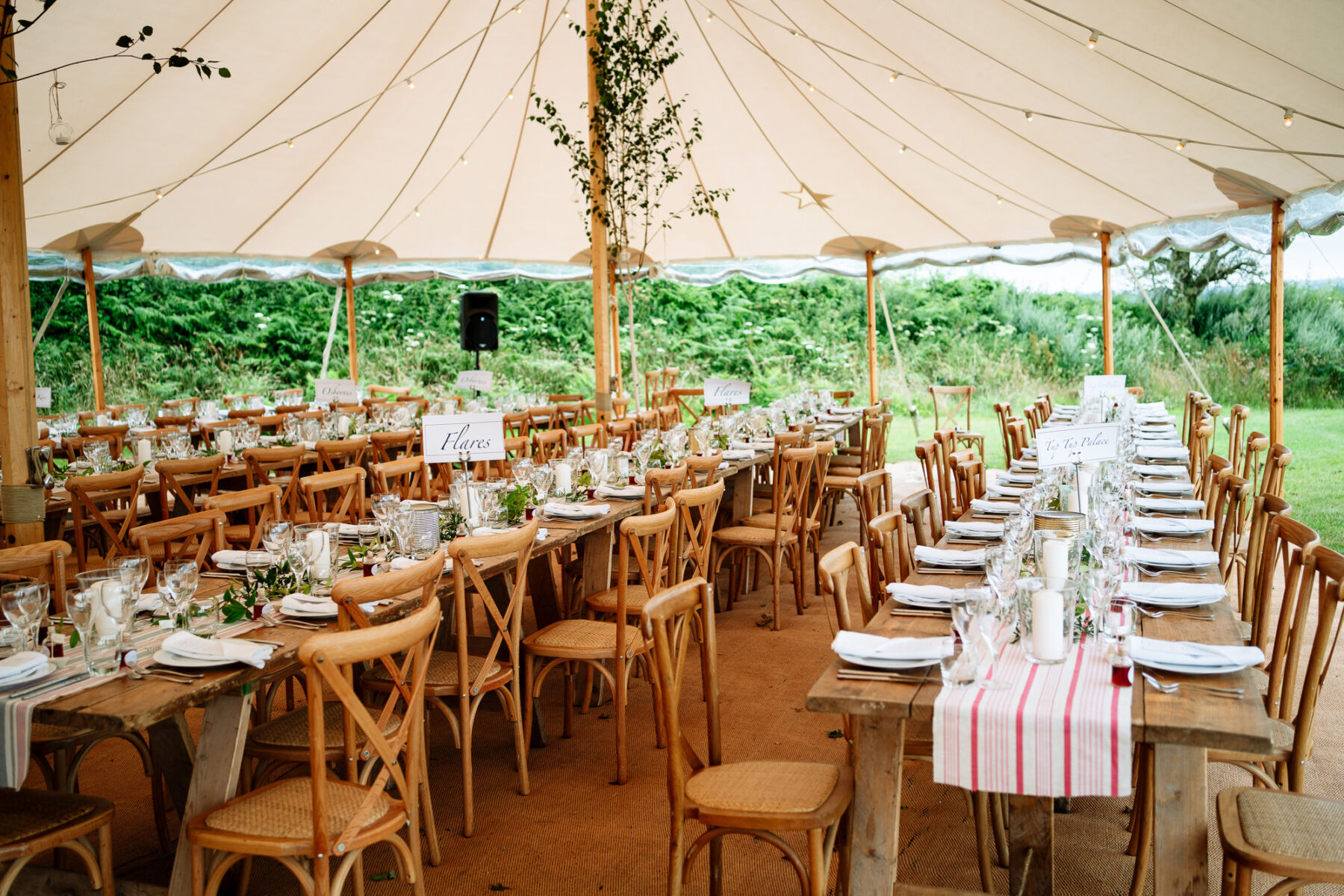 As the bride had worked in the events industry before becoming a teacher, she wanted to do the planning and styling herself, choosing a range of colours, foliage and seasonal, summer flowers for a bright, celebratory vibe.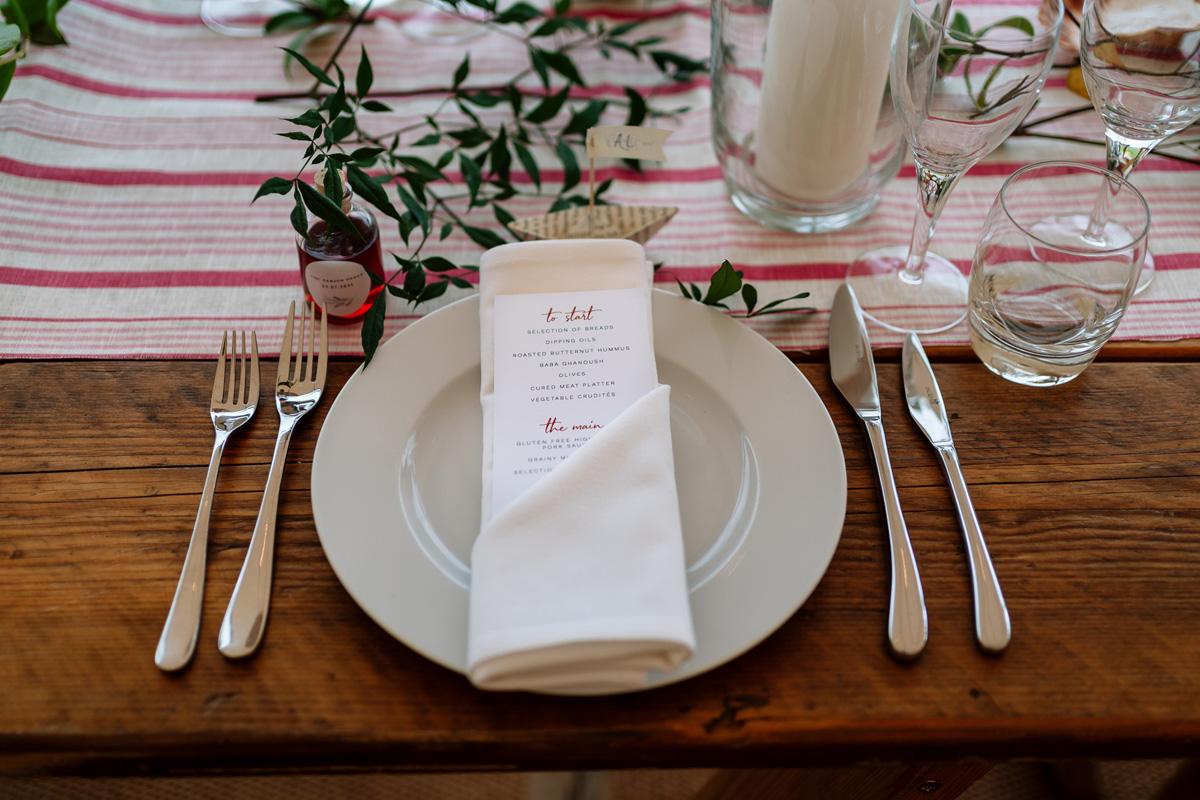 "We used Sperry Tents who were brilliant. We had rustic tables and chairs, colorful table runners and birch trees against the tent poles."
"There was a round flower hoop hanging over the circular bar. All lighting was provided by Sperry Tents – we used lots of festoon lighting."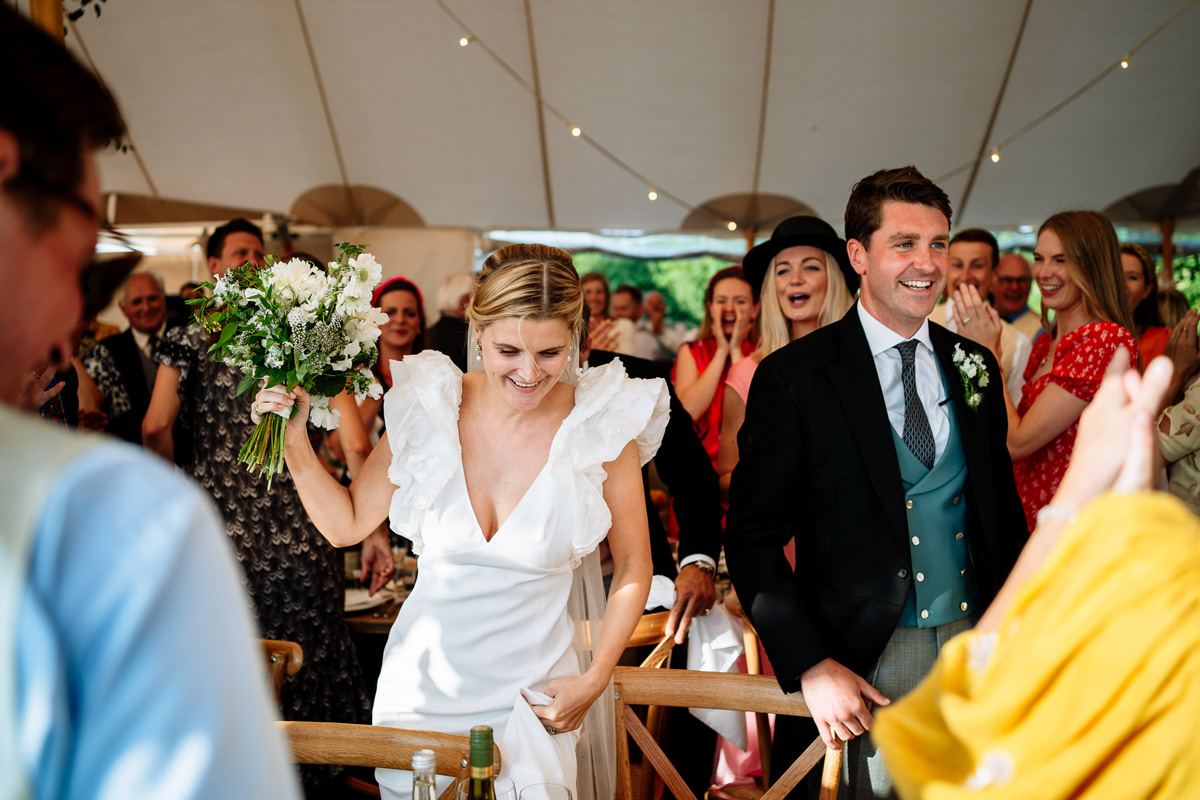 "My sister-in-law, a creative designer, did all the print design for us. We also had a friend sketch the church for the front of the service sheets."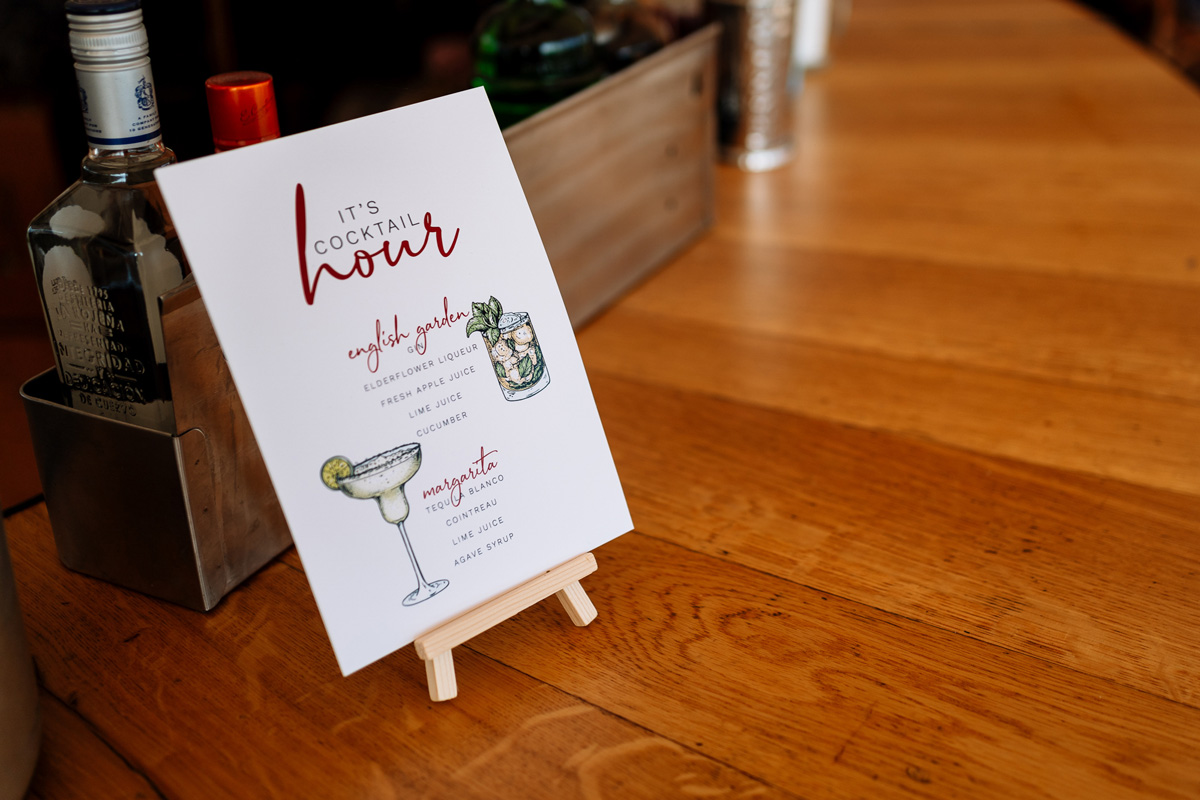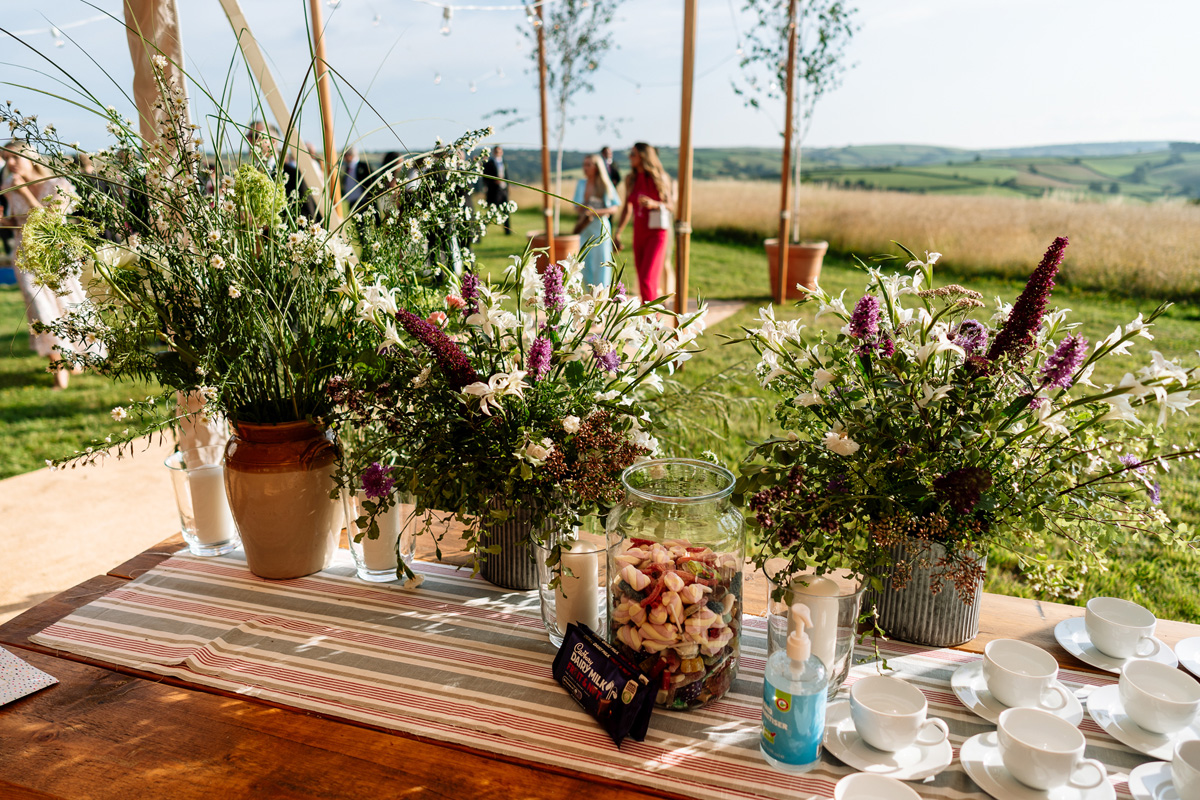 The July day was beautiful, so the newly-weds and their guests could relax, chat and drink outside, overlooking the river Dart and the moors.
Elaine Day at Entertaining Food provided the wedding breakfast whilst Phoebe's mother-in-law baked the countryside-themed wedding cake, topped with little models of the couple.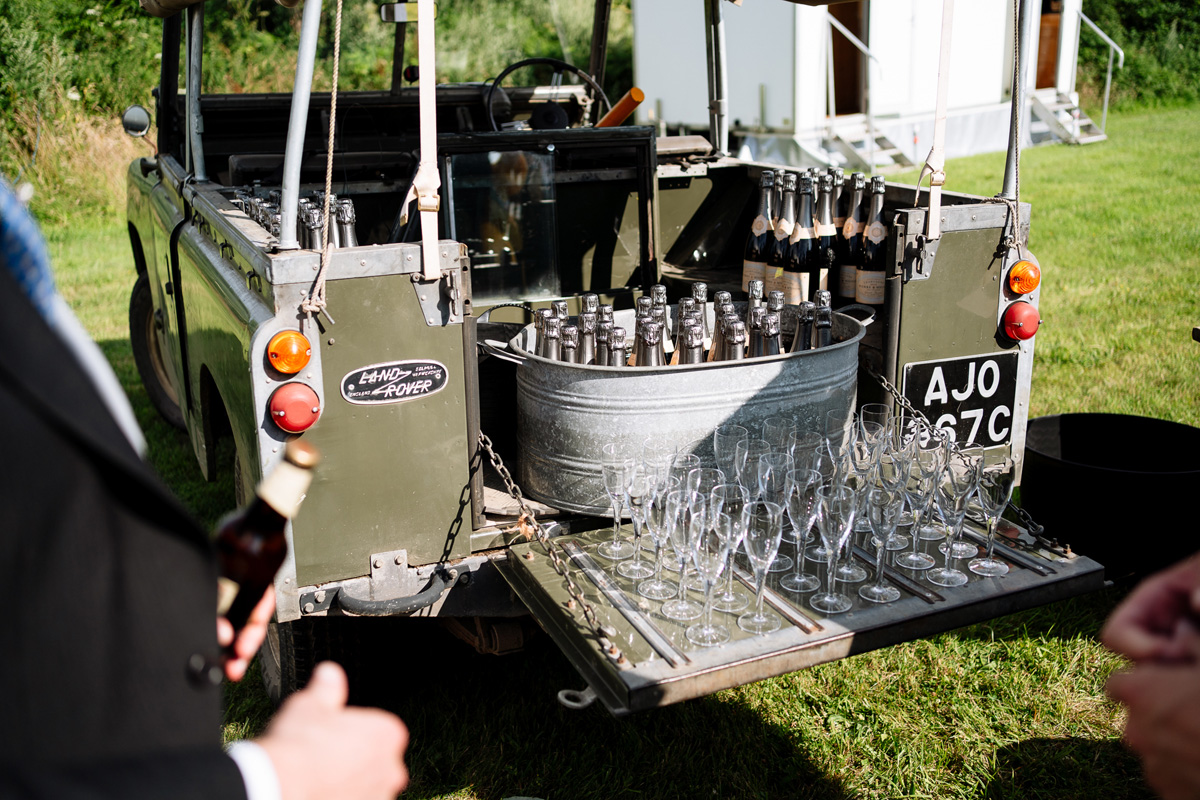 "My mother-in-law is a 5-star baker and her lemon drizzle cake is delicious."
"For favours, my mother-in-law brewed some raspberry gin in little bottles and we called it 'Libs' Hooch'."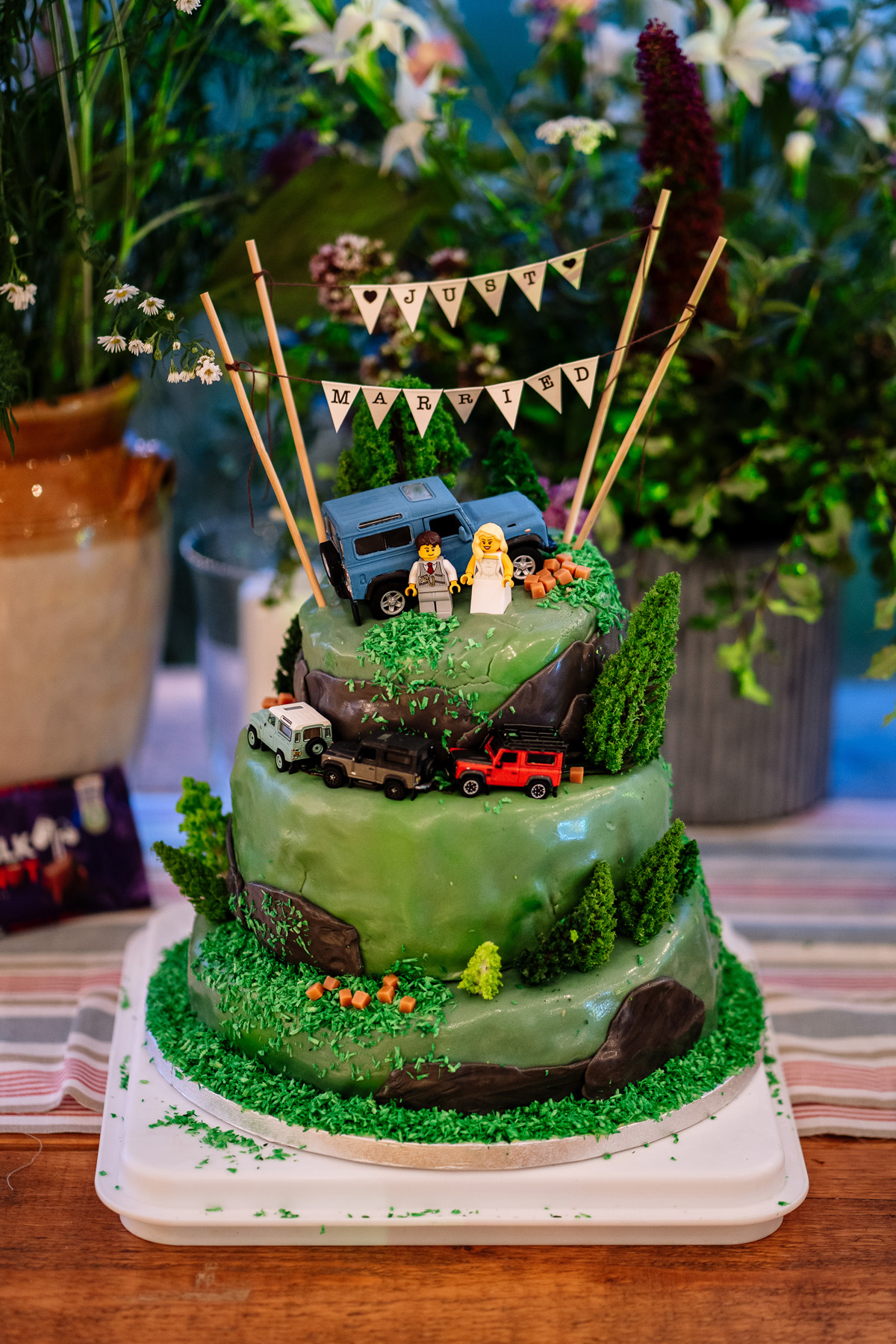 Photographer Johnny Dent, who Phoebe found on Instagram, captured the couple and their joy, as well as the epic Devon landscape, so beautifully.
"I wanted someone local to keep travel costs down. Johnny appealed to me because from his photos, he seemed to not take the whole thing too seriously. I wasn't bothered about shots of shoes and rings but wanted the candid, reportage shots of guests and me and Alastair, that I know we would miss throughout the day. Johnny seemed to capture it all so brilliantly."
"Reliving it when we got the photos back was so much fun and I find myself looking back over them again and again."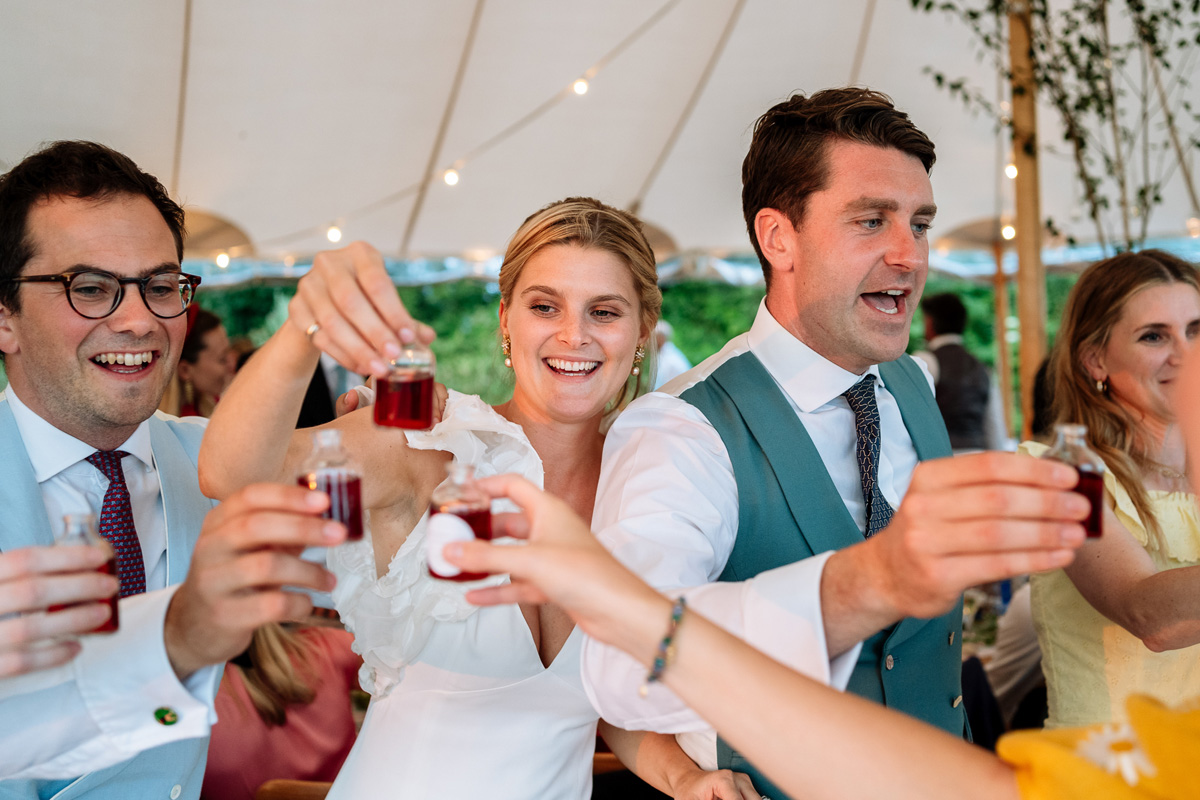 "On the day, Johnny was brilliant, really positive and easy to work with. He was so subtle, you hardly knew he was there. He commanded the group shots effortlessly, which meant it didn't take too much time to do them. He was up for a good time and this resonated in all his images."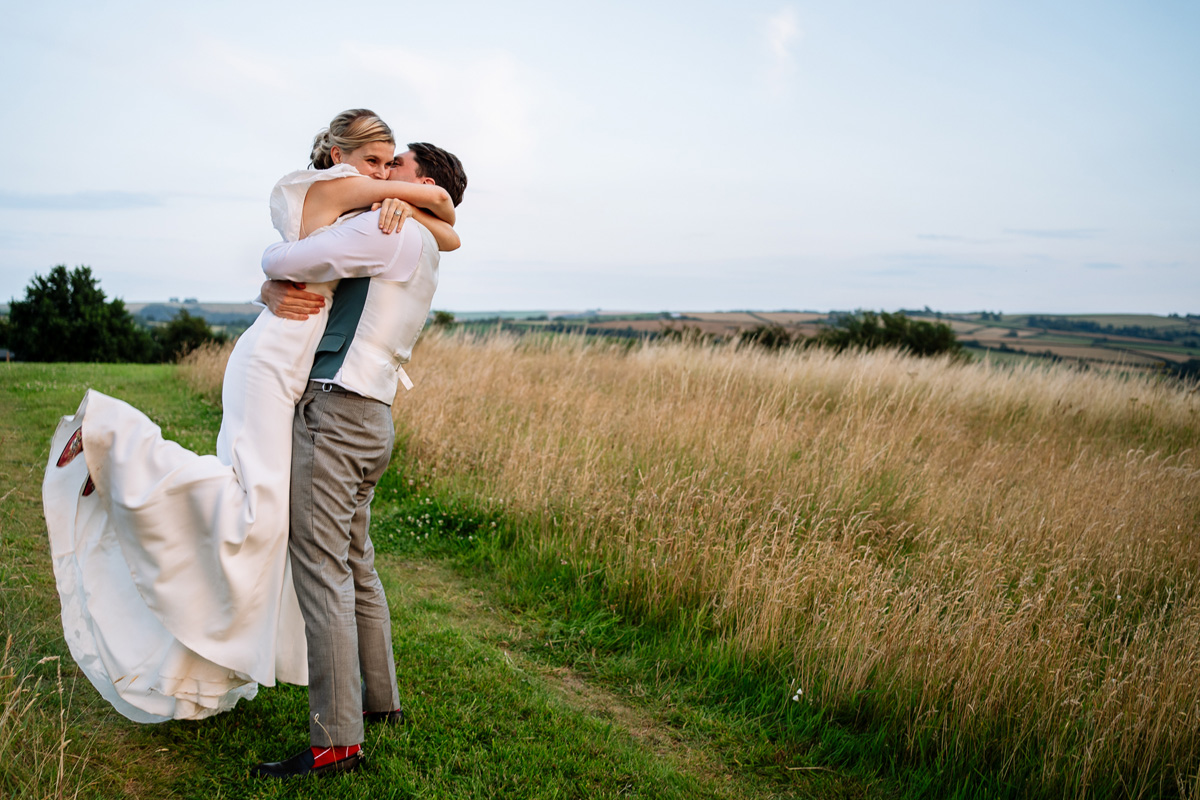 "I would definitely recommend him to others. So many guests have asked who our photographer was and I've mentioned it so often."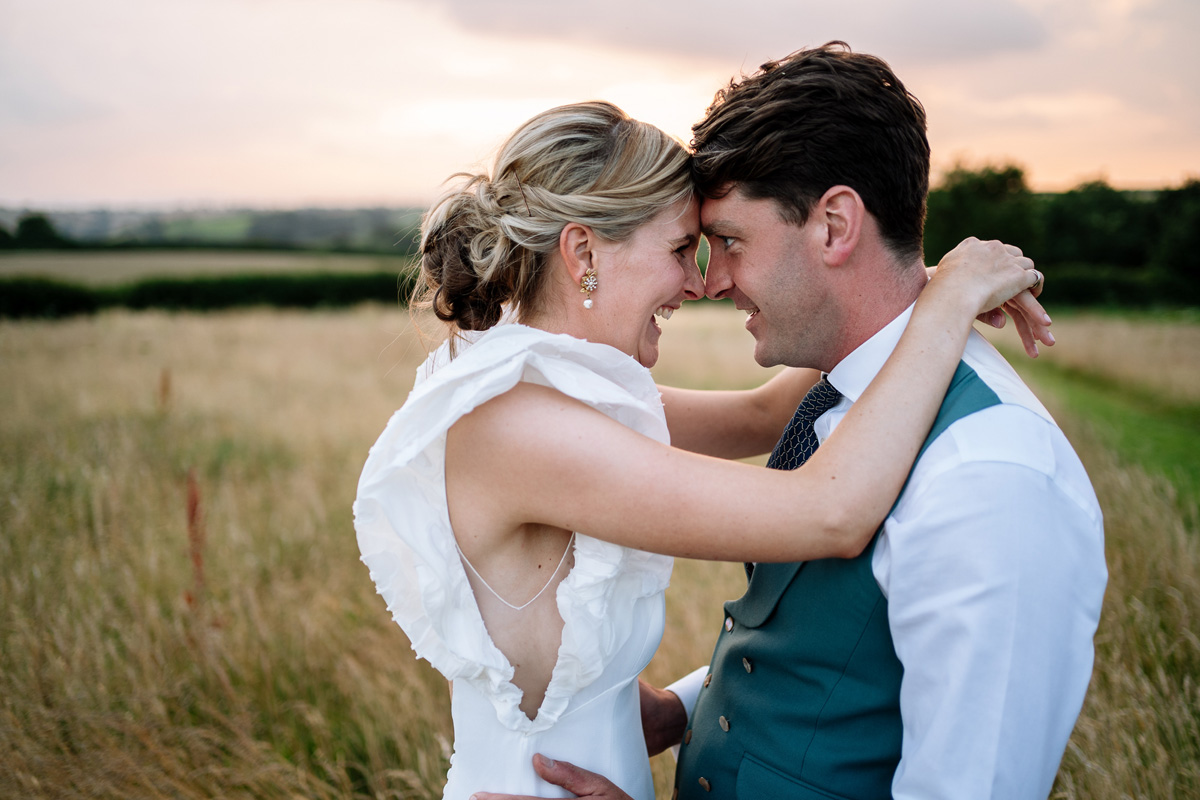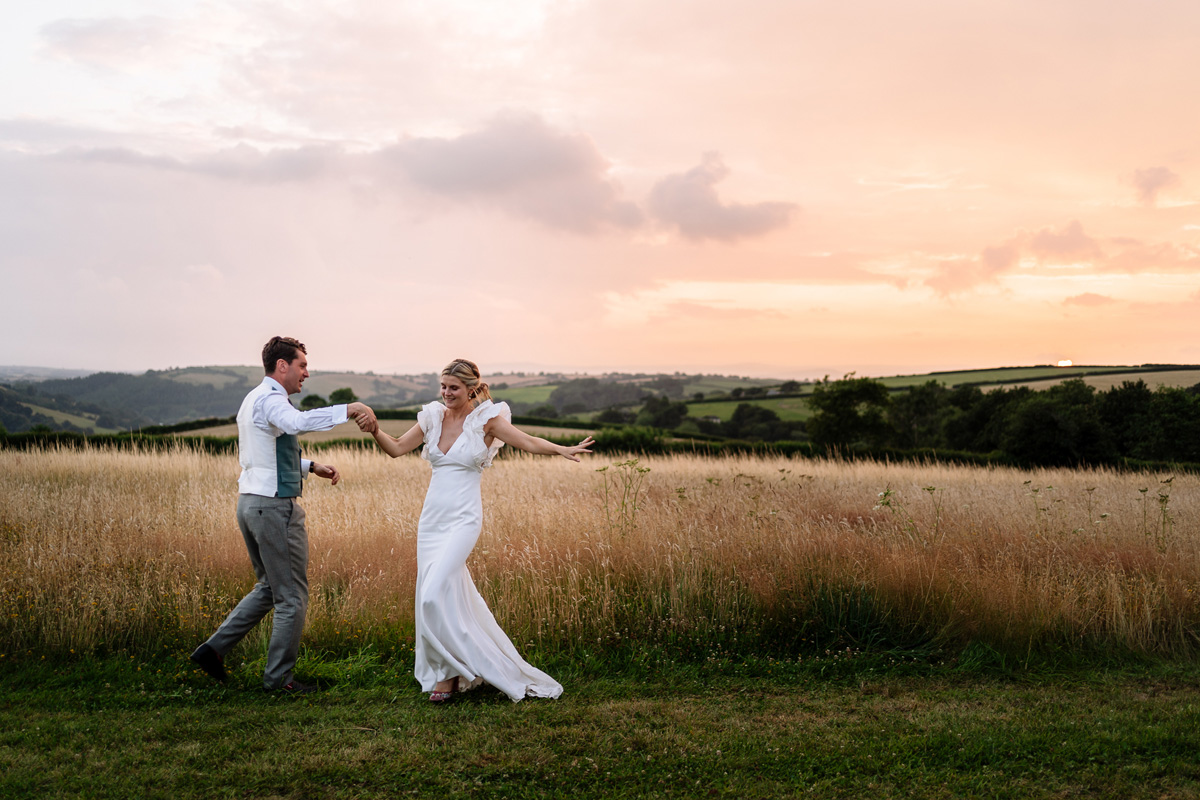 Wedding videographers York Place Studios, who we are proud to support on our Wedding Directory here, recorded the day on film.
York Place Studios
The evening party had music from two DJs, Will and Guy, and featured a first dance to 'Everlasting Love' by Natalie Cole.
"I loved the build-up, seeing it all come together and the day itself. I could do it again every day!"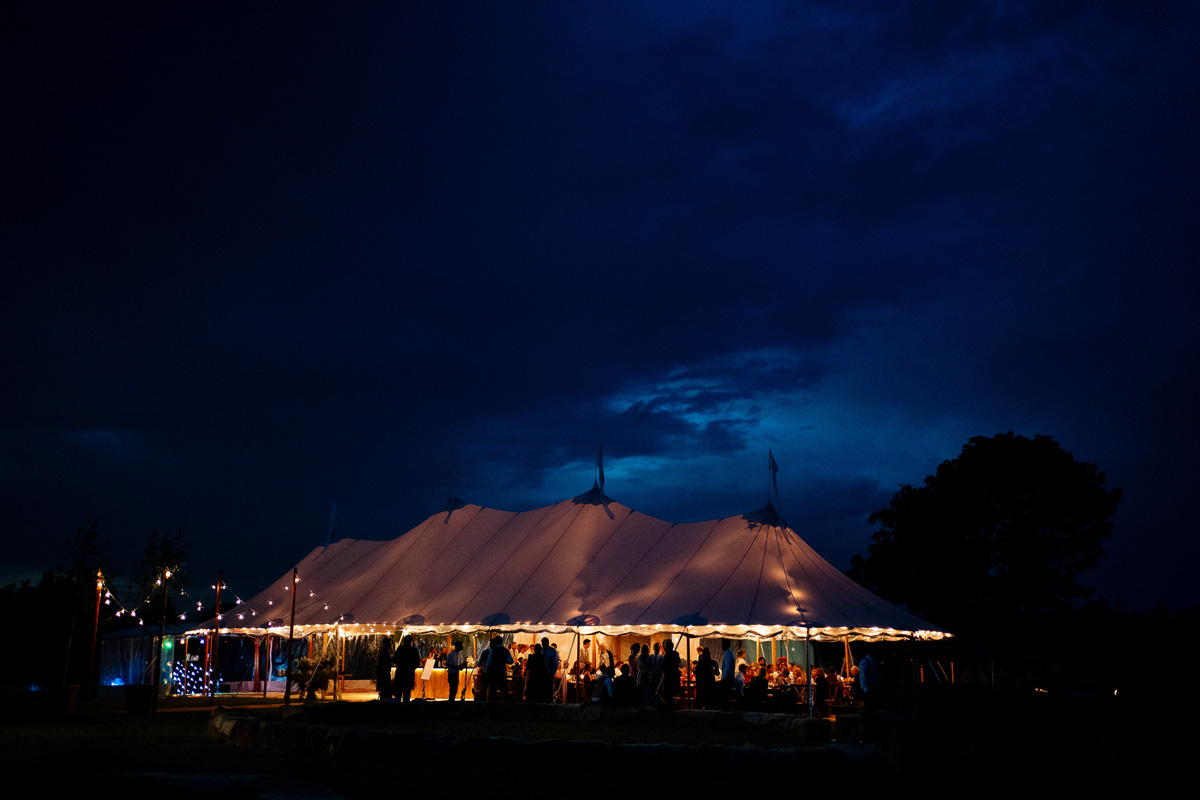 Words of Wedded Wisdom
"Don't sweat the details too much. Have fun and be organised."
"Take a breather with your husband or wife and look around to take it all in."
Phoebe and Alastair, what a breath-taking day and what a gown. Thank you so much to the both of you, and thank you Johnny Dent Photography for your epic work, too.
If you've fallen in love with Rime Arodaky's gowns, you can see more brides in her pieces here. And for more sail cloth tent celebrations, check out these features.
xx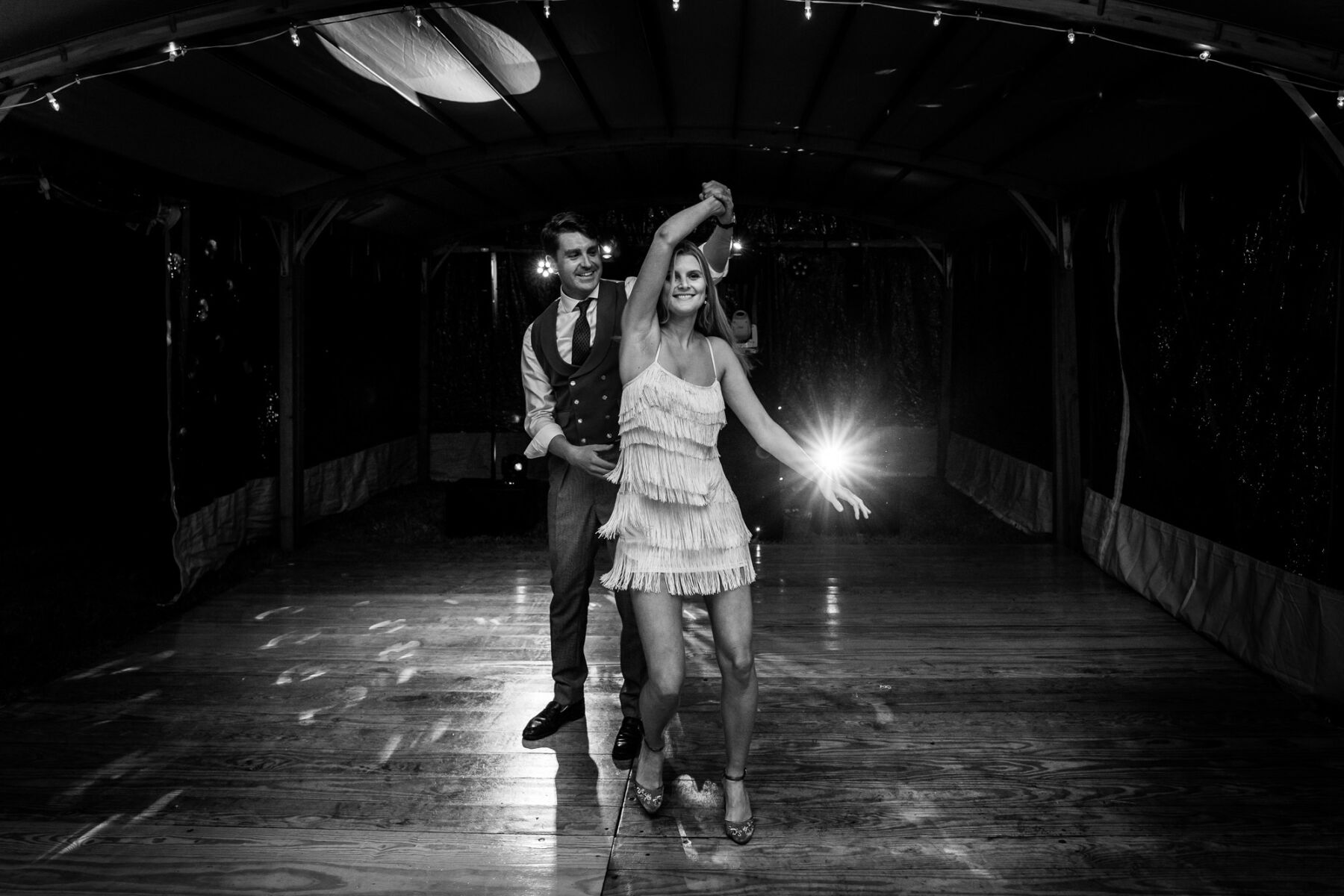 .