Working with a team of suppliers from across the North, wedding planner Cat McElroy of Saying I Do Wedding Planning and natural-luxe make-up artist Victoria Holdstock collaborated on the editorial concept, partnering with wedding photographer, Emma Ryan.
"The concept of this shoot was to capture refined, modern-editorial wedding styling in an extremely historic setting, to demonstrate how the most contemporary of looks can feel just at home in the most traditional of settings."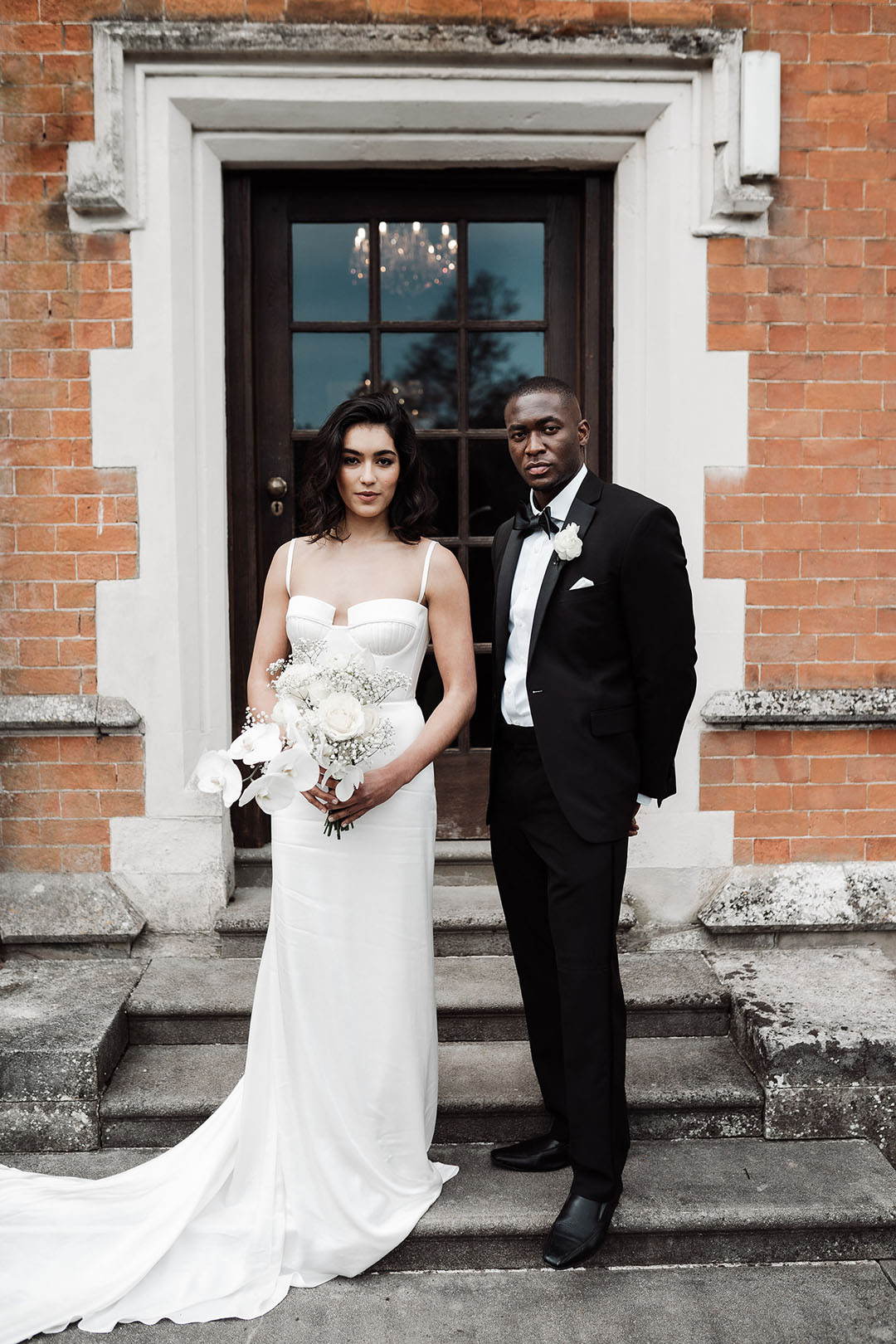 "With chic style and diversity at the heart of this shoot, it was designed to inspire the increasing demand for a more sophisticated, modern-editorial wedding style."
"The timeless, fuss-free approach is perfect for couples looking to break out of the norm whilst still maintaining the height of luxury."
"A rare gem in North Yorkshire, Thicket Priory was the perfect venue to bring this vision to life. Built in the 1840s it is steeped in tradition, with a clock tower, grand ballroom, sweeping staircase, serene gardens and lake, and its very own orchard."
"Unlike many other traditional venues, Thicket is light, bright and simplistically beautiful, with luxury finishes at every turn."
"Despite the fact that classically styled weddings are usually associated with traditional venues, the refined nature of Thicket was actually the perfect neutral backdrop for our modern, luxury, monochrome approach."
"Moving away from what's typically considered bridal, we paired understated tonal monochrome styling and the finest of luxury finishes, with timeless, atmospheric, editorial photography, and relaxed bridal fashion for a less is definitely more approach. "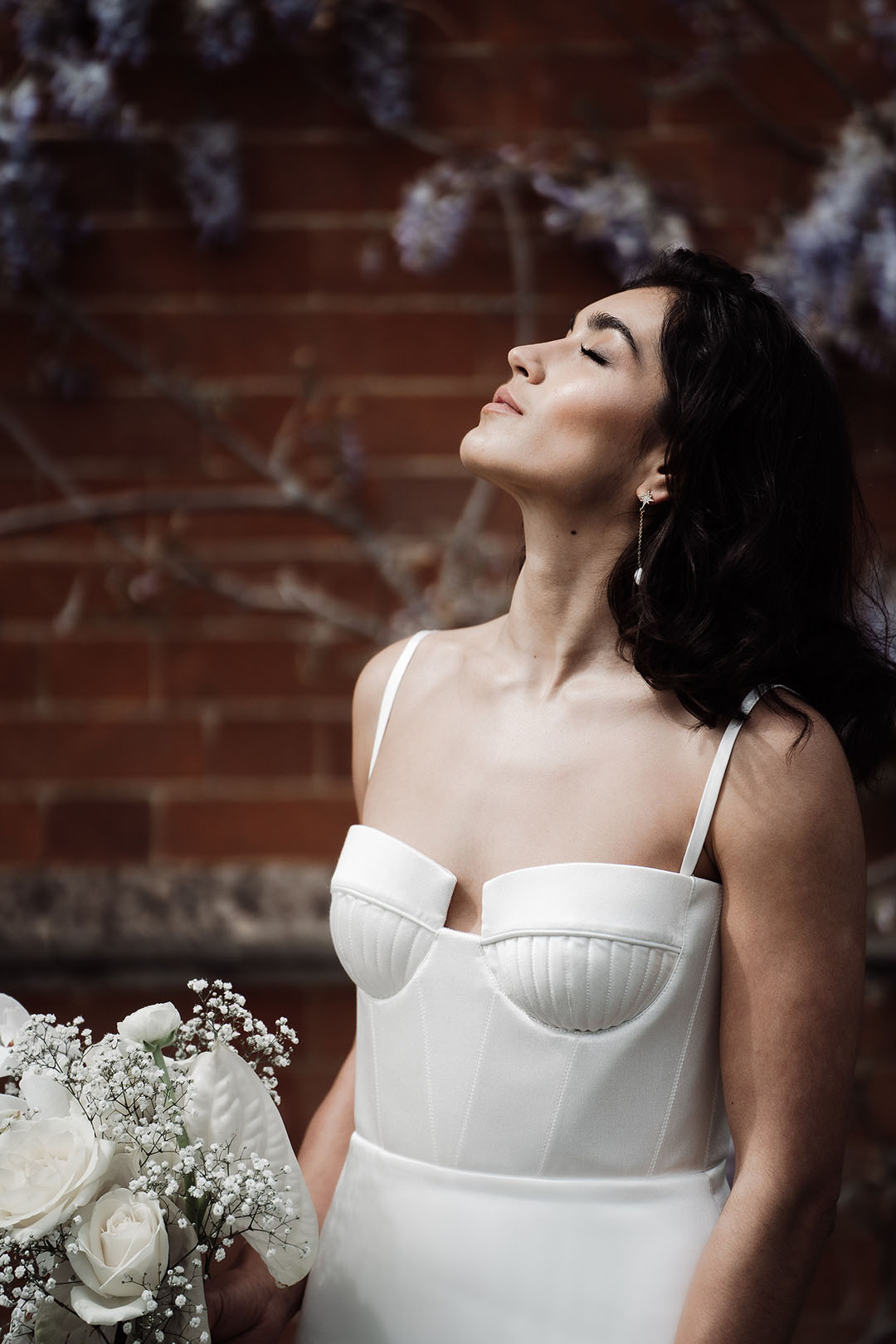 "The interest and beauty lies in the exquisite, quality materials and fine contemporary styling; rather than anything highly adorned."
"Striking black stoneware, fluted glasses and bistro chairs, layer and contrast over luxury white and stone linens, beautifully textured letterpress stationery, and all white, abstract florals."
"There was no floral greenery, instead focusing on luxurious, quality stems and minimal statement arrangements, including ranunculus, orchids and anemones."
"The clean, neutral base of tonal white and nudes allowed the touches of black to pop while maintaining a fine, light feel."
"Continuing this look and feel through to the dessert table, we created layers of excitement, and bite-size monochrome artistry, which created a show-stopping design feature in itself. Who says you need a wedding cake when you have a dessert table this striking?"

"Styling for our bride and groom was kept chic and effortless. With a big focus on natural, glowing skin, the makeup added subtle, sultry finishes to the eyes and lips; a fresh, modern and alluring look to take you through day and night. Hair was naturally undone, with a relaxed curl and sophisticated shine. "
"With the groom in a striking black tux, the first dress our bride wore was by Alena Leena Bridal. Again, chic and simple, the statement came from the beautiful structured bust design and exquisite flow."
"This was followed by another sleek yet striking full sequin dress by Made With Love Bridal; perfect for a dazzling evening vibe where the white on white sequins kept the look luxury and understated."
Accessories were kept simple with a pair of modern drop earrings and block heels from Charlotte Mills, with a subtle white on white sparkle. All the bridal fashion was supplied by Marrime Bridalwear bridal boutique."
Charlotte Mills
"It was important to us that this shoot was high-end yet relaxed and broke the typical bridal mold in its styling, but also that our bride and groom represented diverse cultures and ethnicities. We titled this shoot 'rule breaking romance' as above all we wanted to capture fun, laughter and most importantly, freedom!"
.