Feeling immensely proud to be sharing these sublime bridal editorial images, captured at the beautiful Findon Place in West Sussex and featuring the magical and luxurious wedding cake designs by Vaani of Sugar Plum Bakes – one of the newest members to join our family of recommended suppliers.
With creative direction and design by Pink Palms Events, this was always destined to be an editorial that was by far a cut-above. Pink Palms founder Ashleigh shares more about how these divine and super inspiring images came to life.
Film by Each and Every Moment
"The concept for this styled shoot was to showcase high fashion, indulgent cakes and luscious white and ivory flowers. The aim was to create fresh content that people haven't really seen before in a bridal editorial for the wedding audience."
"The deliberate intention was for every scene to ooze subtle sophistication and understated luxury."
Photography by Rachel Takes Pictures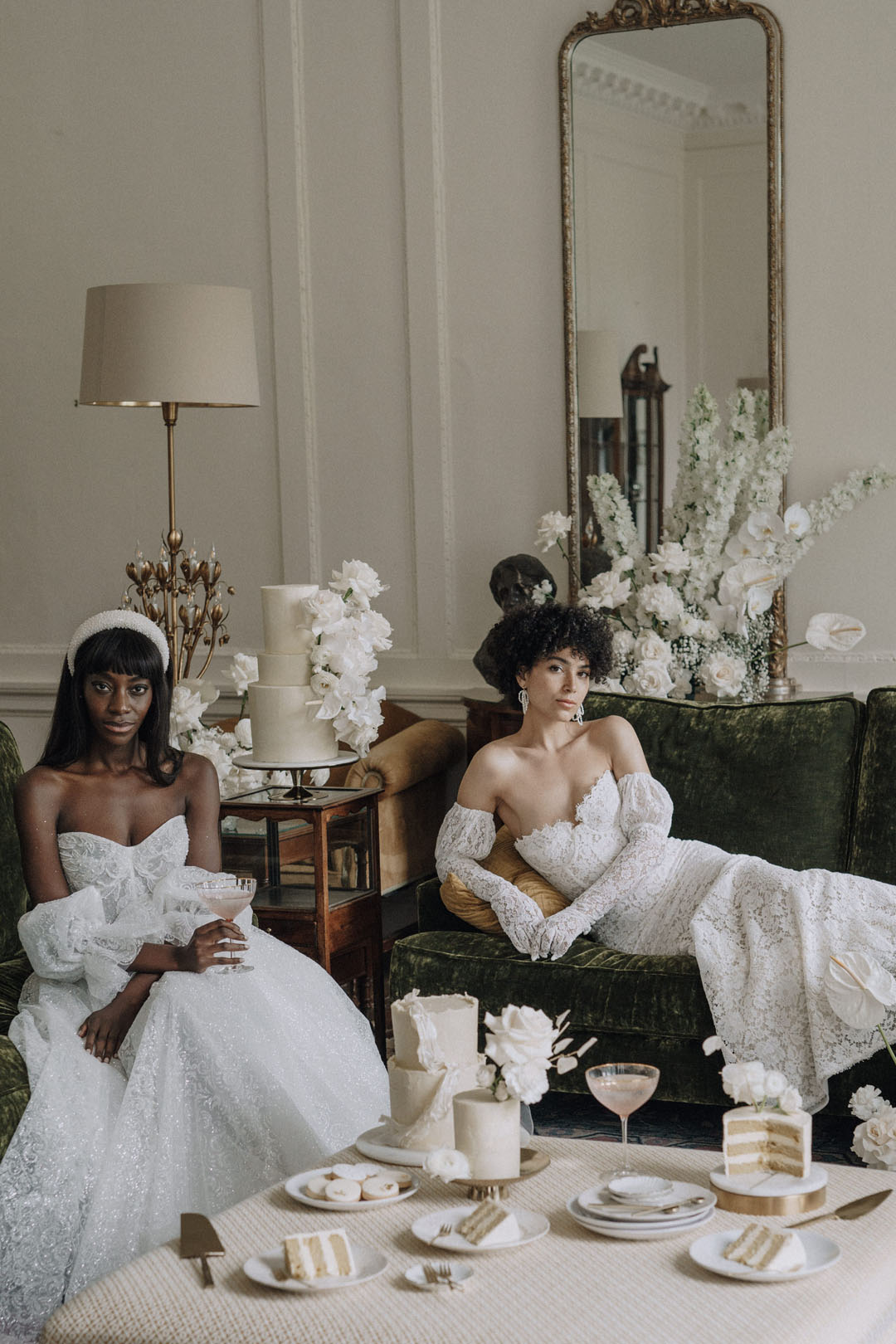 "This shoot was conceived with the style-led bride in mind and a desire to create aspirational content so we juxtaposed elements that you wouldn't ordinari to be seen together like combining delicious cakes, champagne and fresh flowers in a lavish bathroom setting. "
"We chose bespoke bridal wear from British designer Emma Beaumont with stunning dresses from her main collection but also included outfits from Miller White – her environmentally conscious range."
"We brought those fashion forward vibes through the combination of classic couture with modern jewellery, hair accessories and shoes."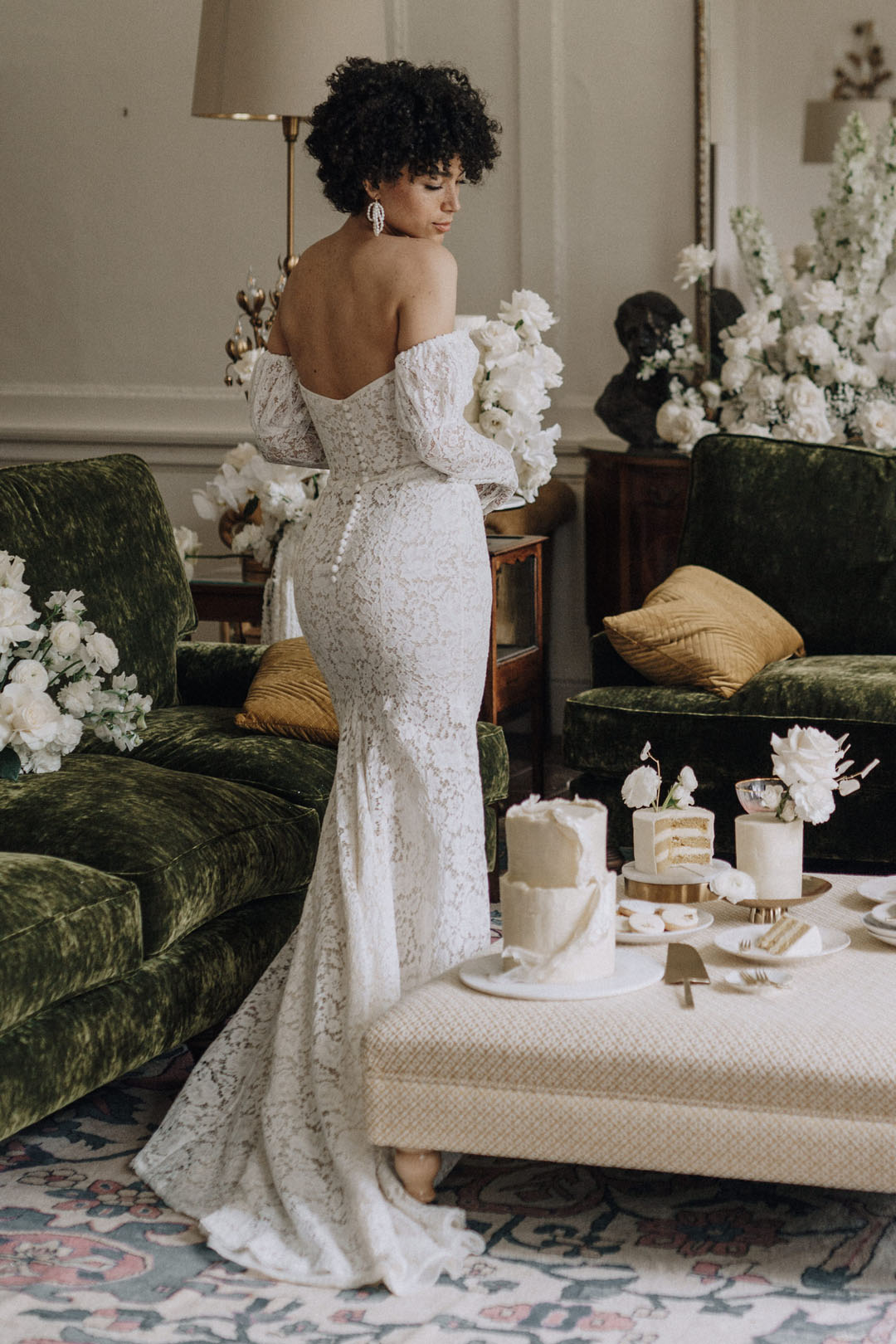 "We really wanted to celebrate the feminine form and had three models each with their own distinct personalities and styles."
"Zara and Nadia designed hair and make up looks to suit each of the women."
Portraits Bridal Hair and Make-Up
"Canelle has beautiful texture hair and so they enhanced her natural curl and played with interesting shapes for her hair up as well utilizing playful hair accessories."
"Canelle's make up was kept fresh allowing her skin and gorgeous freckles to shine through with just a hint of iridescence to her eyes."
"Jade's hair was kept shiny and simple as her look was all about the over-sized headbands and embellished dresses."
"We didn't want to detract from those statement pieces. So her look was intentionally kept pared-back and her make up showed off her fresh skin with an added gorgeous glow."
"The subtle eye liner brought out the sultry vibe that Jade evokes."
"Amee has a fun, vibrant personality and her lustrous hair was crafted into soft tumbling with waves with texture which showed off her purple hair."
"Amee's make up had a flawless finish and a stronger look to match the extra edge to her personality."
"We felt really inspired by the pages from high end fashion magazines, and wanted to put that into a bridal editorial context."
"Cakes are often seen as a side product in wedding styled shoots, but that was not the case for this shoot."
Sugar Plum Bakes
"The cakes were brought center stage to celebrate their deliciousness and their beauty, and alongside the flowers, were interwoven into the layers of each scene."
"The color palette was kept simple and elegant in shades of ivory and white and ran through everything including the cakes, the flowers, the gowns to give a feeling of sophistication and considered luxury."
"There were layers and layers of luscious flowers in Lucie's signature style."
"Most definitely a distinct style of floristry with simplistic, sculptural florals."
"Findon Place is a British country estate venue that has been thoughtfully renovated by Caroline, and has beautiful spaces and rooms that feel luxurious but not ostentatious."
"It was the perfect backdrop for our shoot."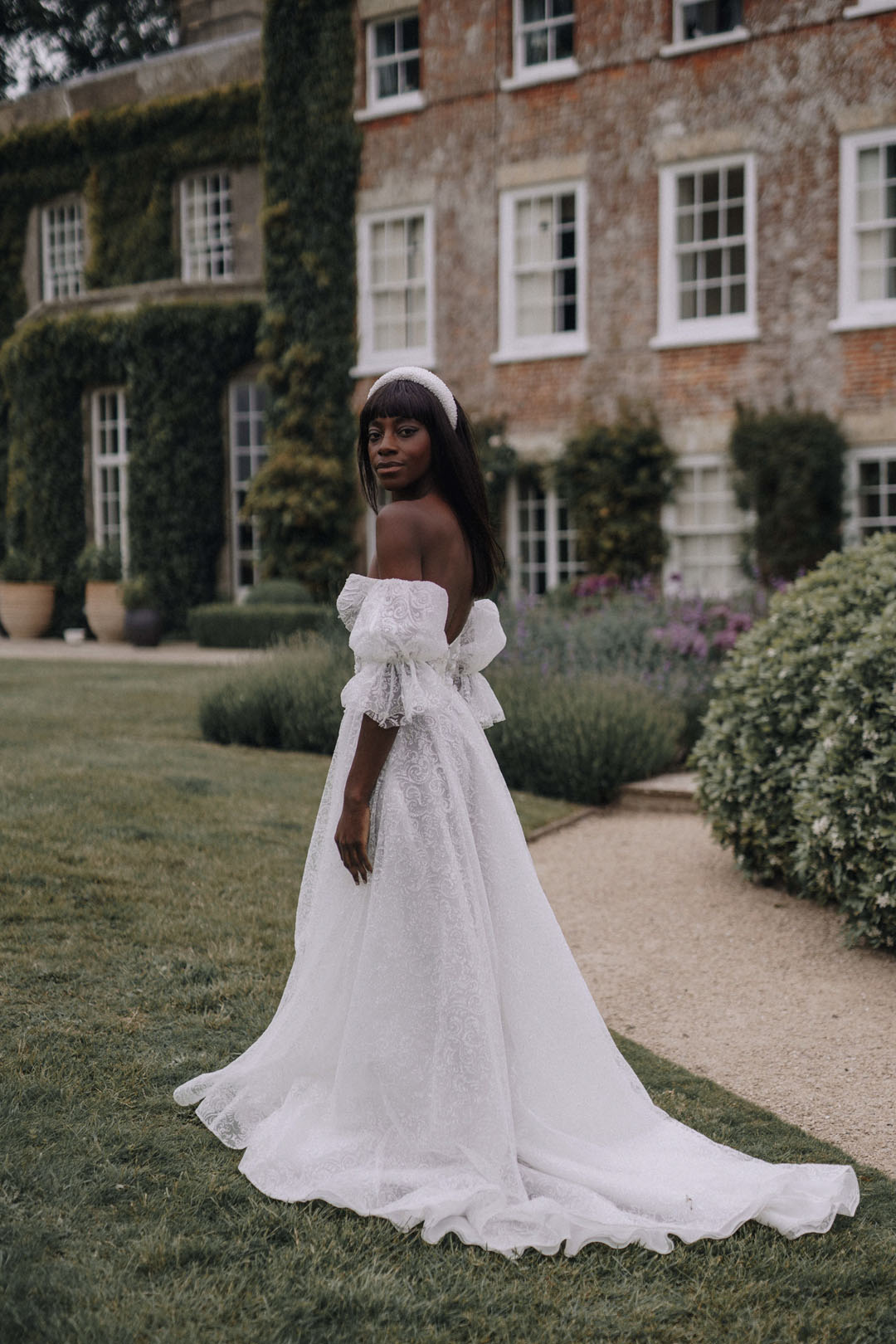 "Contrasting the classic with the modern, the traditional with the contemporary, we made a bridal editorial that feels really fun, exciting and new."
"Each of the members of this team were all hand-picked for their individual talent and creativity and for the magic we knew that would happen when we came together."
.