This is a guide to this beautiful color theme to inspire you!
This blog post is all about Navy blue and lavender wedding colors.
Elegant, classy, ​​graceful – lavender and navy blue are the colors of adolescence, romance, and are perfect for weddings all year round. Yes, the lavender and navy blue themes are great for fall, winter, spring, and summer weddings.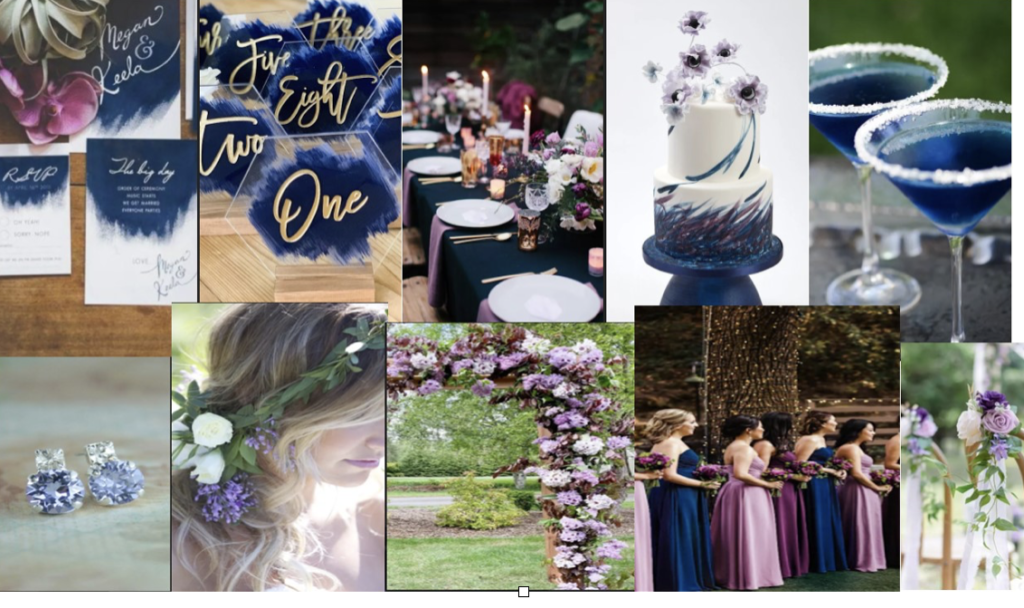 Lavender colors are known as the 'adult pink' when combined with the iconic navy blue to make the stunning wedding palette. Finalizing these shades early in your cakes, décor, attire, wedding flowers, and overall wedding layout can help you create an artistic and cohesive wedding look. You can also add contrasting elements to complement your wedding theme.
That being said, you won't be alone in planning your lavender and navy blue-themed wedding. Team Bridal Shower 101 has put together a list of gorgeous items and different stylish methods to help you pull off your wedding in 2022 by using this exquisite theme.
The Ultimate Guide to Lavender and Navy Blue Wedding Decoration Ideas
What it looks like: Lavender is one of those colors that are an emblem of romance and passion. This soft shade of purple, when taken as the primary color creates a super flattering wedding theme.
Navy blue adds in the theme to create versatility. These two are the moodiest colors to work with. To set the pace, allow a third neutral shade such as off-white or metallic gold to liven up your wedding palette. Use silk, velvet, and lace fabrics to elevate the theme.
Venue Ideas: Historical building, castle, vineyard, hotel poolside, ballroom, rustic garden, barn.
Lavender and navy blue palettes are perfect for intimate weddings as they can bring a regal and elegant feel to your big day
Bringing the Jewel theme to Wedding Party Dresses
Using both colors in your wedding party in a mix and match format can create a downright gorgeous style for the brides that defy tradition. Here's how to put together your wedding party outfits so they go with your wedding theme elegantly.
Bridesmaids' Styling
Get your girls swaggering in elegant amethyst-hued bridesmaids' dresses!
Off-shoulder silk gowns with simple cuts would look great for your theme.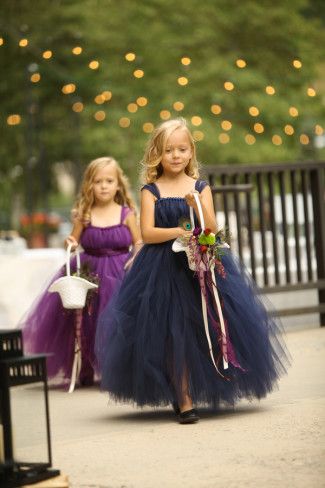 You can use lightest to darkest shades for bridesmaids' gowns for the color break. For a change, go for lavender, navy, and light pink colors for your bridal party to compliment your theme.
Earrings in amethyst stone look great on bridesmaids. You can also incorporate the color in boutonnieres. For a regal look, style your bridesmaids in gold, silver, or pearl jewelry for color break and balance.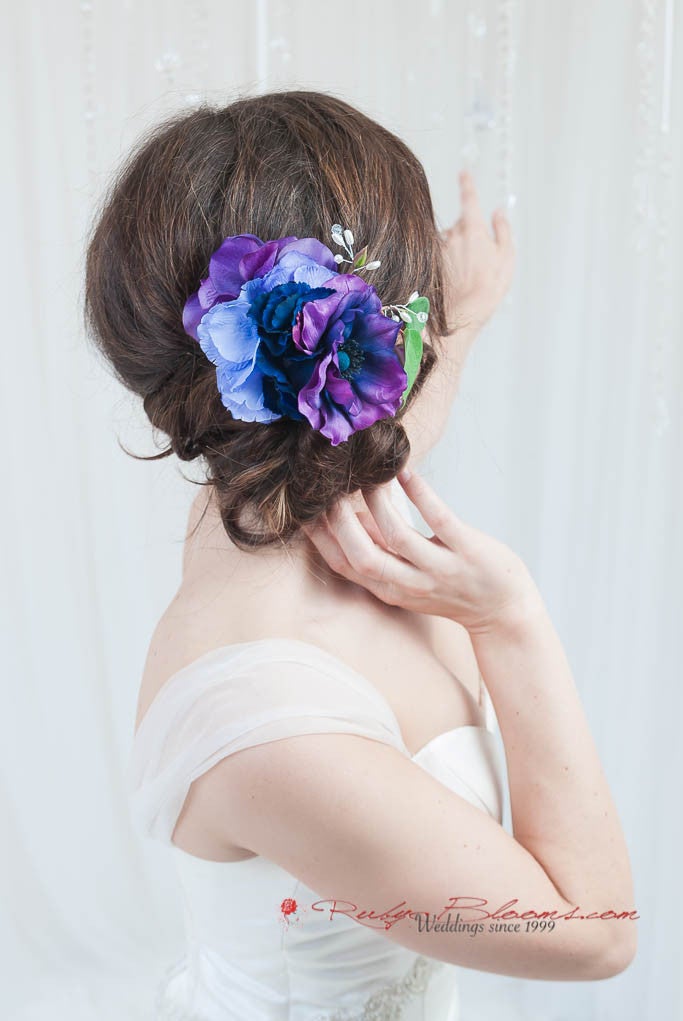 Adding Theme Color to Bridal Attire through Precious Stones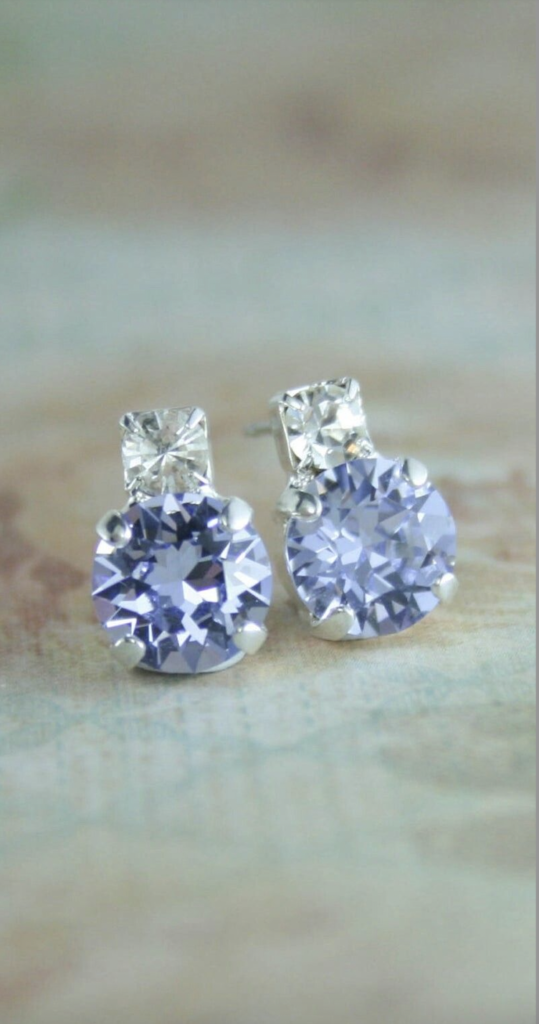 Calling all brides that love the marine blues and lilac tones of purple. The 'regal meets elegant style' combination induces a luxurious and sophisticated look when you decide on a pair of sapphire crystal studs as your bridal jewelry. This gorgeous accessory not only looks majestic with your bridal gown but perfectly complements your wedding theme.
Wedding Flowers to liven up the Lavender and Navy Dream
Taking advantage of lavender in a themed wedding based on this heavenly fragrant flower is crucial. Known for its medicinal and spiritual properties – this flower offers tons of pretty possibilities when it comes to wedding floral décor.
Using lavender in the bridal bouquet is the obvious place to start with. For a rustic feel, bridesmaids can also go for a lavender and rose headband.
When planning for your wedding blooms, you can play with a variety of options as lavender goes perfectly well with soft, pastel wildflowers, peonies, pink and white roses.
The altar decorated with lilacs, lupines, and lavender looks whimsical and feels straight out of a magical storybook.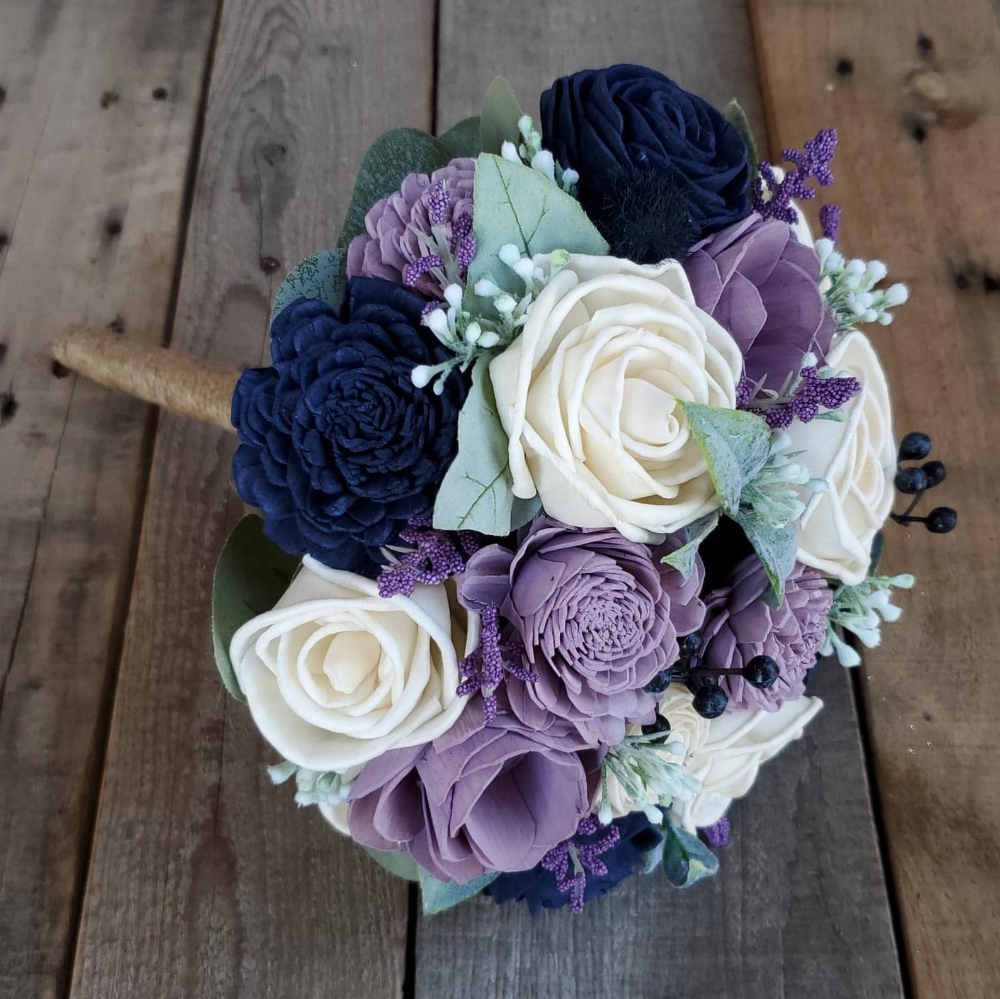 Pro tip: Because the stalks are inflexible, it's best to use flowers sparingly in larger and mixed arrangements since massing too many will make a stiff and lanky design. You can also use mauve bougainvillea in larger arch arrangements to add a dash of color.
The Lilac and Nautical Table decor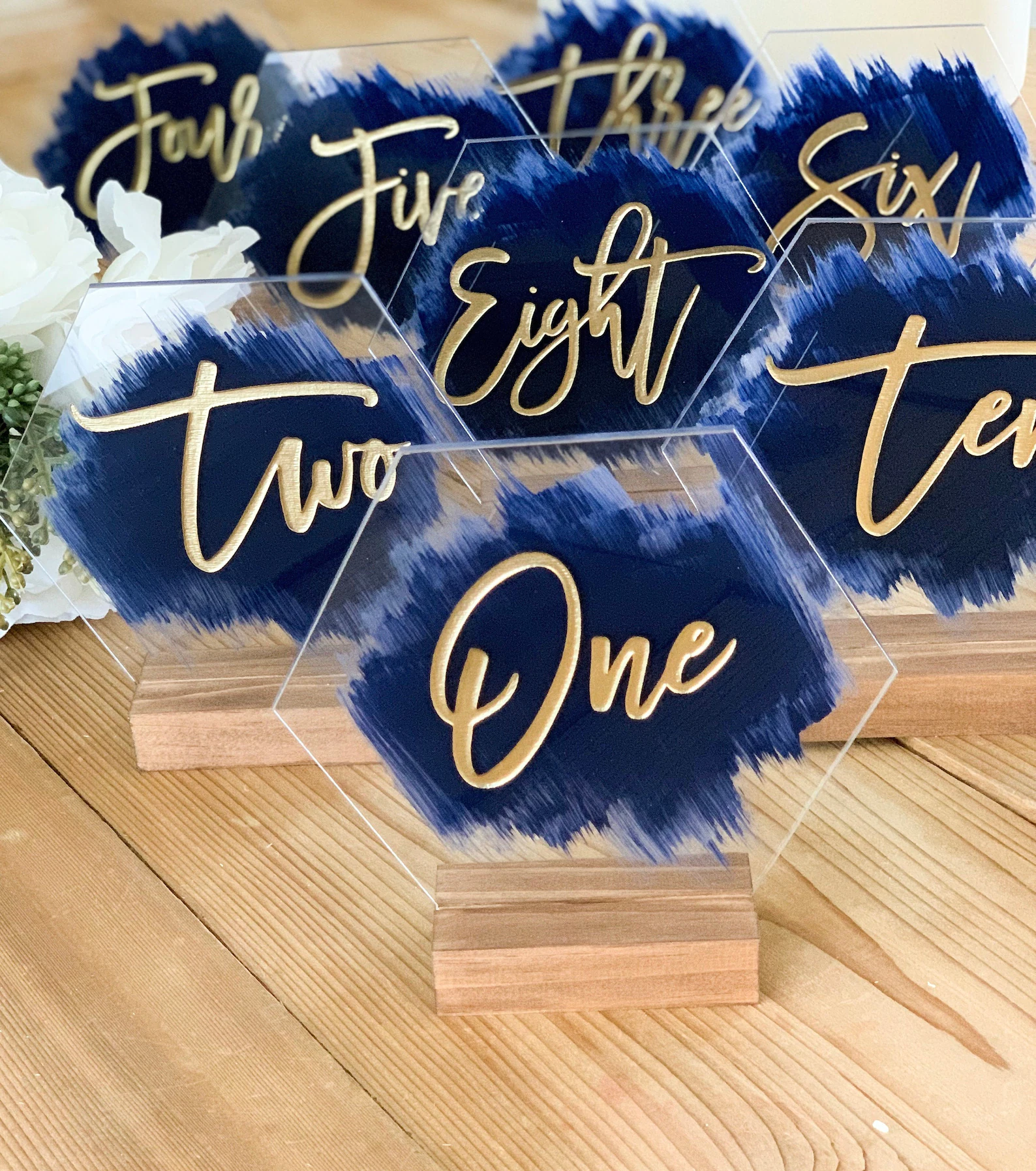 Starting with the nautical hued linens and lilac napkins, you can use metallic candle stands to soften the modern elegance of the theme. The fresh floral arrangements and lavender-scented candles as the centerpiece would liven up the mood. This simple table décor arrangement would bring a romantic and warm feeling to the guests.
The white plates and gold cutlery with metallic gold tumblers and crystal wine glasses make the perfect match to this stunning table décor.
Groomsmen Style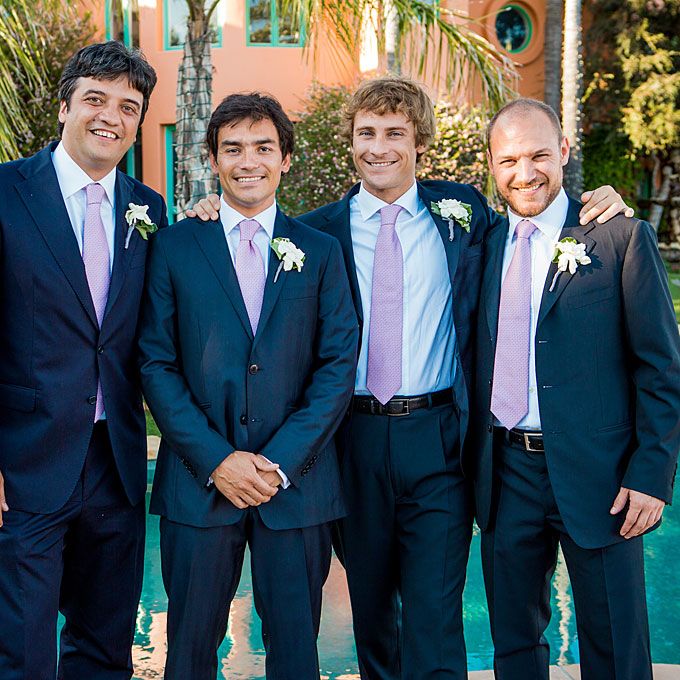 There can be so much personalization added to the groomsmen's tuxedos when it comes to lavender and navy wedding themes. We suggest mauve ties that can be worn with navy blue suits. Accessorize with white boutonnieres for the balance and complete the look.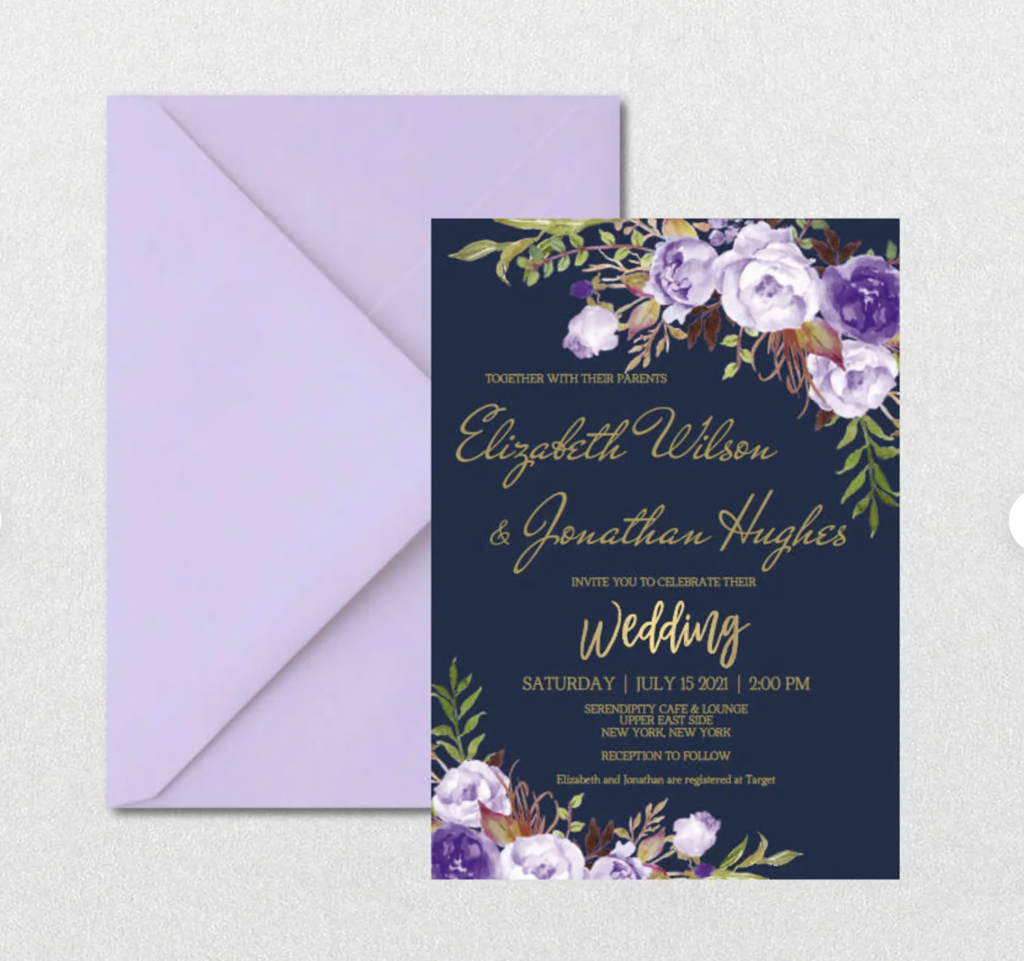 Yes, we want you to go for navy blue as the base color for your stationery. Being the color of elegance, it will look perfect on your watercolor-designed wedding invitations and place cards. You can play with metallic gold and white fonts to add glam. This deep navy, lavender, and gold combination on sheer white canvas would create a beautiful bold paring making it a timeless trend.
Convey the Royal theme in Dessert and Drinks
Wedding Cake: For the cake that makes a statement for a themed wedding -our favorite type of wedding cake is the one that looks and feels like a stormy night as the sunsets. It's rich in watercolor strokes of blue and purple highlighted on the white cream ganache, topped with wild purple flowers to complete the regal look.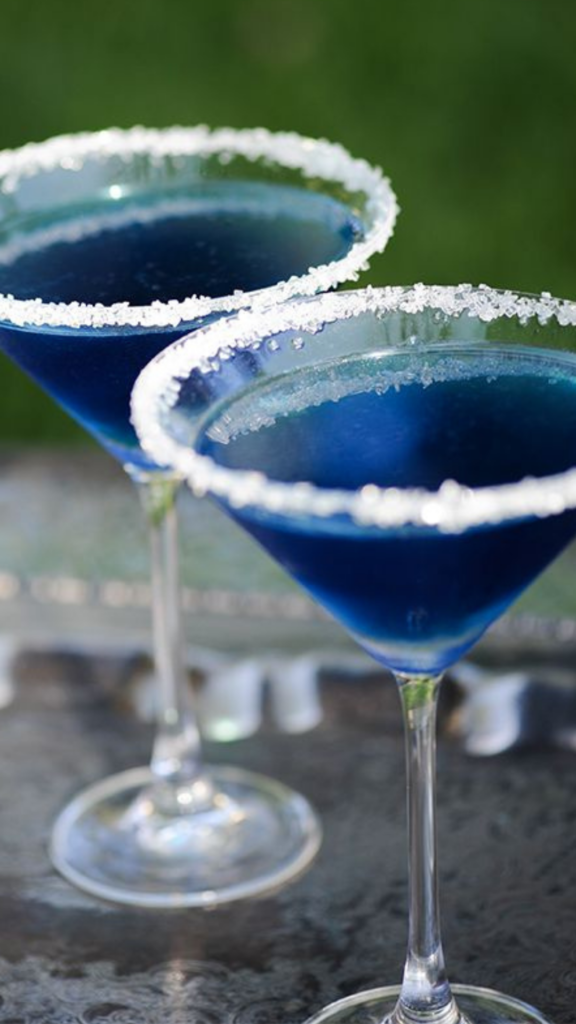 Wedding Cocktails: blue cocktails are no-fail ones to win hearts. But what about non-drinkers? Well, for your lavender and navy wedding palette, you can opt for mocktails such as Hawaiian punch or Polar Blast made from berries, oranges, and any blue soda you can find. You can ask the bartenders to name your signature wedding cocktail.
For more wedding color palettes ideas, check our wedding section for inspiration. Happy scrolling!
Featured Image By: Kandace Photography
This blog post was all about Lavender and Navy Blue Wedding.