This blog post is all about bridal shower sheet cakes.
Back by popular demand! Bridal shower sheet cakes are a great dessert idea for the bride-to-be. They are the best for adorable cake sayings and designs. We are here to show you some ideas of how you could design a bridal shower sheet cake.
In this blog post, we will show some of the best sheet cake examples. we will provide the creator's information beneath each image. By the end of this post, we hope you find the perfect visual inspiration for a bridal shower sheet cake.
Why sheet cake?
A sheet cake is a cake that is baked in a rectangular pan. It is generally one or two layers and a popular option for parties at special events. There are many benefits of a sheet cake for the creator and for the consumer.
They are easy to make or get from the grocery store that is ready for customization.
For someone creating a sheet cake, they can benefit from how it is easy to frost and easier to cut in to serve. They could also find that they are great choices for picnics and home events. And they are very versatile and easy to decorate.
As for someone consuming sheet cake, they can benefit from the same things as a round or Bundt cake. Once the cake is cut it will likely be in a square shape which is great for portion control. And generally, once a cake is cut, all that really matters is the taste.
5 Bridal Shower Sheet Cake Ideas
Here are 5 bridal shower sheet cakes that we think you will enjoy. They are a combination of flavors and styles that could go with the theme or your vision for the shower. You'll see that the possibilities are endless when it comes to this easy dessert.
Rustic
The rustic sheet cake style is warm and comforting. The rustic theme is perfect for a bridal shower that has a balance between rough and comfort. A rustic cake should be decorated to show the original radiance of natural elements.
In this example, they use a natural warm brown color. The design on the cake shows 2 loving animal signs and the dark color beads lined around the cake. We love how this cake is up against a brick wall and has a burlap table liner sprinkled with rose petals.
2. Carrot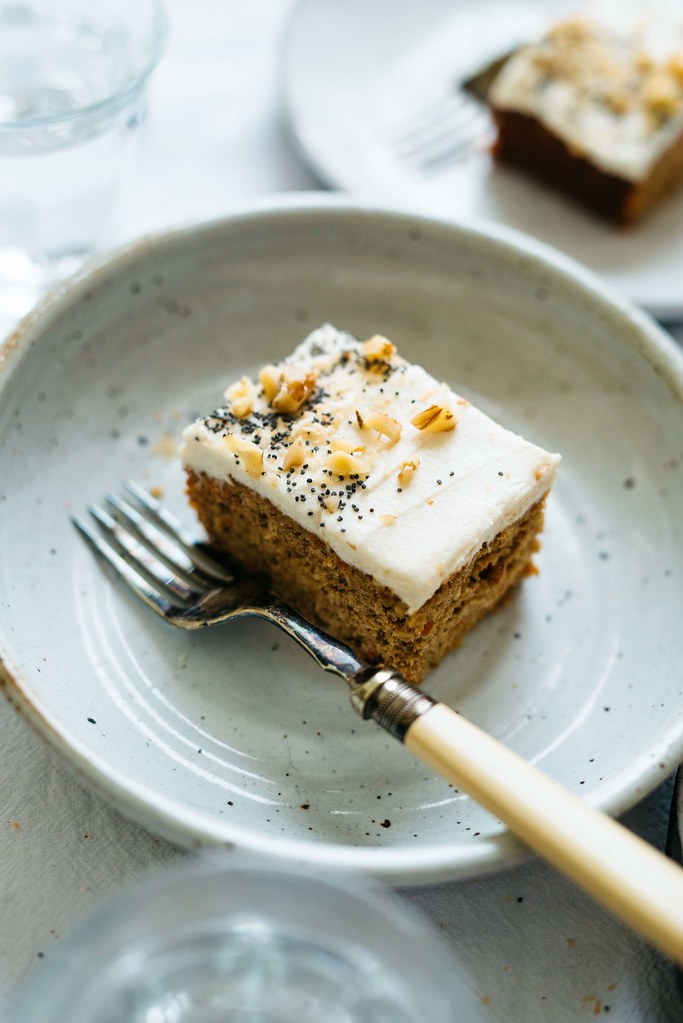 Although the name may sound healthier (it is not), we love this idea for a spring bridal shower or an event taking place around Easter. There are so many amazing carrot cake recipes, see our favorite recipe by Joy The Baker HERE.
We've seen that carrot cake is very popular for an Alice in Wonderland Tea Party bridal shower theme. We think that a sheet cake would be a great addition to the dessert table for this theme.
3. Rose Gold
And there's a good reason for this. A rose gold cake is a perfect color and style for the bride-to-be. They are also a go-to cake for a "Rose All Day" or "Blushing Bride" bridal shower theme and others.
This is such a cute example of a rose gold bridal shower sheet cake. We love the cute sayings and the pictures of wedding dress flowers and butterflies. See more examples of rose gold cakes HERE.
4. Chocolate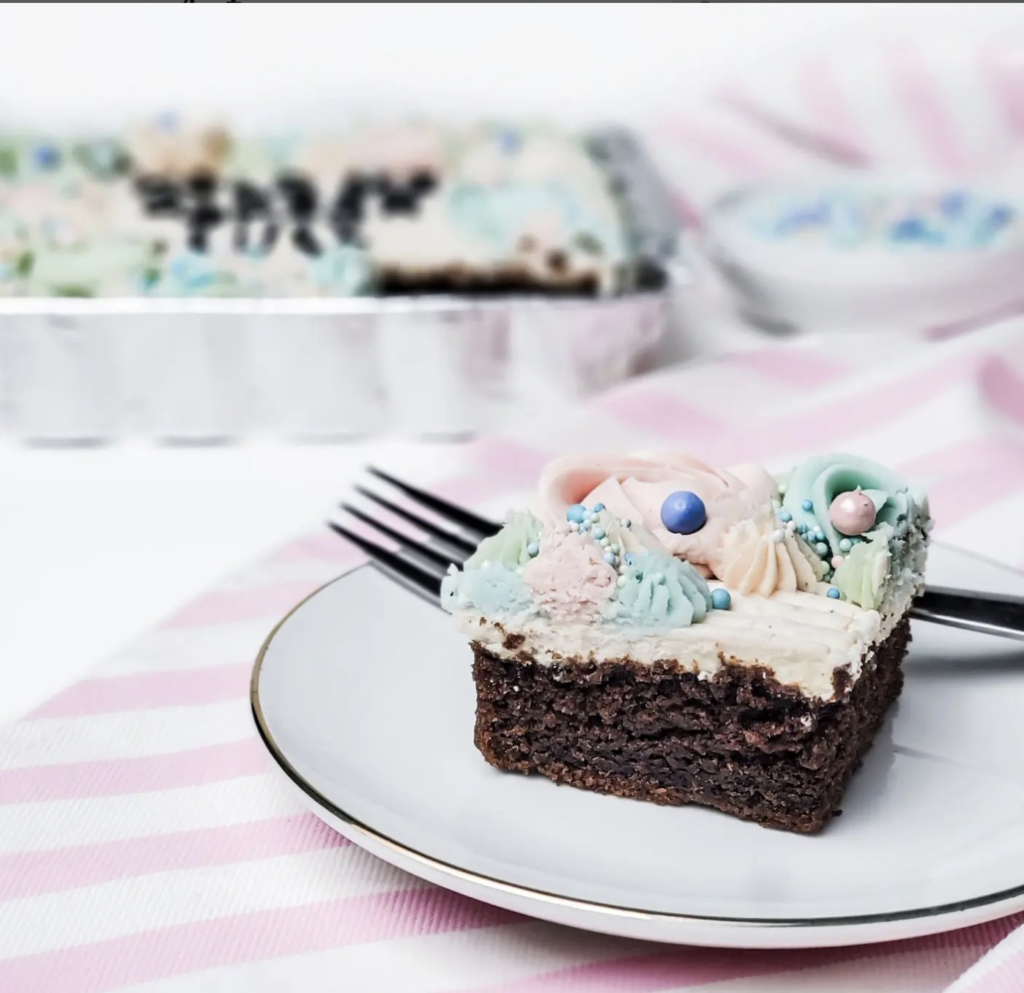 What else could we say about this flavor? This is always a classic flavor to have at any party. Chocolate cake is one of the best options for a sheet cake because it would be made for a surprise to guests when they see that the cake is not the standard yellow or vanilla.
So if the bride-to-be is a chocolate lover, then we highly recommend a chocolate sheet cake for the bridal shower.
5. Confetti
This is a fun sheet cake style for a wedding shower. We love this idea for a final fiesta or a Taco Bout Love bridal shower. Just look at how festive this looks. Just add vanilla frosting and load plenty of sprinkles and that is all you will need to decorate this cake.
More Examples
Here are a couple more examples of sheet cakes with cute bridal shower sayings on them. You will find that there are some simple and fancy sayings you could use.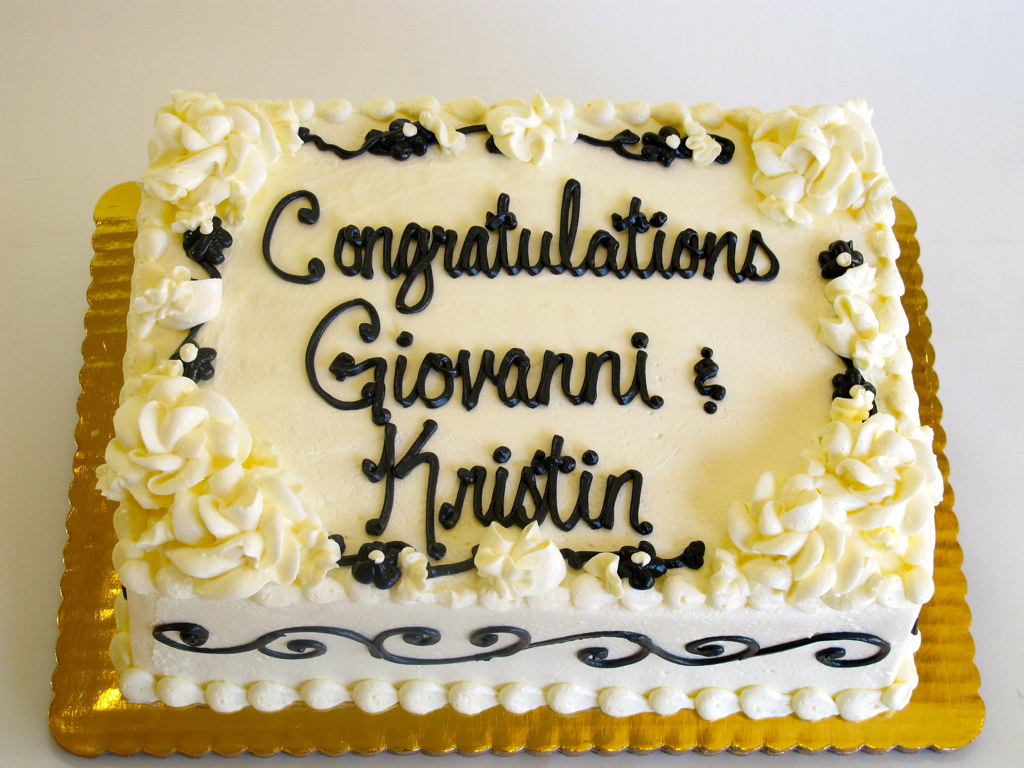 A simple congratulations with the couple's names would make a great saying for a wedding shower sheet cake. This cake is so easy and it looks like a cake that is intended to be eaten and enjoyed.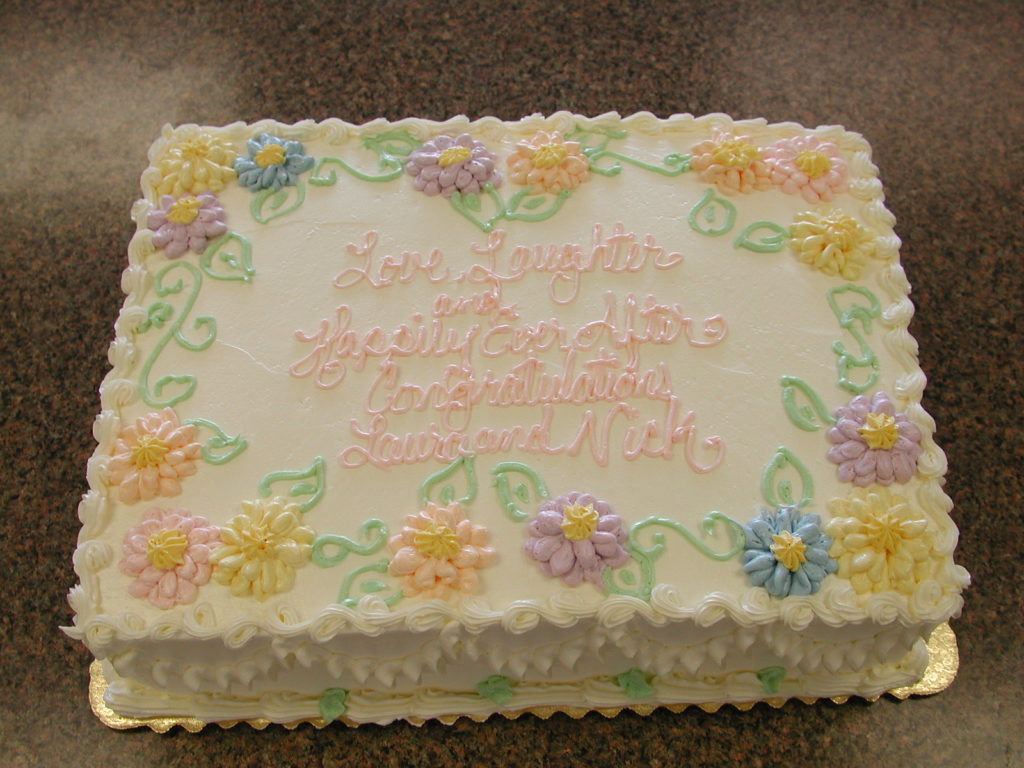 "Love, laughter, and happily ever after" is another cute bridal shower cake saying. If you need more ideas for what message to put on a bridal shower cake see our post about 57 Bridal Shower Cake Sayings.
Featured Image By: Evan Worona