This blog post is all about snow puns.
"Weather" you love or hate snow, it is certainly in our thoughts during the Winter months. See what we did there? If you are someone who is excited about the snow then we have some amazing snow puns and jokes for you.
Since we all have to deal with cold weather, we might as well enjoy some of these quirky sayings about the snow. These winter puns are sure to chill you with cold blankets of snow. So if you are up to "snow" good then keep reading.
In this blog post, we will give you the cutest snow puns for the winter season. Use them for social medial captions, school bulletin boards, or even holiday cards. By the end of this, you will be full of funny snow jokes and will see the fun side of the weather conditions.
Cute Snow Puns For Winter Time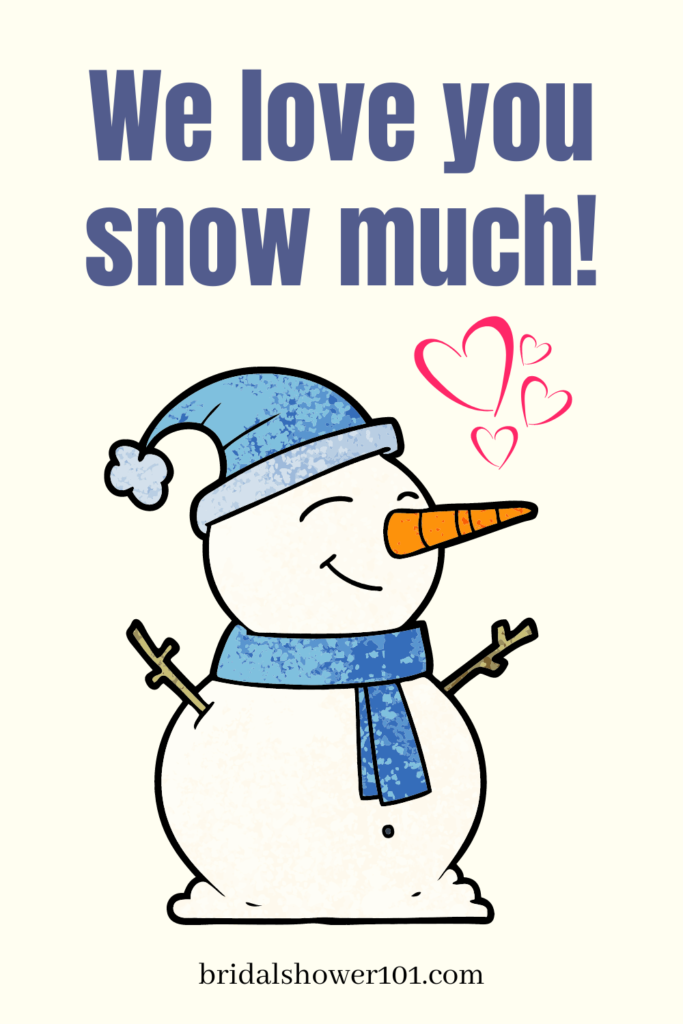 And snow it begins…
2. It's snow joke outside!
3. If you are praying for a blizzard, please go to Dairy Queen.
4. When it snows you have two choices; shovel or make snow angels.
5. People always stare at the snowman's nose, but he didn't carrot all.
6. I love the snow… especially through a window, under a blanket, while drinking hot chocolate.
7. Snow happy to see you.
8. Snow place like home.
9. Snow laughing matter.
10. If snowflakes were kisses, I'd send you a blizzard.
11. It's snow time!
12. Say it ain't snow!
RELATED: 40 Funny Butterfly Puns and Jokes
13. There's snow way I am leaving the house today.
14. Snow my goodness I am snow happy!
15. There's no business like snow business.
16. Time waits for snowmen.
Snow Puns for School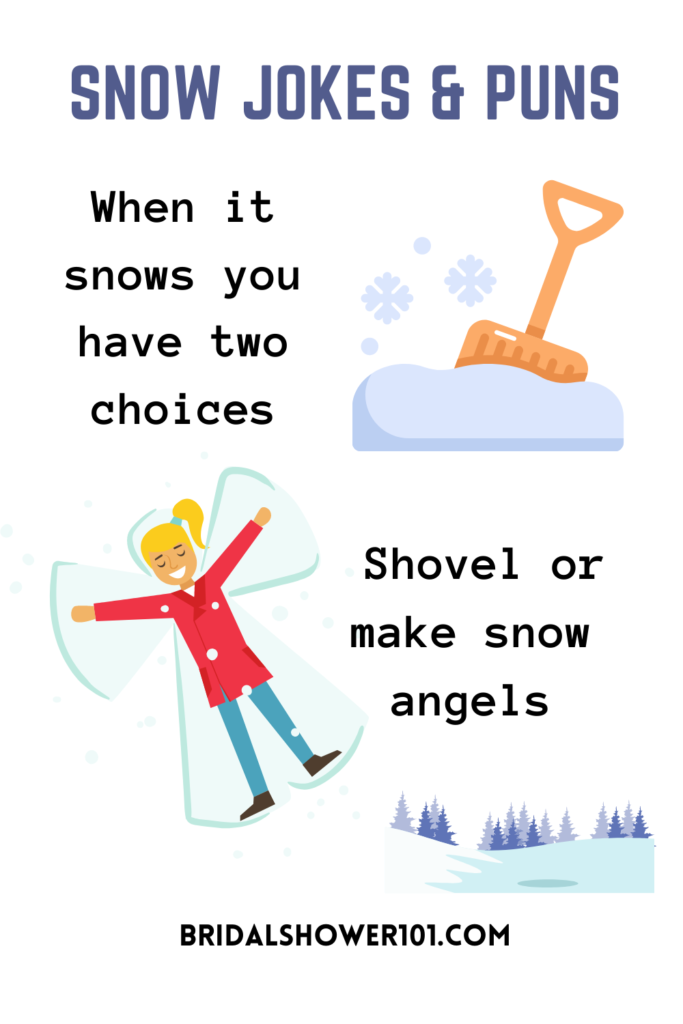 17. Snow is falling and books are calling!
18. Catch my drift.
19. For goodness flake!
20. Love at frost site
21. Snow much fun.
22. "Chill" out.
23. Go Play! It's a snow day!
24. The strongest blizzards start with a single snowflake.
25. Our class is snow cool.
26. Let it snow with kindness.
27. Snow place like Pre-School.
28. It's snow secret books are cool!
29. There's snow place like the library.
30. Chill out and read. It will make your winter bear-able.
31. It's snow secret that our students are brrrrr-iliant!
32. Snowbody happier than me when there's a snow day!
33. Snow-Brainer.
34. Wishing for snow school tomorrow
35. All of this is snow big deal for people up north.
36. Just built two snowmen. Had to make them 6 ft apart though so that they could snowcially distance Because if they don't they may get snow-vid 19 and will need to self- ice-olate
37. I think I heard a cry for Alp coming from the ski slopes
Snow Puns for Dogs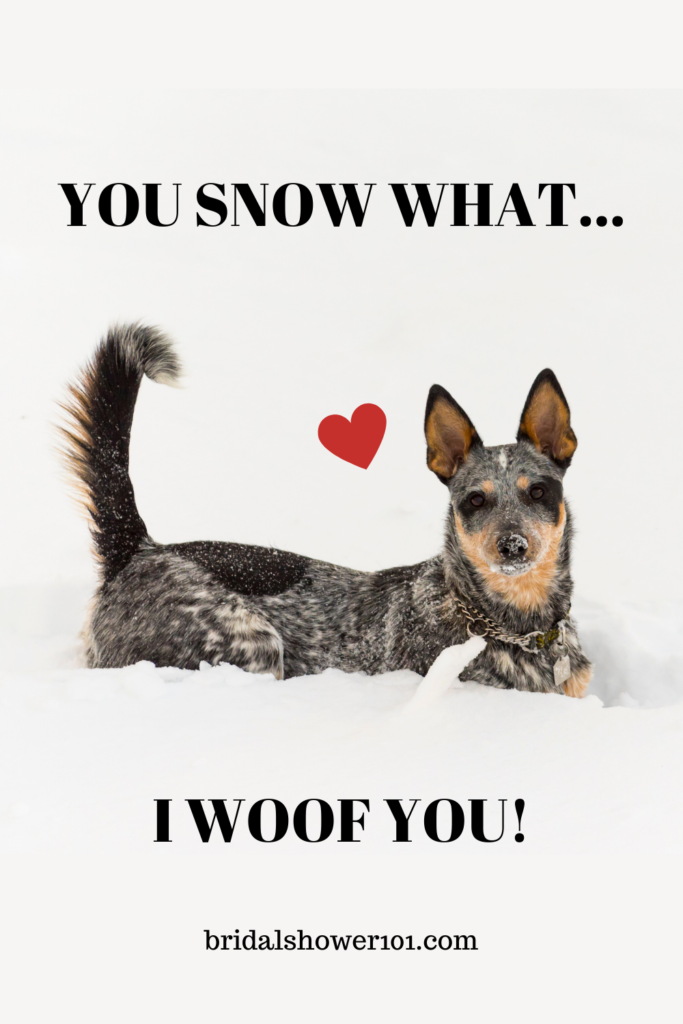 38. You snow what? I woof you!
39. Up to snow good.
40. Dachshund through the snow
41. What do you call a snowman's dog? A slush puppy!
42. What do you call a frozen dog? A pup-sicle
43. Not SNOW fast!
44. There is snow better game than fetch.
45. Revenge is a dish best served cold.
Snow Puns for Christmas Cards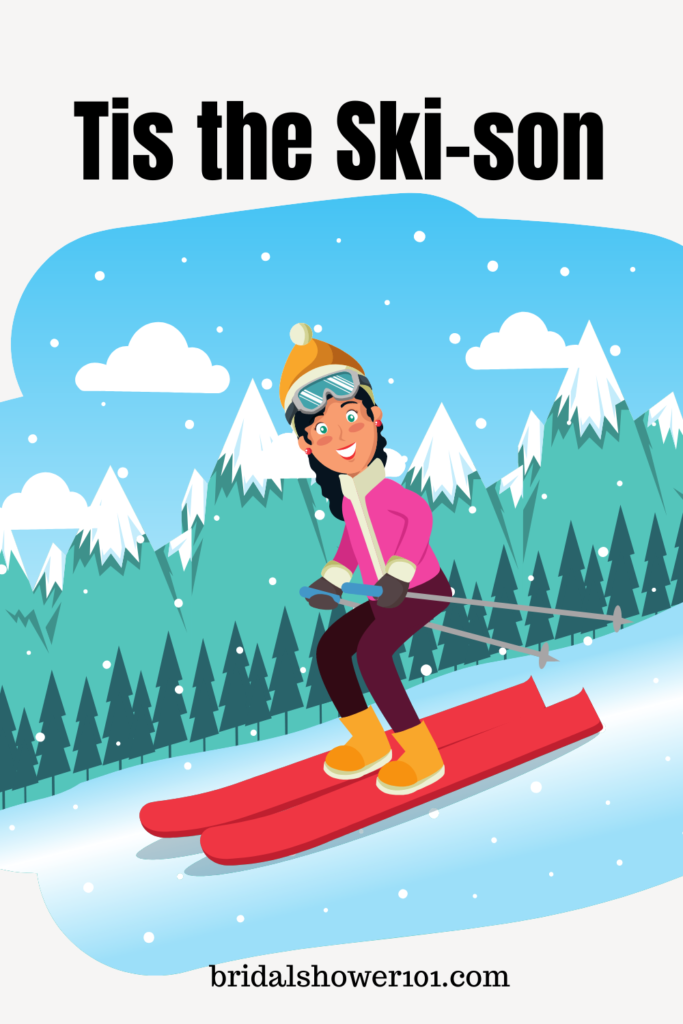 46. ​​Winter kisses and snowflake wishes
47. We love you snow so much!
48. 'Tis the ski-son!
49. 'Tis the season to be freezin'
50. You mean snow much to me!
Snow Puns for Instagram
51. Let it snow. Let it snow. Let it snow.
52. 'Tis the season to sparkle.
53. Some people are worth melting for.
54. Cold hands, warm hearts.
55. Sweeter weather!
56. Toes are cold.
57. Do you want to build a snowman?
58. Cozy Season
59. Baby, it's cold outside.
60. Wake me up when it's summer.
61. These memories mean snow much to me.
62. Snow where else I'd rather be.
63. We glove a snow pic.
64. This weather is snow joke.
65. sNOw worries.
66. Snow gal left behind.
Snow Jokes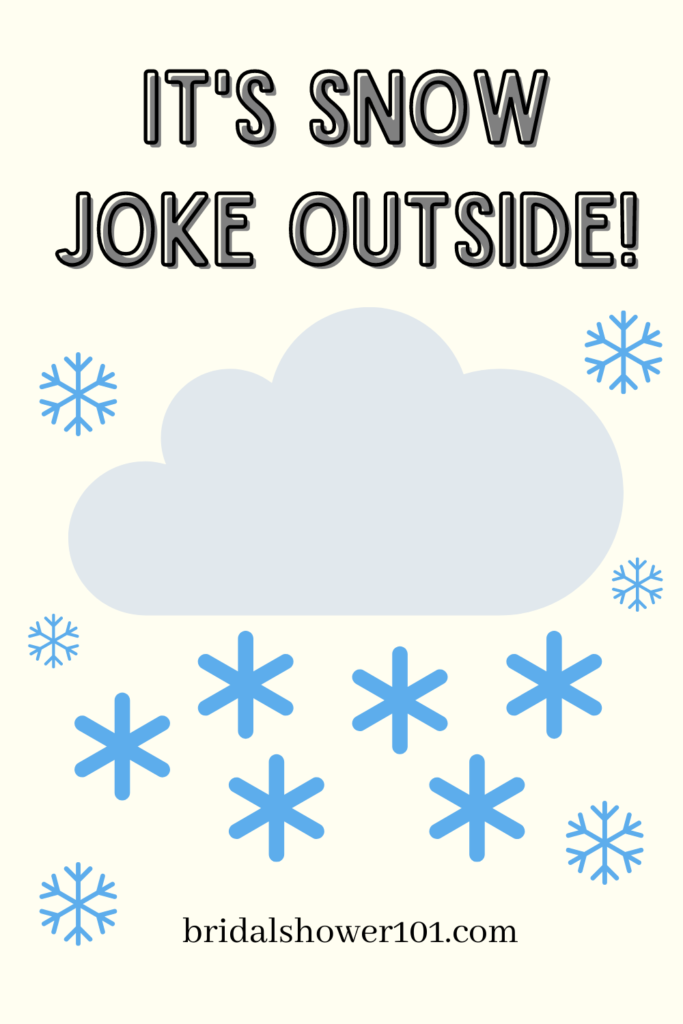 67. What do you get when you cross a snowman with a vampire? Frostbite
68. Where do snowmen get the weather report? The Winter-net.
69. What is a snowman's favorite food? Brrrr-ritos!
70. What does a snowman like to eat for breakfast? Frosted flakes and ice crispies.
71. What do you call it when a snowman throws a temper tantrum? A meltdown.
72. What is a snowman's favorite drink? A slushy
73. What did the snowman order at the restaurant? Chilli.
74. Why did the snowman have to go to the dentist? To fix his frost bite.
75. What do you call a snowman with a sixpack? Abdominal snowman.
76. What did the snowman's wife place over their baby's crib? A snowmobile.
77. What do you call an old snowman? Water?
78. What's Jack Frost's favorite part of school? Snow and Tell.
79. What does a snowman do when he's mad? Gives a cold shoulder.
80. Where did the snowman keep all of his money? In a snow bank.
81. Knock Knock. Who's there? Snow. Snow who? Snow cold out here!
This blog post was all about snow puns.
.