This blog post is all about shy crush quotes.
We've all had a big crush on someone before. So let's talk about what that means. Shortness of breath, heart-pounding, and high anxiety when they are around. This may sound like a health concern, but when it was caused by a crush, it's one of the most beautiful feelings in the world.
If you are reading this, then it is likely you are shy and you have a crush on a special someone. While you gather your thoughts and your feelings, we have the best quotes for your situation. We have the best list of crush quotes for shy people.
These quotes will remind you of your secret love and your true feelings about them. We have quotes for when you liked them for a long time or when you fall in love. The butterflies in your stomach won't go away after reading these shy crush quotes.
So read on in hopes that your secret crush will one day find out how you really feel about them. If them f, until tinding ours is too scary, just keep drawing hearts with their name inside them.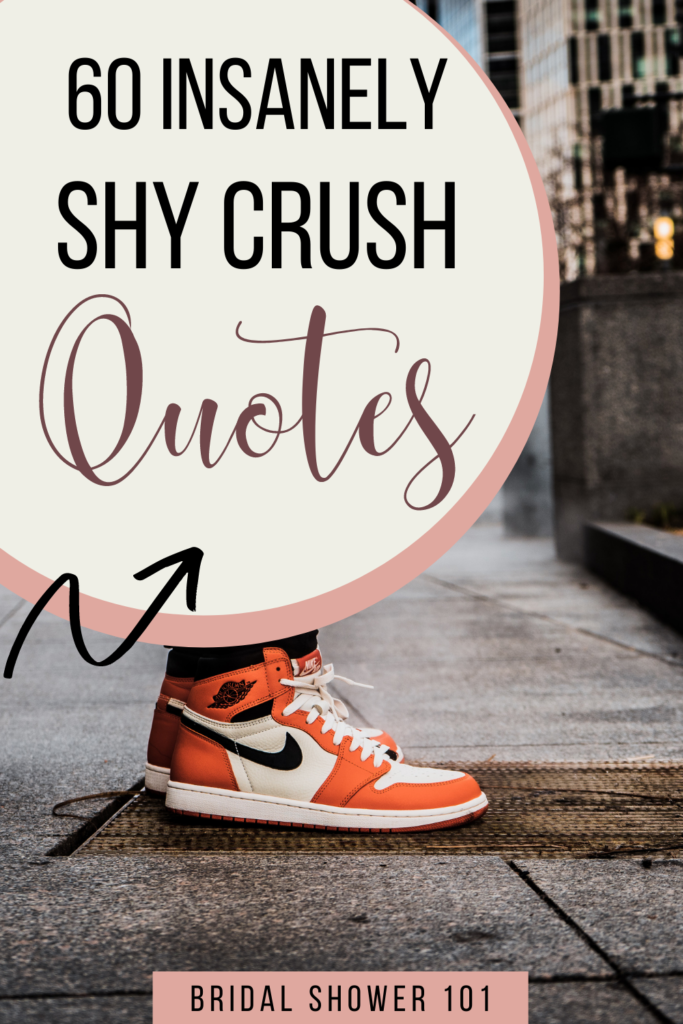 60 Amazing Shy Crush Quotes for Introverts
We know your crush brings a smile to your face. These quotes will have you grinning ear to ear because it makes you think even more.
1 Not even the entire English language can explain the rush I get through my veins when someone says your name.
2. My heart stops when you look at me
3. You have no idea how fast my heart races when I see you.
4. The way you talk to me gives me butterflies.
5. Everything about you makes me happy.
6. He's tall, He's cute. He has gorgeous eyes. And a stunning smile. I didn't say a name, but he popped in your head didn't he?
7. I know I don't stand a chance, but I'm gonna crash on you anyway.
8. Every time you look my way, my heart skips a beat.
9. I shouldn't be jealous. You aren't even mine.
Here are more love quotes from famous singers, authors, and actors. They are sure to know what having a crush is like, but had no clue how shy these people are about their crush.
10. "Creating a nickname for your crush, that only you and your friends know." — Unknown
11. "If I had a single flower for every time I think of you, I could walk forever in my garden." — Claudia Adrienne Grandi
12. "There are so many other things I should be doing with my life right now but instead, I am stuck here crushing on you." — Unknown
13. "All I really want is to hold you tight, treat you right, be with you day and night." -Brittany Spears
14. "He barely knew I existed. I knew some of the same people he knew, but I was a girl in the background, several degrees of separation removed." — Rick Yancey
15. "I'm afraid to lose you and you're not even mine." – Drake
16. "Do you know what it's like to like someone so much you can't stand it and know that they'll never feel the same way?" — To All the Boys I've Loved Before
17. "The mark of a true crush… is that you fall in love first and grope for reasons afterward." — Shana Alexander
Here are some more short love quotes to use when you want to daydream about your crush.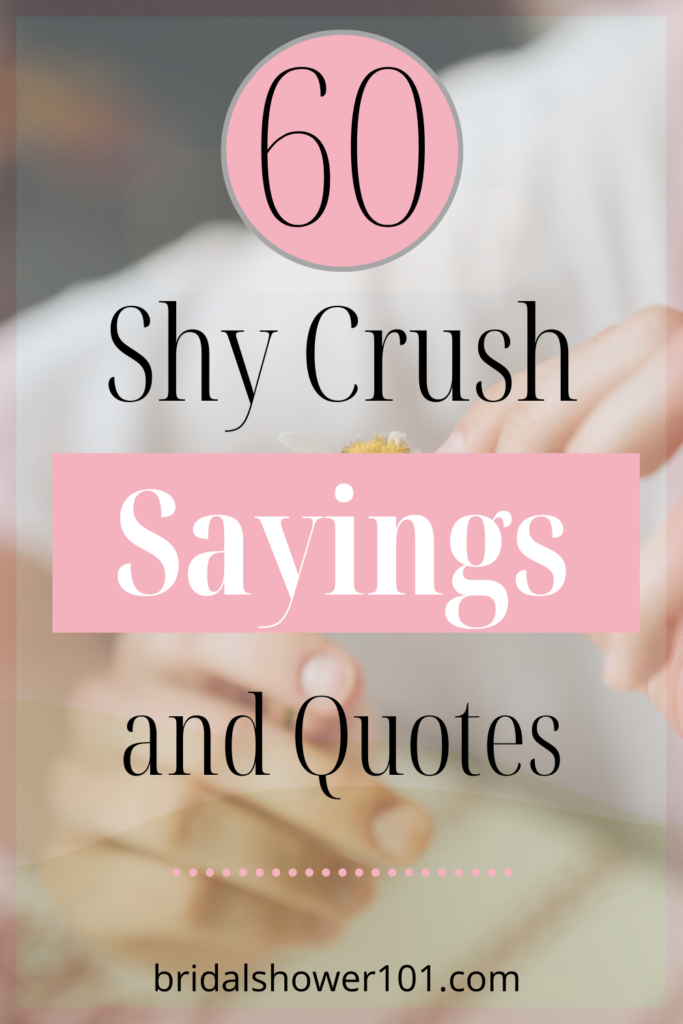 18. When I see you, I admit I start to lose my grip and all of my cool.
19. I love people who make me forget I'm shy.
20. I love you but you don't know it. I want to be with you, but I don't show it.
21. It's amazing how crazy I feel when my phone vibrates and I'm, begging it to be you.
22. If I got a penny for every time I thought and dreamed about you, I would be rich.
23. Isn't it funny how you can still get butterflies in your stomach, even though you have known the person for years?
24. I'm not ignoring you. I'm waiting for you to talk to me first.
25. "I really want to talk to you…but I'm too shy. "
26. Eye contact is the kiss of shy people.
27. I don't know what to talk about, but I want to talk to you.
28. How do shy people flirt? Eye contact.
29. That moment when your crush smiles at you and you blush like an idiot.
30. I always hope you're looking at me when I look away.
31. You are the best part of my day and you don't even know it.
32. I'm dying to know, but too afraid to find out.
33. Talking to you makes my day.
34. I love it when I catch you looking at me.
35. You're my favorite daydream.
36. When I'm with you, I'm over the moon.
37. When you smiled, I fell in love.
38. I have a hopeless crush on someone I have no chance with.
39. Crushing on someone is secretly frustrating and inspiring at the same time.
40. If my love for you is a crime, then I want to be the most wanted criminal.
41. I care about you a lot more than our circumstances allow me to.
42. "I'm so afraid to make that first move. Just one touch and we could cross the line." -Jesse McCartney.
43. When you lowkey accidentally fall super hard for someone.
44. That moment when the guy you've been manifesting finally DMs you…
45. I like the little things about you. Like the sound of your laughter and the way your smile forms
46. ​​You don't understand how much I like you, do you?
47. If you have a crush on me, please shoot your shot. You have no competition because I am rooting for you.
48. I hate that I can't call you mine.
49. I wonder what goes through your mind when someone mentions my name to you.
50. I need to stop thinking about you because you might not be thinking about me.
51. I don't know how to flirt so I'm going to stare at you until you marry me.
52. I love it when you smile. It's cute.
53. To be honest, I love when I see your name pop up on my phone. It makes me so happy.
54. It's kind of weird how happy one person could make you.
55. I'd be his if he asked.
56. I pray we're right for each other, I really do.
57. I cant wait to get to school/ work to see you.
58. When I see your face I grin like an idiot.
59. Please don't flirt with me. I'm not trying to cheat on my crush who doesn't even like me.
60. When your crush "accidentally" touches you or bumps into you. *Heart flutters.*
RELATED: 60 Seduction Quotes Sizzling Hot