This blog post is all about bridal shower decorations.
If you are hosting a bridal shower, there are so many things you will need to consider. Things like location, time, theme, invitations, and so many others. Once all of those factors have been determined, it is time to incorporate the most important factor of a bridal shower, the decorations.
Bridal shower decoration ideas are so versatile and there are so many ways to make the event look unique, elegant, and very exciting. When it comes to bridal shower decor, it is all about the little details that bring the event together.
In this blog post, we will break down the best practices of bridal shower decorations. We will provide a complete guide to bridal shower decor and styles. By the end of this post, you will have a blueprint of the best bridal shower decorations.
21 Amazing Bridal Shower Decoration Ideas
We will provide decor ideas for signage, backdrops, table sets, banners, and so many extras.
These ideas are here to inspire you. We have the best decorations for a bridal shower and with links to where to find them. We really hope this helps you plan a super cute bridal shower.
This post may contain affiliate links. That means I'll receive a commission if you purchase through my link, at no extra cost to you. Please read the full disclosure HERE.
Signage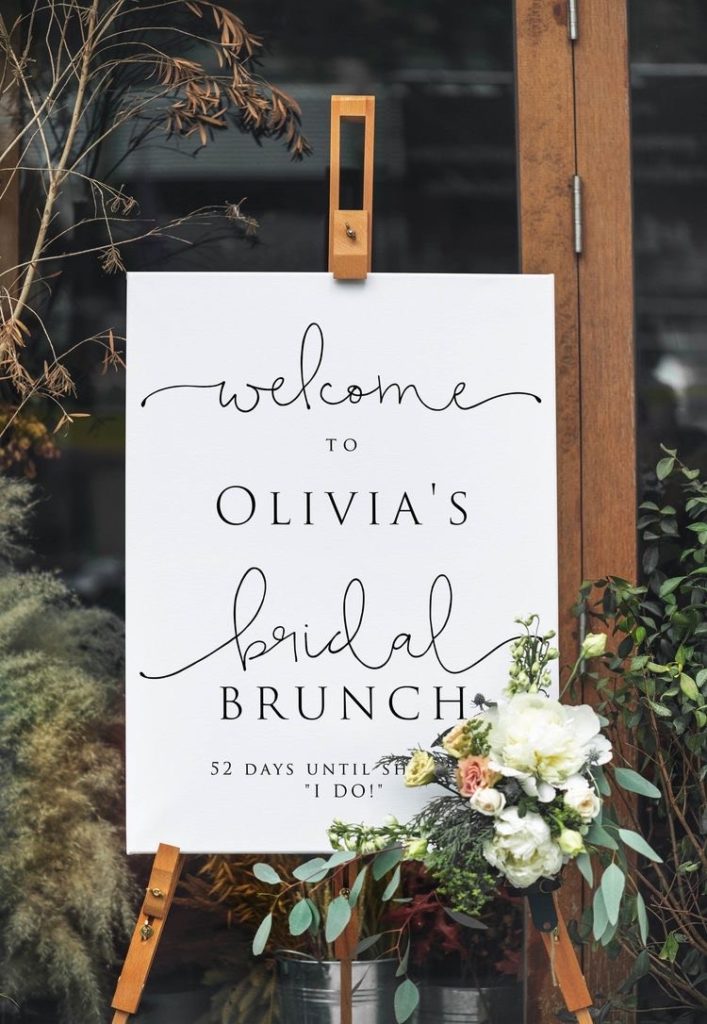 Set the scene with the perfect signage for the bridal shower. Signage is such a great way to incorporate the theme or overall style of the event. It is ideal to have a bridal shower sign at the entrance of the even.
For example, if you are hosting a bridal shower at your house, then there should be a welcome sign at the front door or foyer.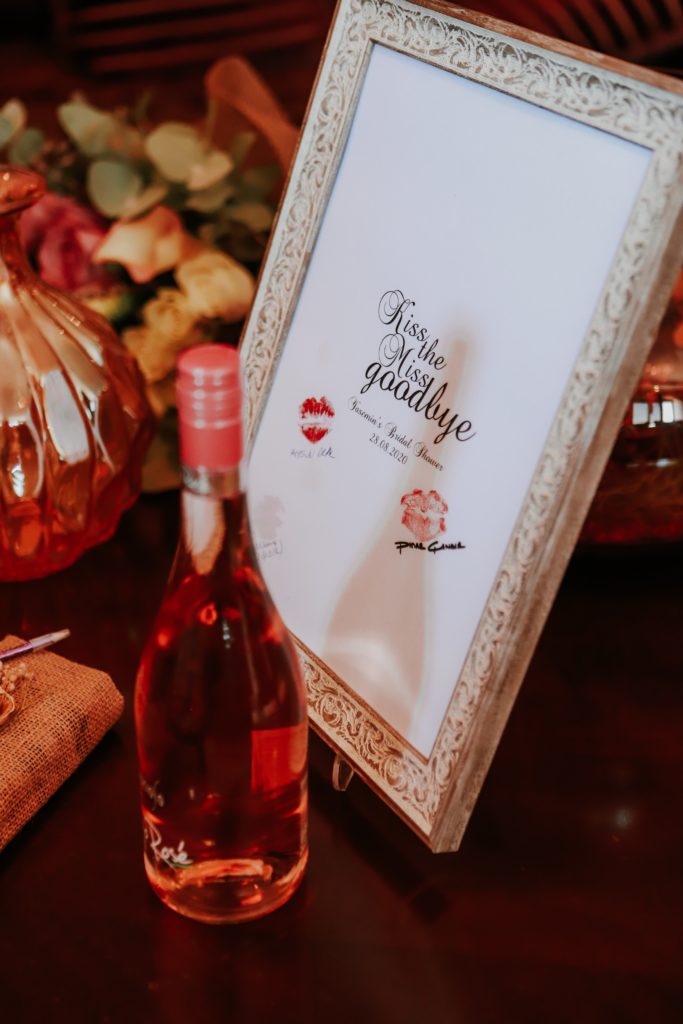 Another idea is to use signage as a way to get guests to utilize party supplies. For example, things like games or a photo booth could encourage guests to get involved in the wedding shower activities. The picture above is a great activity for bridal parties. Each bridesmaid gets to Kiss the Miss Goodbye.
Donut Wall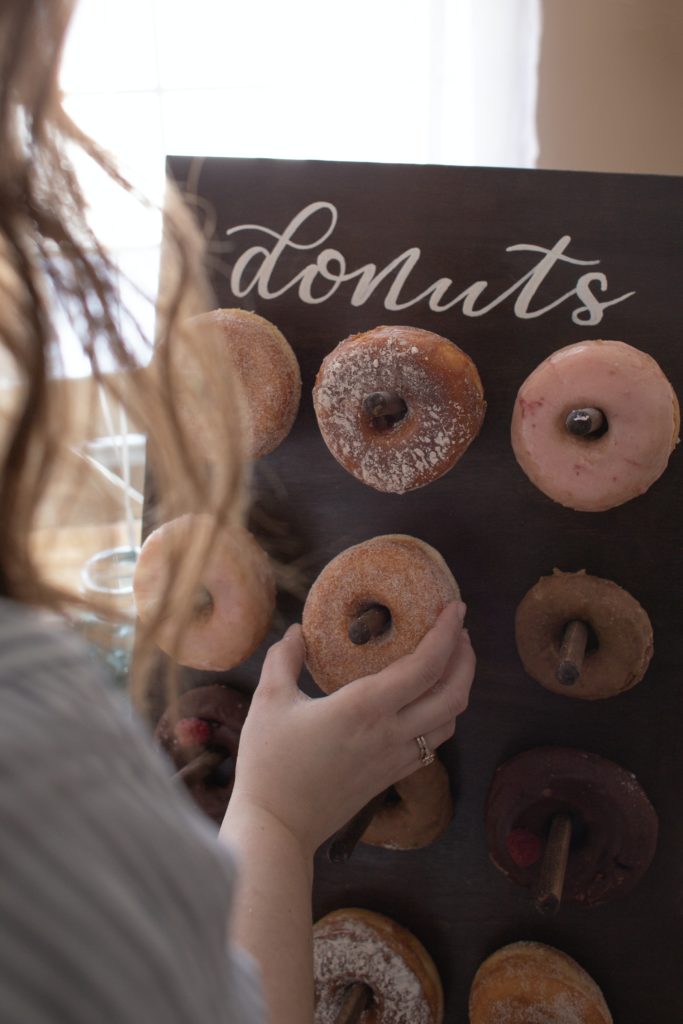 This special day could also mean using food as the bridal shower party decor. Setting up a candy "Love is Sweet" bar or a donut wall are some of the best practices.
This example is one of our favorites. See how they used the donut wall for treats and they make a great display. We loved this idea so much and you could read more about it in our "Donut Mind If I Do" bridal shower theme.
Bridal Shower Table Decorations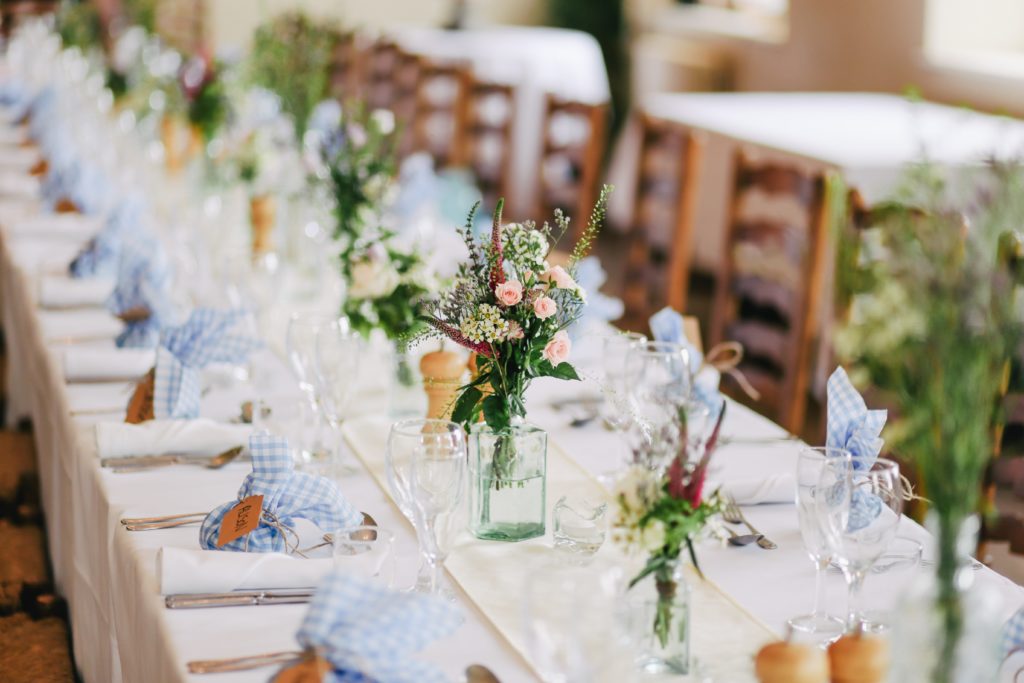 Depending on the style and theme of the party, your tables decor will vary. Most bridal showers take place in the warmer months so it is common to see some Spring and Summer inspired decor. Typically you'd want to use a lot of light colors and florals.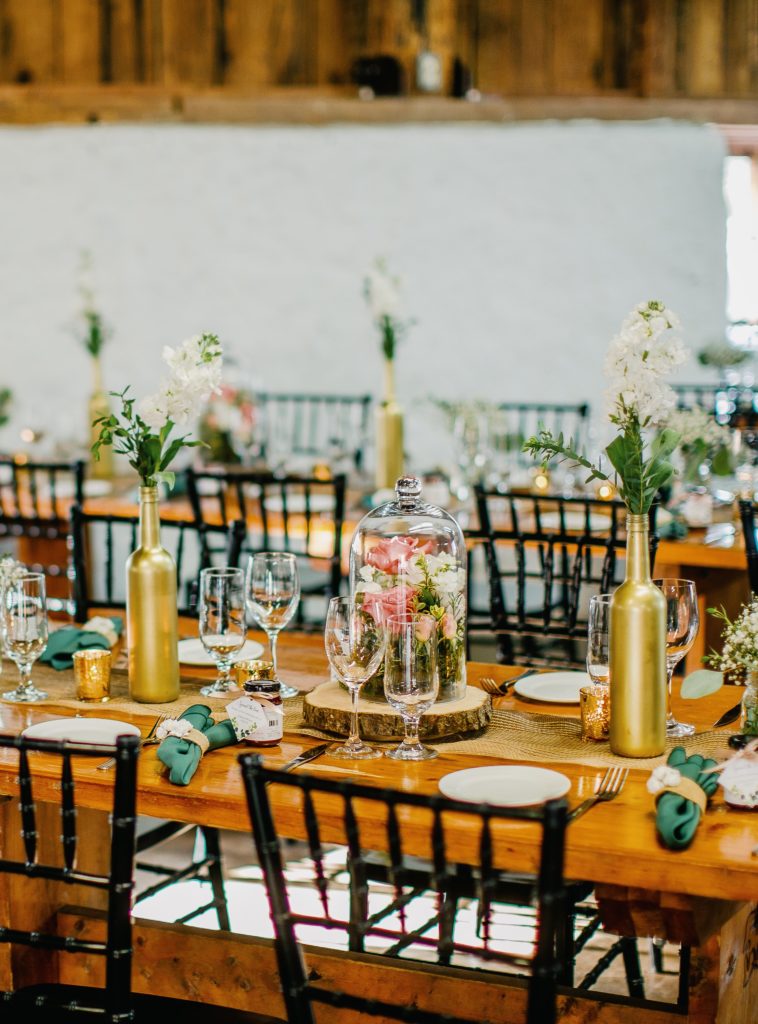 Think of your table setting as eye candy for bridal shower guests. They will enjoy the design and see that it took some thought and time. Some things you will need to make the table setting look sophisticated like vases, a table runner, and centerpieces. See how you could DIY your own bridal shower centerpiece here.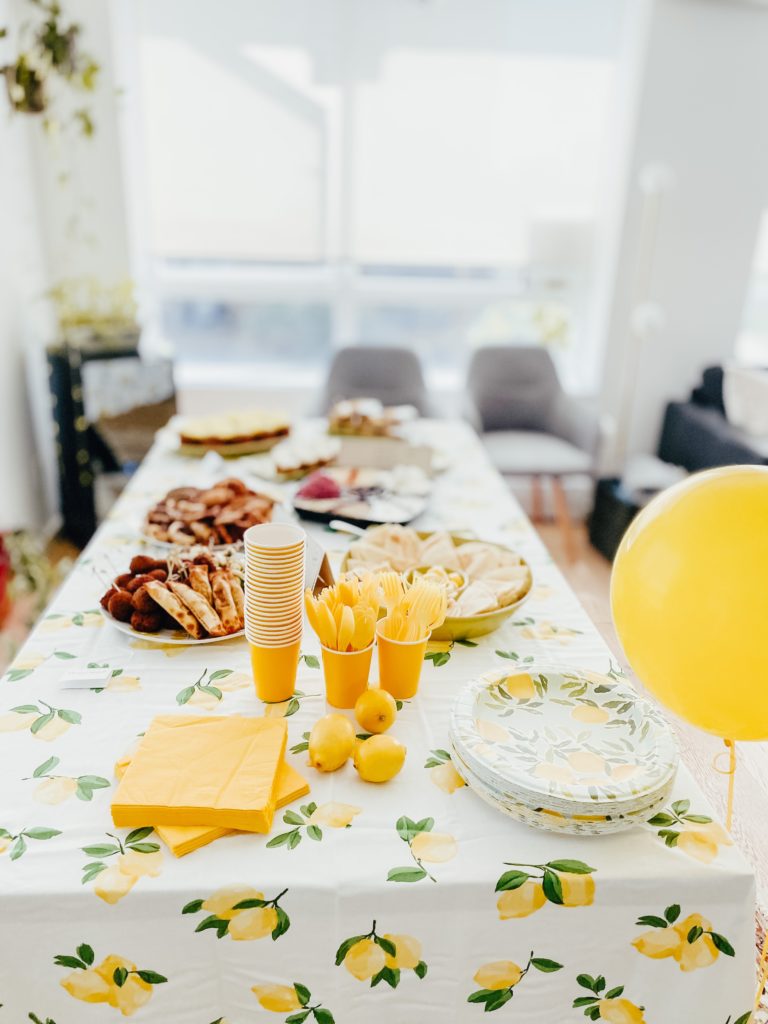 Bonus points if you could make your table setting a part of the bridal shower theme! In this example, here is a table for a "When Love Gives You Lemons" bridal shower.
You could get fancy bridal shower tableware or you could get some color-coordinated paper plates and cups. It all depends on how you decide to style it and which tableware options work the best with the theme.
Tableware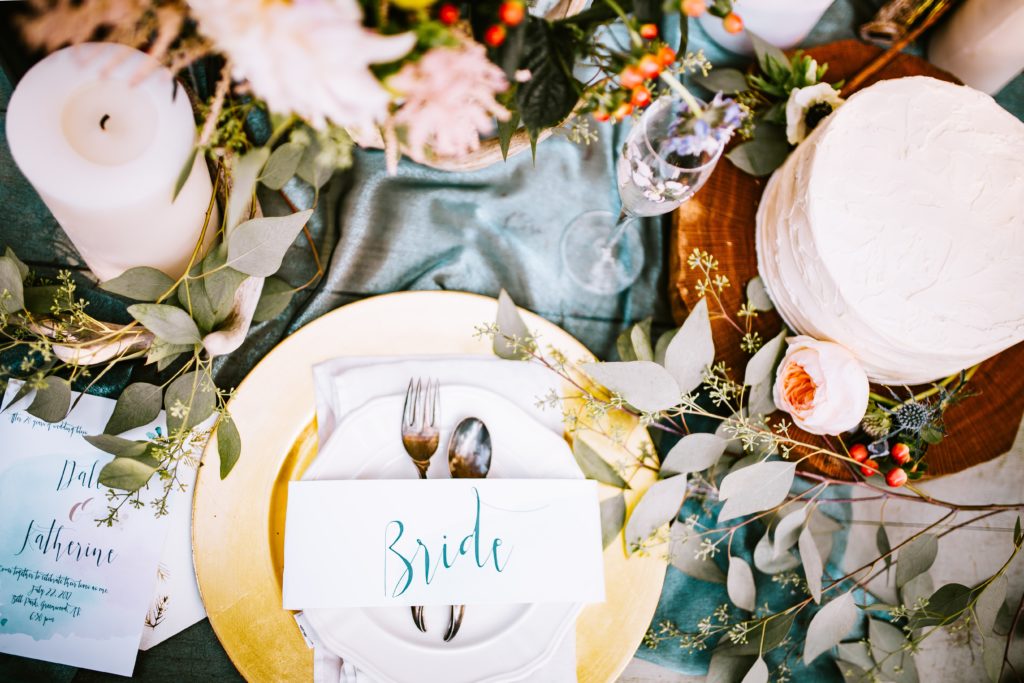 Also, including little details like place cards and greenery are great examples of table decor. Metalic elements like rose gold and gold are also popular in bridal shower table decorations.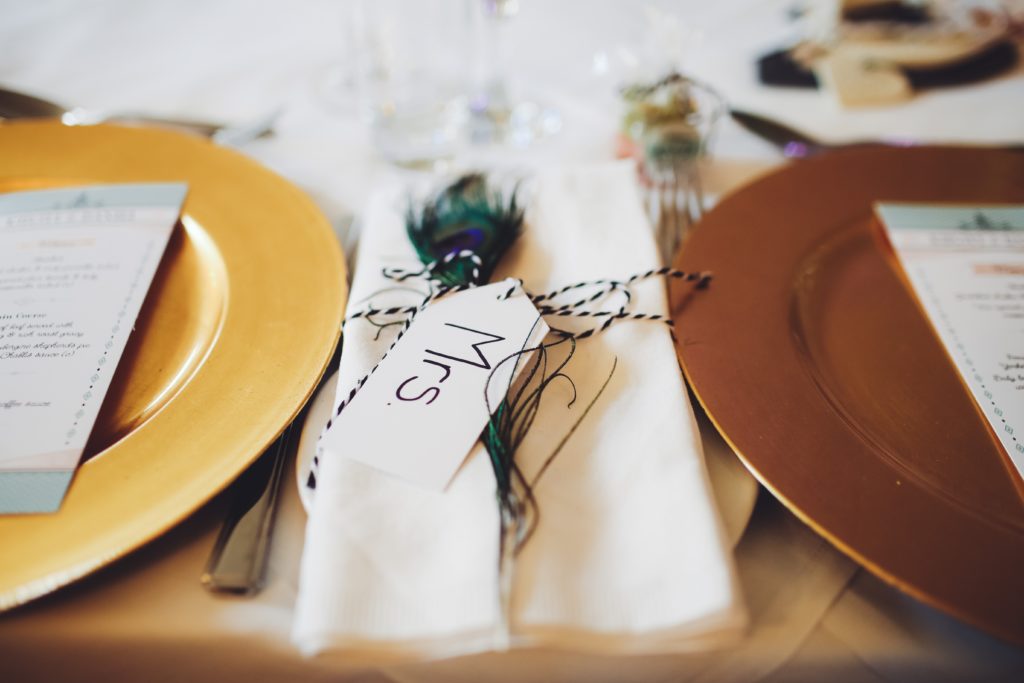 Labels and tags are ways to make the bridal shower more personalized. You attach could to bridal shower supplies like party favors and other small treats for the guests.
Balloon Garland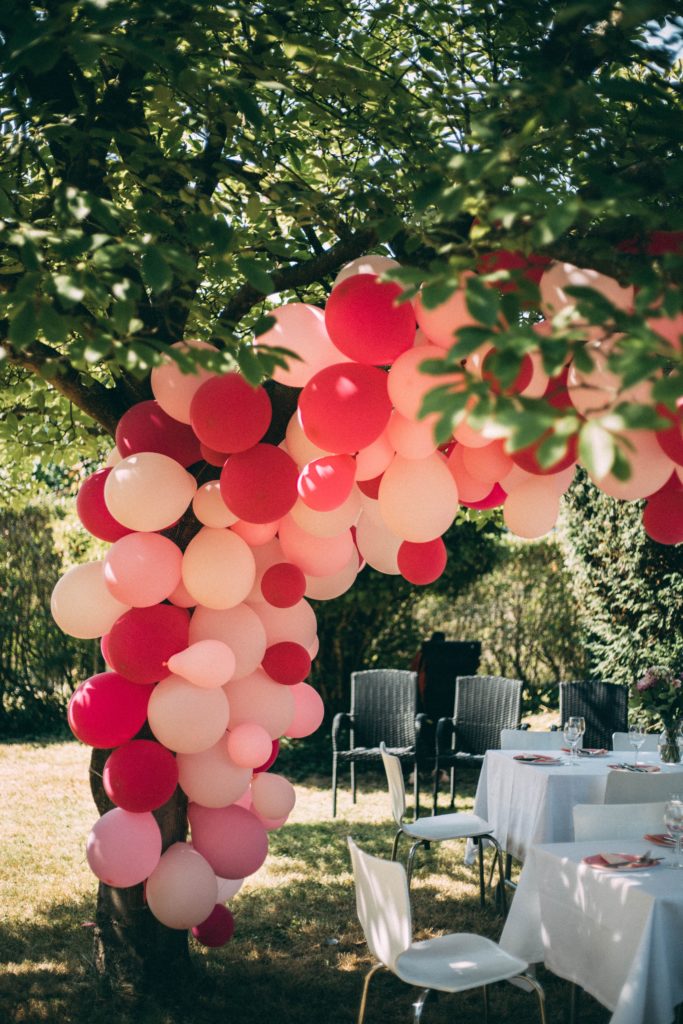 Balloons add more dimension and make any bridal shower or bachelorette party festive. They look great in indoor and outdoor settings.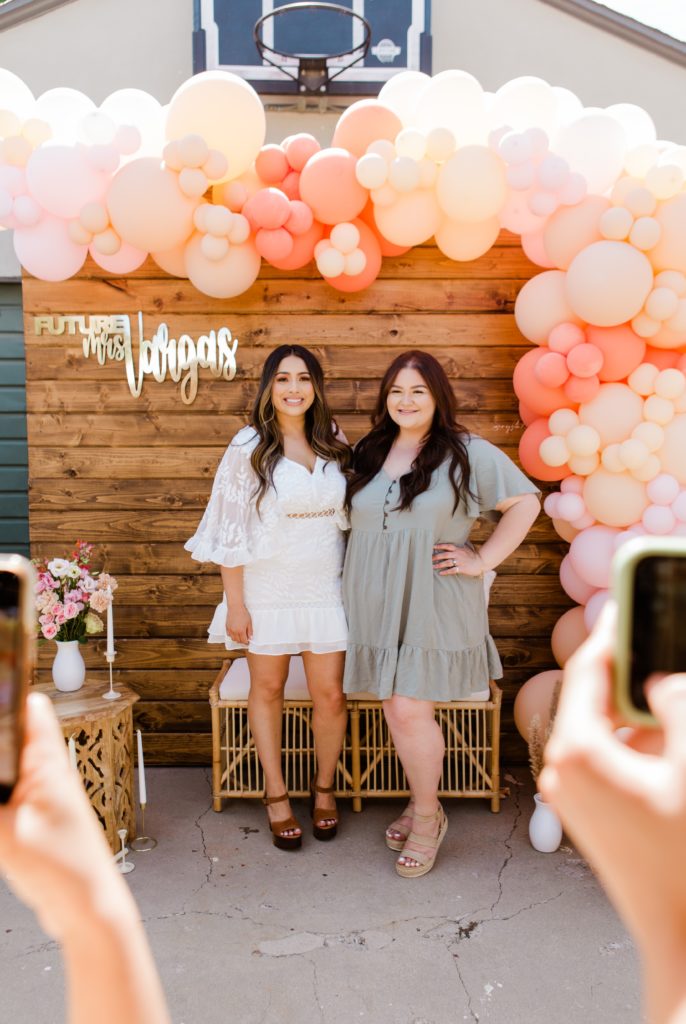 Ballons may seem like a tedious and basic decoration, it's actually very versatile. One of the best things you could do is make a balloon garland. They are very easy to DIY and they look very high quality when done correctly.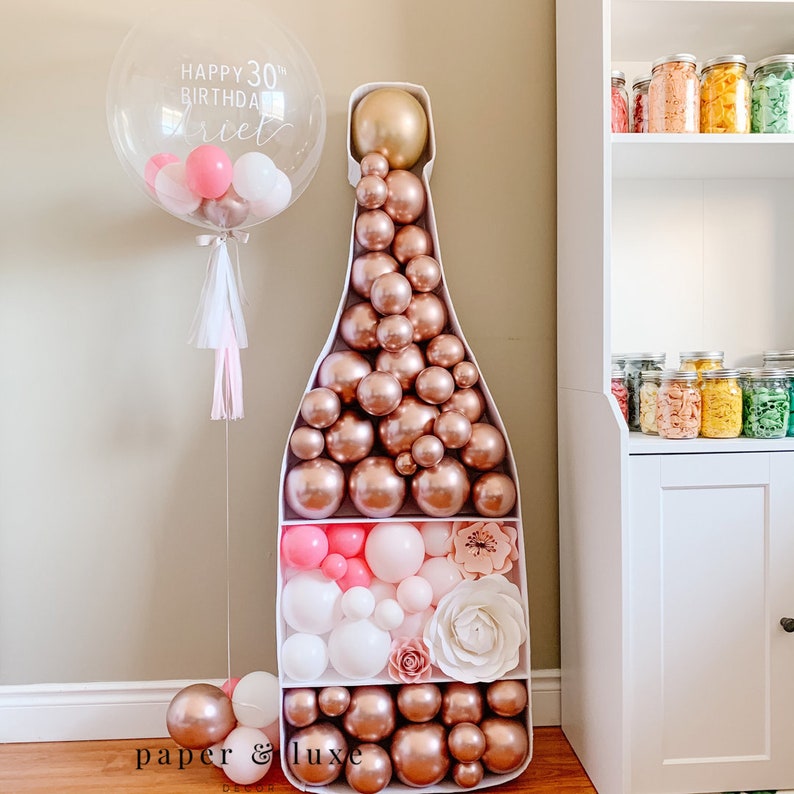 This modern balloon display is perfect for a Brunch and Bubbly bridal shower. This is a gorgeous champagne bottle filled with pink, white, and rose gold balloons. If you want more ideas for a Brunch and Bubbly click here.
Rose Gold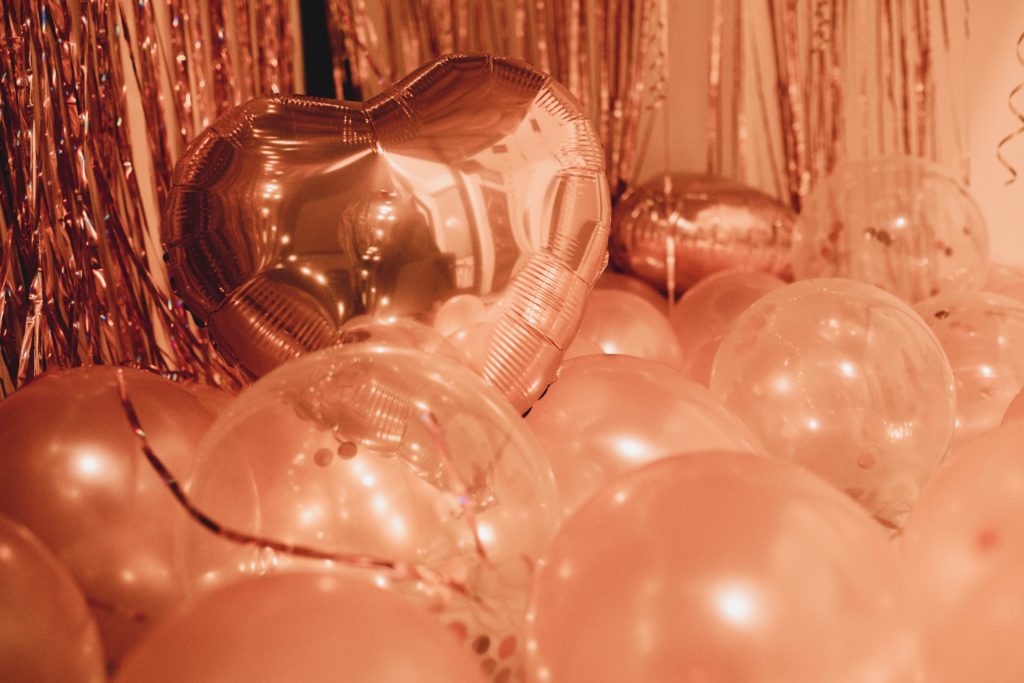 One of the best bridal shower color ideas is rose gold. This color goes beyond the popular pink and blush colors. Rose gold adds luxury and glamor to bridal shower decorations. It is perfect for any feminine bridal shower theme.
Having a rose gold backdrop or balloons could really make a difference in the bridal shower decor. In this picture, there are heart-shaped rose gold balloons paired with clear rose old confetti balloons. This makes the decorations look more extravagant.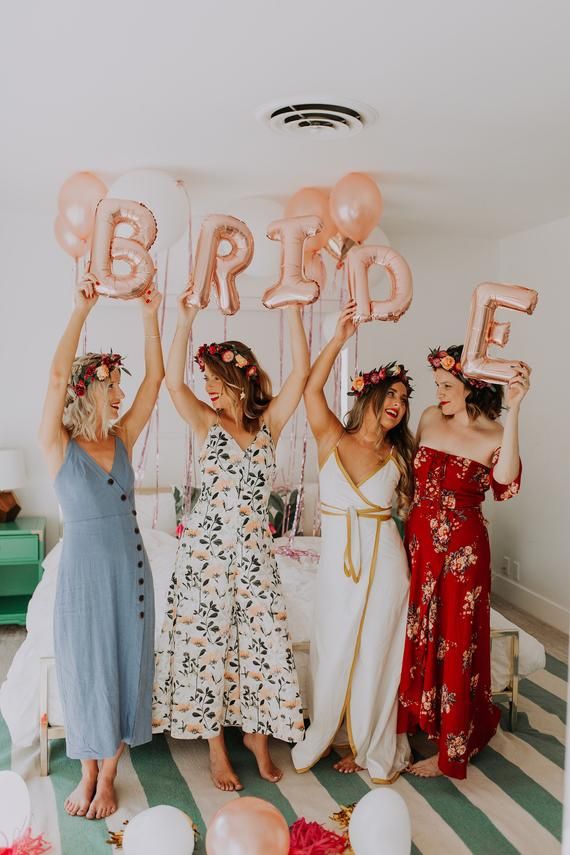 One popular way to incorporate rose gold is in the bridal shower cake. See popular Rose Gold Bridal Shower Cake Ideas
Bridal Shower Banner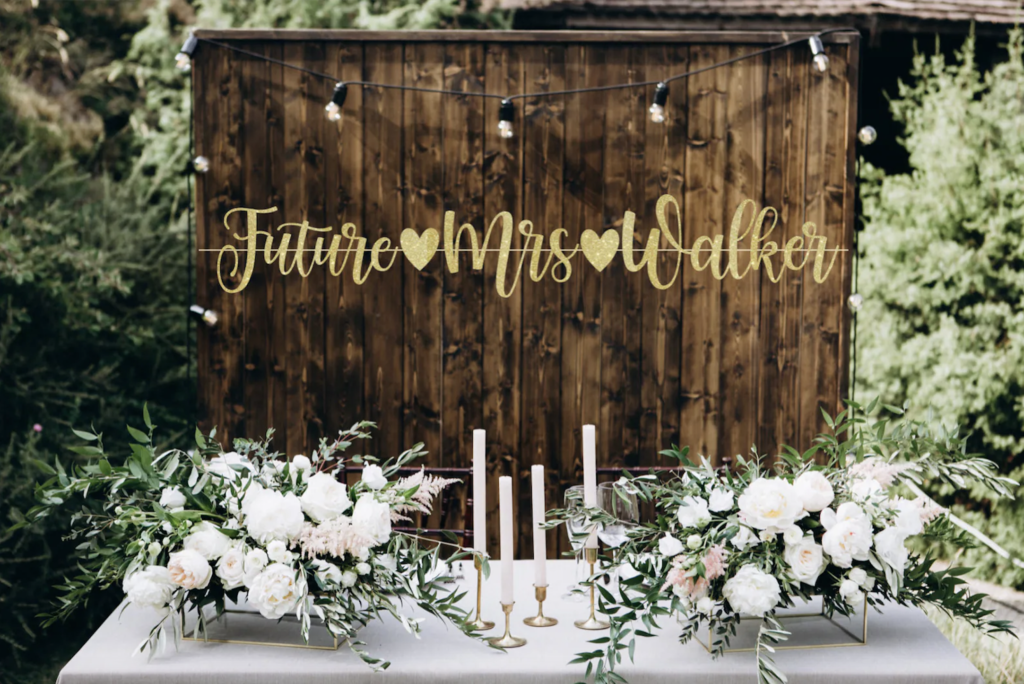 The banner is the main element in the bridal shower backdrop. This is where you could get really creative with what the banner says. Some popular banner sayings are "future Mrs." and "Bride to Be."
A great bridal shower banner will make guests take a look and read your message for the bride-to-be. Banners play an important role in showcasing the event to a large group of people.
A quick view of it brings out any wall or dessert table. They could be original, theme-based, or classic. they could have glitter or have balloons and streamers. The main thing is, there has to be a creative banner for the bridal shower you will be hosting.
Photo Backdrop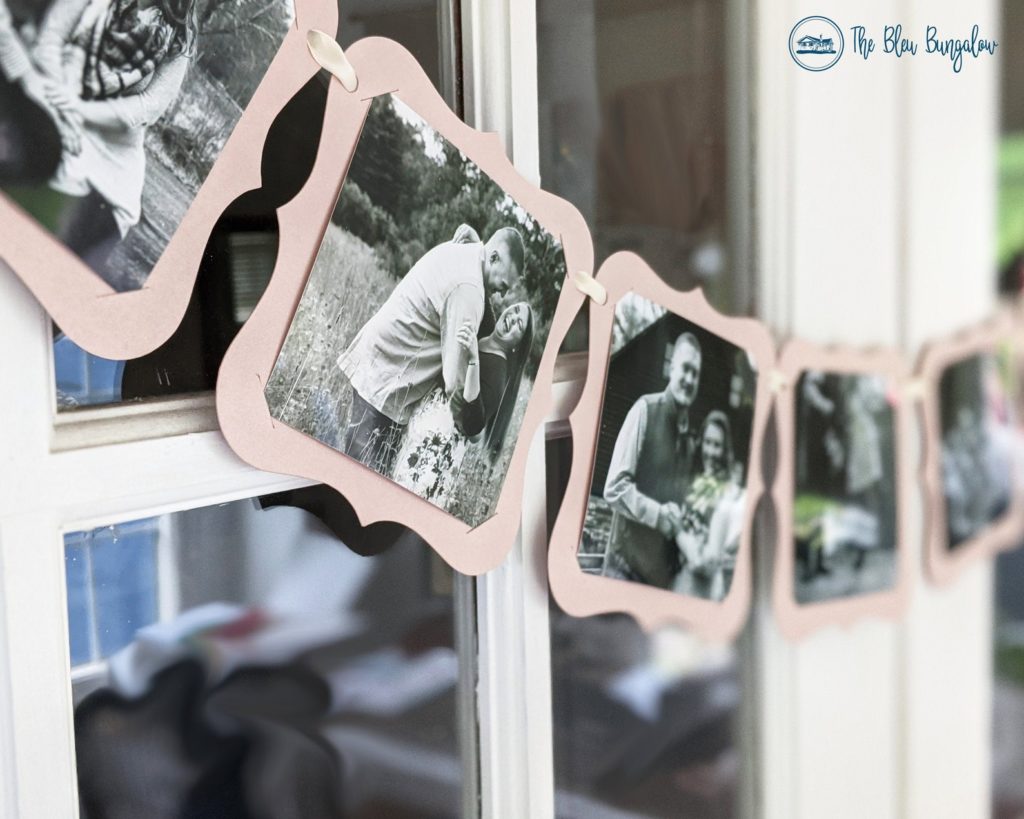 Instead of having a banner with the bride's name or a certain phrase, you could also use a banner with pictures of the couple. This is one way to incorporate a photo display in the bridal shower decor.
Bridal Shower Chair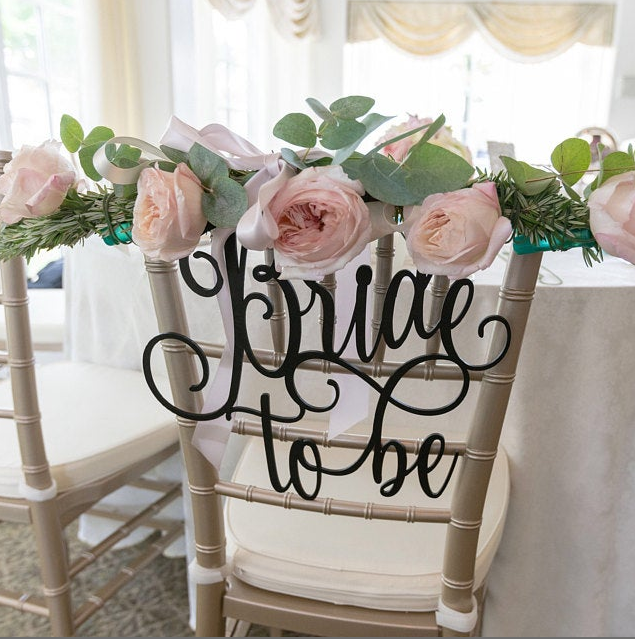 Decorate her seat so that she feels special. This is another great idea for taking photos. Decorate the bride-to-be's chair with tulle, flowers, balloons and so much more.
If you are interested in decorating your own bridal shower chair, see full tutorial HERE.
Macarons
Macarons are one of the most prettiest and delectable desserts we've ever experienced. They are dainty, colorful, and delicious. Macarons are an extra special treat because they are considered a fancy French dessert that tends to be pricey.
Once you have about 50 macarons you will need a fabulous way to display them on the dessert table. Yopu could do this by creating a bridal shower macaron tower.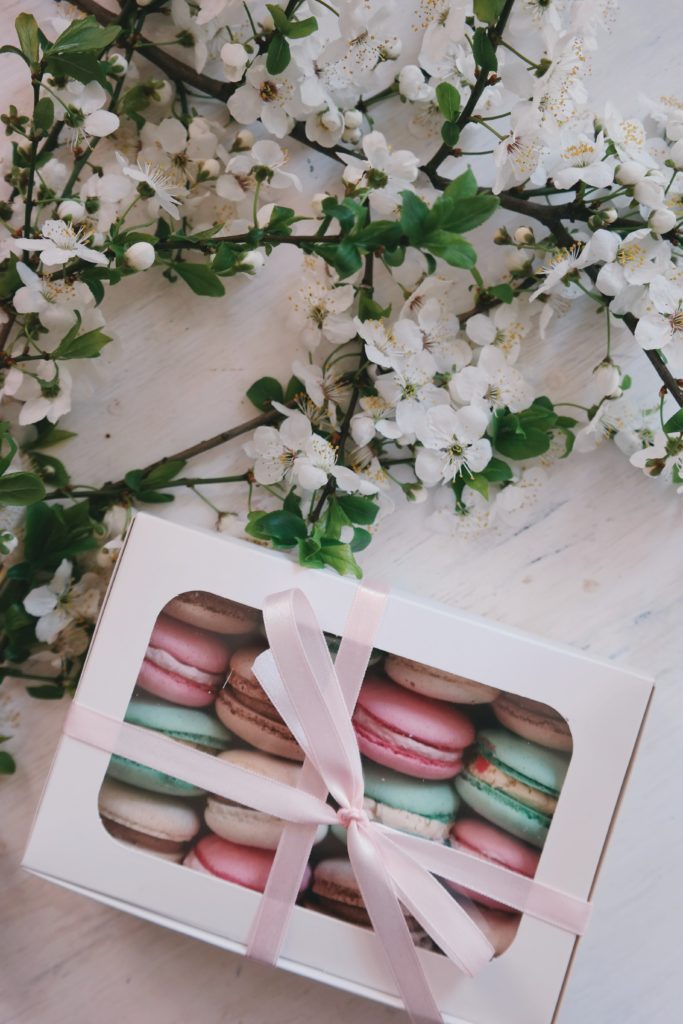 Macraron makes great bridal shower favors and take home gifts. Click here for a free macaron piping template.
Rustic Decor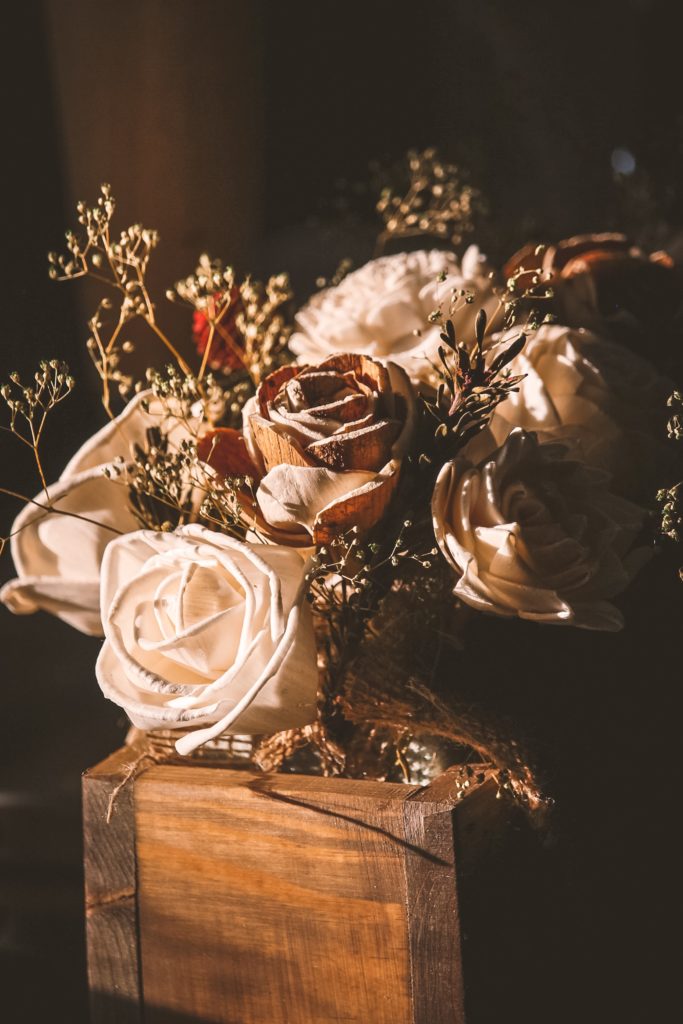 Natural, beautiful and calming is the best way to describe a rustic bridal shower. It really brings out the best of nature and decor. There are so many ways to include rustic designs in a bridal shower theme. Rustic designs include wood, grass and other lush elements.
Featured Image Credit: Party Town Decor
RELATED : 17 Free Printable Bridal Shower Games