Disclosure: This post contains affiliate links, meaning we earn commissions if you shop through the links below. Please read my disclaimer for more info.
Close your eyes and picture yourself on wedding morning- you're getting glammed up with your girls, sipping on some bubbly, and listening to your favorite jams. Now, what's missing from this scene?
Your getting ready outfits of course! Before you slip into that gorgeous gown, you'll need a picture-perfect pajama set to match with your bridal party.
To help you decide on which bridesmaid pajama sets work best for your group, check out our 11 favorite styles for all shapes, sizes, and seasons!
1. Satin Bridesmaid Pajamas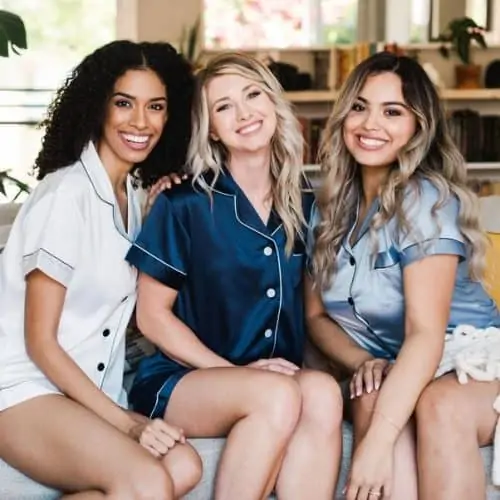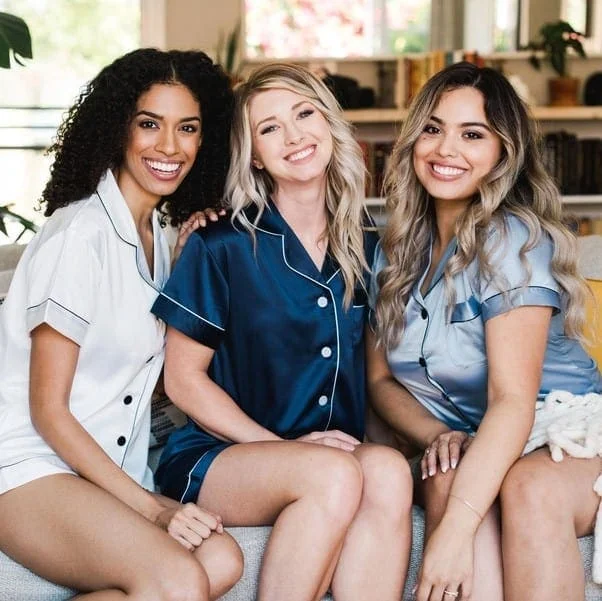 BUY ON ETSY
If you're aiming for a classic and elegant look, you can never go wrong with a satin silk pajama set. This style features a button-down design with a left breast pocket and is available in ten colors with the option to be personalized with a monogram!
---
2. Floral Pajama Sets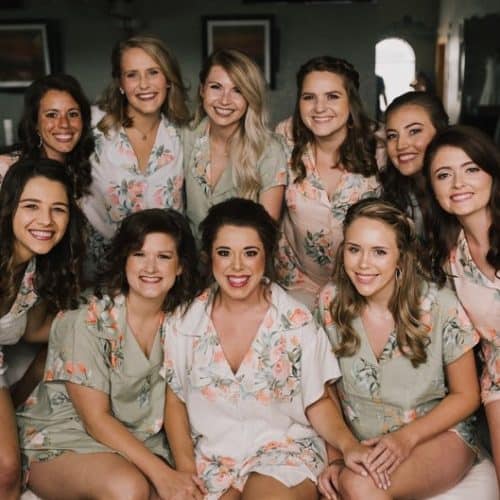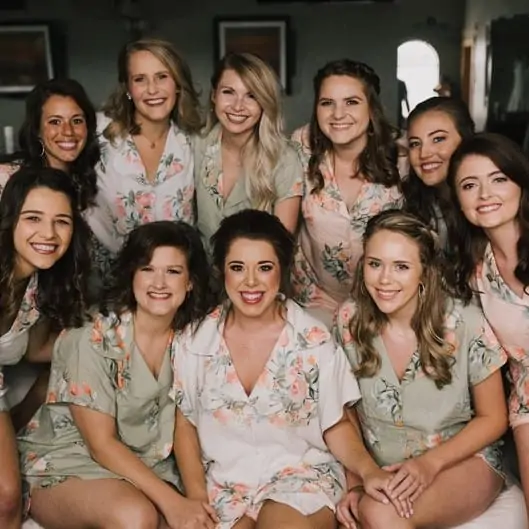 BUY ON ETSY
Want to add a bit more flair to your bridesmaid PJs? These gorgeous floral sets are made from premium quality rayon and are available in over 40 colors, making them perfect for a mismatched look!
---
3. Mismatched Bridal Party Pajamas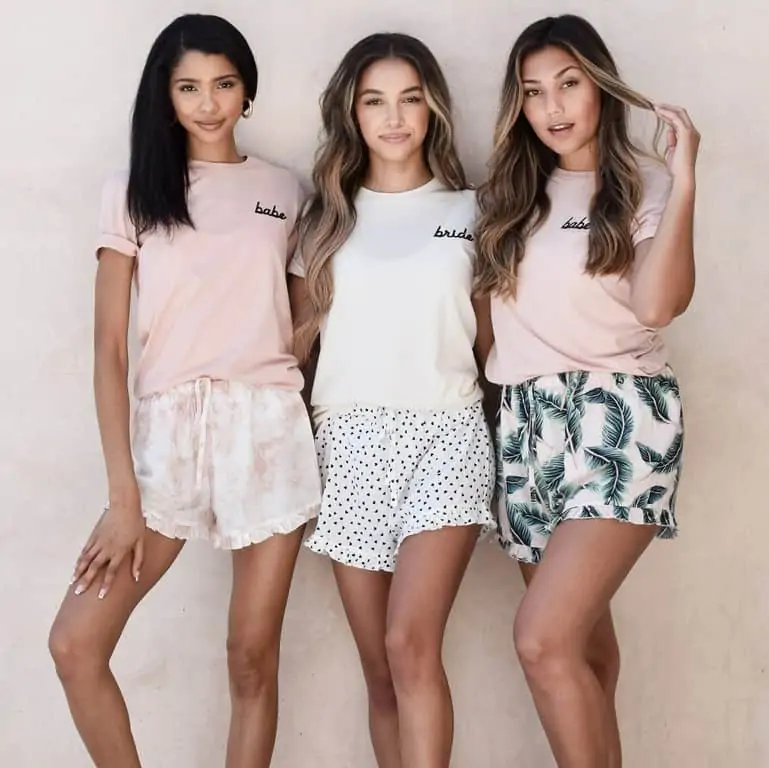 BUY ON ETSY
Speaking of mismatched, this pajama shirt and short set is perfect for those wanting a more casual vibe. Mix and match between four shirt colors and four short patterns for the ultimate look.
---
4. Long-Sleeve Bridesmaid Pajama Sets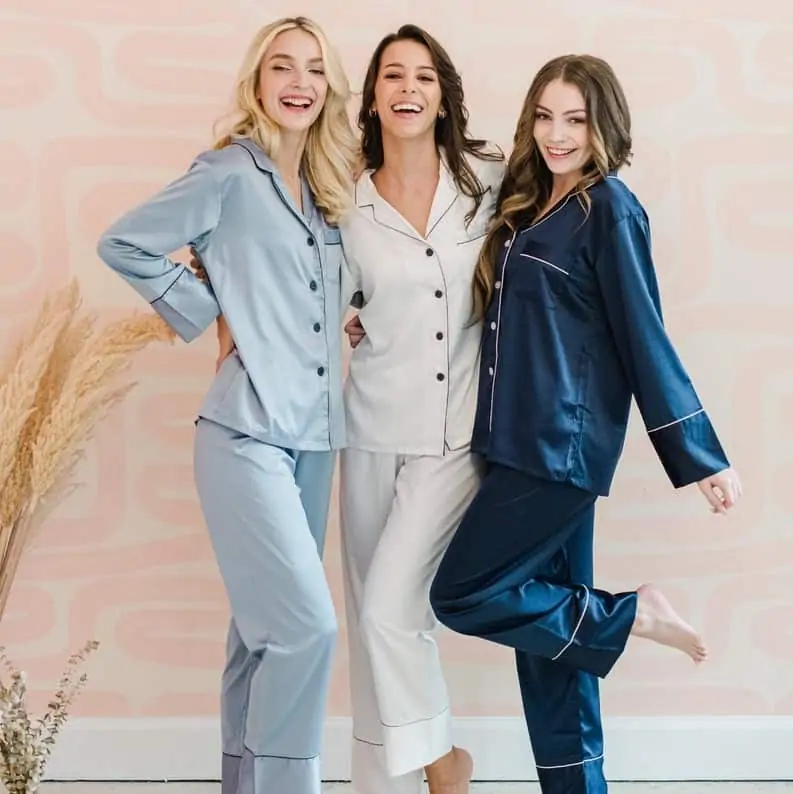 BUY ON ETSY
If you're getting married during the colder months, or simply want a cozier option, then this long-sleeve and pant pajama set is for you. Available in nine colors, this silky set can be personalized with front or back monograms.
---
5. Flannel Bridesmaid PJs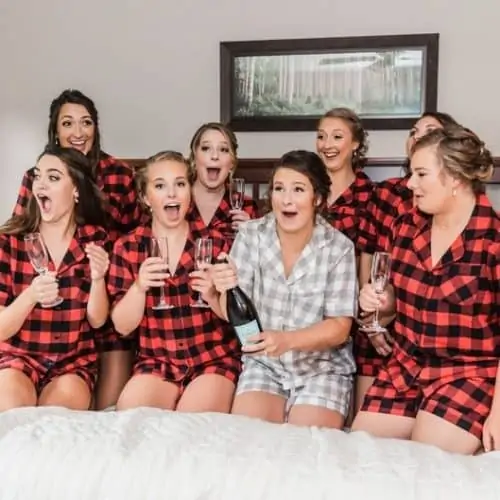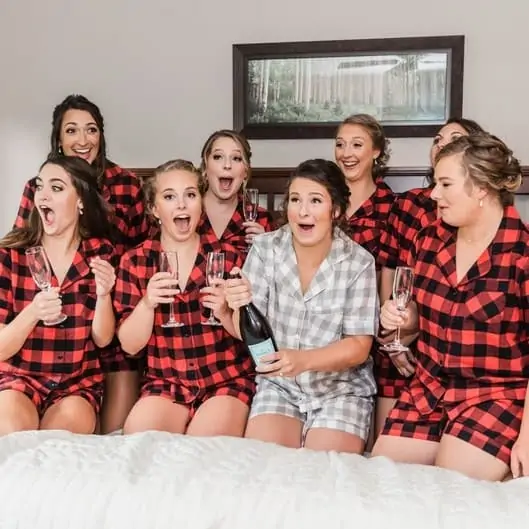 BUY ON ETSY
Step up your cozy game with these double-brushed flannel bridal party pajamas. Choose from 18 different plaid patterns, all available in any combination of short or long sleeve shirts and pants.
---
6. Bridesmaid Sleep Shirts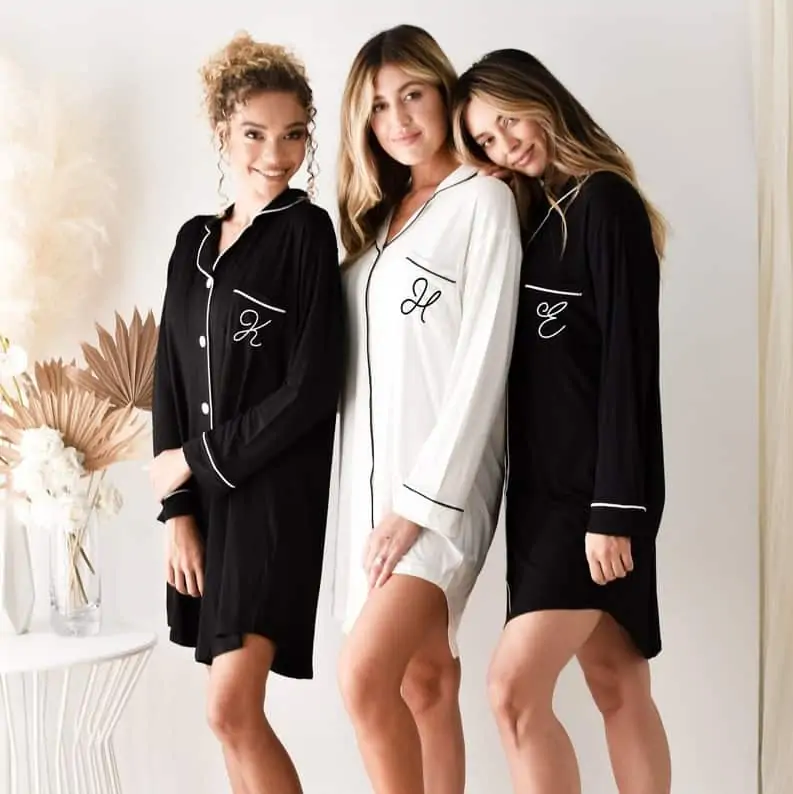 BUY ON ETSY
Turn your wedding morning into a no-pants party with these adorable bridesmaid sleep shirts! A fun spin on traditional bridal party robes, these shirts are available in four colors and come customized with a monogrammed initial.
---
7. Personalized Bridal Party Pajama Sets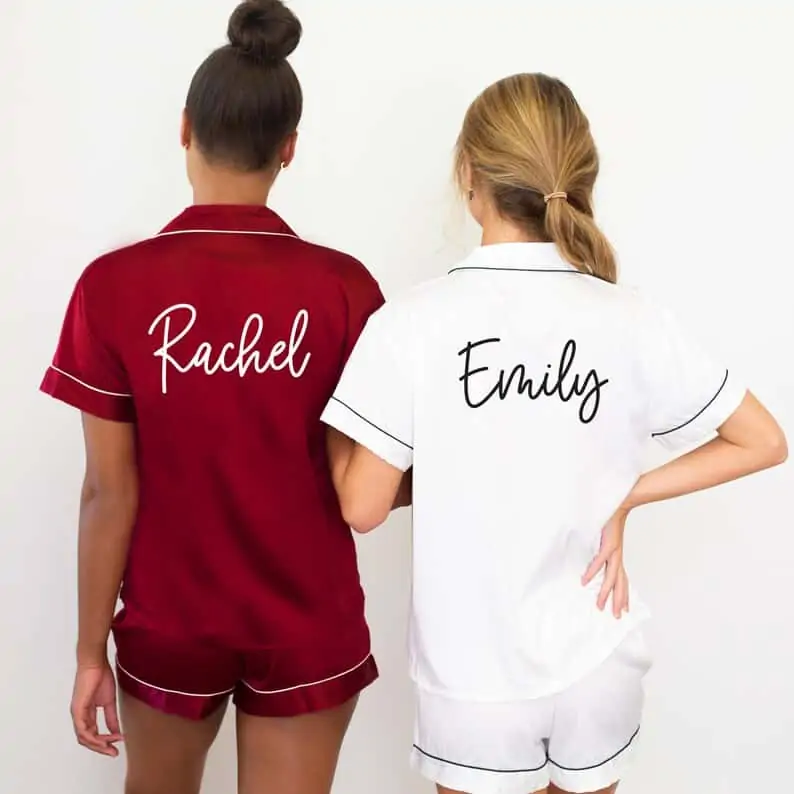 BUY ON ETSY
For an extra special personal touch, get your bridal party these custom pajamas that feature their name or monogrammed initials (or both!) This silk satin fabric comes available in seven colors with five font colors to choose from.
---
8. Tie-Dye Pajama Sets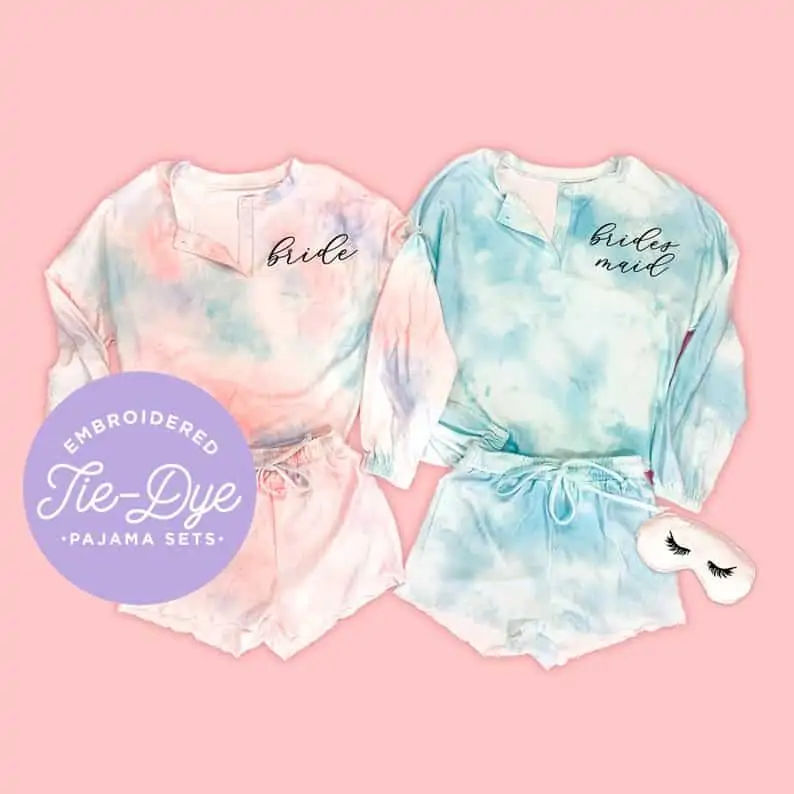 BUY ON ETSY
Get ready in retro-chic style with these trendy tie-dye pajama sets. Featuring a long-sleeve henley button top and scalloped-edge shorts, this suede set is available in five fun tie-dye color combinations.
---
9. Tropical Bridesmaid Pajamas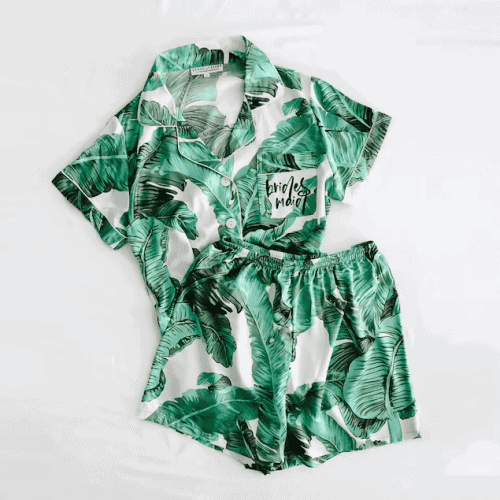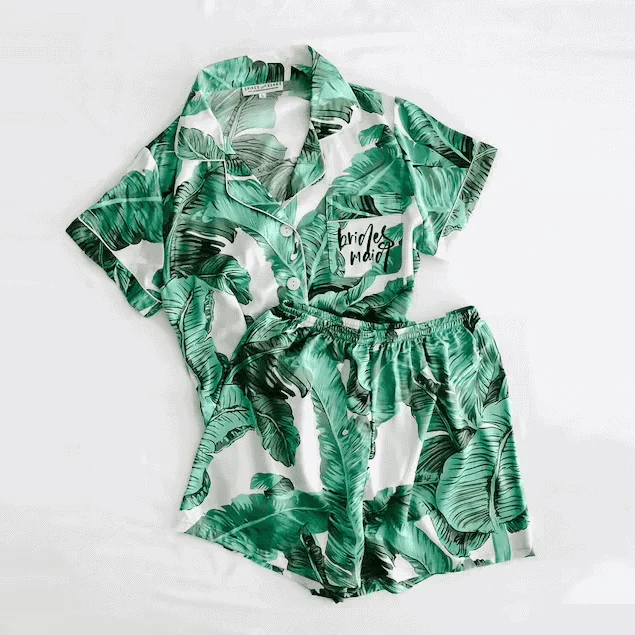 BUY ON ETSY
For those getting married on the beach, or at a tropical location, these palm leaf pajamas are the perfect touch! You even have the option to customize this set with names, logos, or monograms in 17 different styles.
---
10. Camisole PJ Set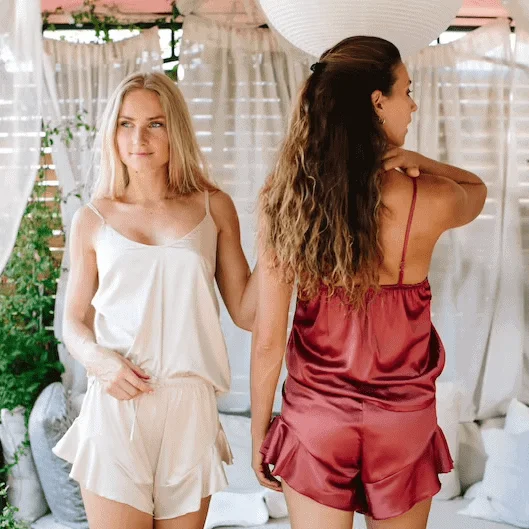 BUY ON ETSY
Lose the sleeves with these stylish satin camisole sets, perfect for getting ready on those hot summer mornings. Available in 12 colors, these bridesmaid pajamas are definitely something your girls will wear again!
---
11. Bridesmaid Rompers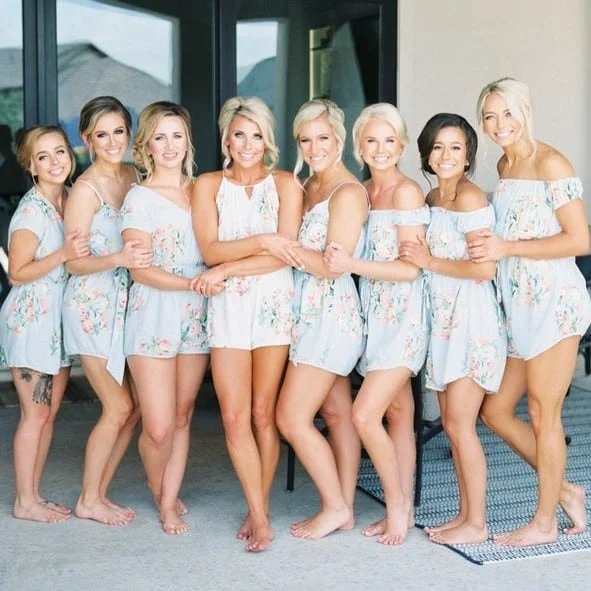 BUY ON ETSY
If you're searching for a totally unique getting-ready outfit, check out these beautiful bridesmaid rompers. Available in over 40 colors and 10 styles, these rompers can be mixed and matched to achieve your perfect look!
WHAT'S NEXT: 4 Places to Buy Affordable Bridesmaid Dresses Online