This blog post is all about a beach-themed bridal shower.
Are you thinking of hosting a beach-themed bridal shower? Then we have a bunch of ideas in store for you! Whether you want to relax on the beach and be a beach bum or take photos with the bride by the water, this theme would be amazing.
There are so many ideas you could do to accomplish a cute beach bridal shower. All you will need is some beach chairs, towels, and refreshments at the very least. If you want it to be a bit more sophisticated, keep reading to see our ideas.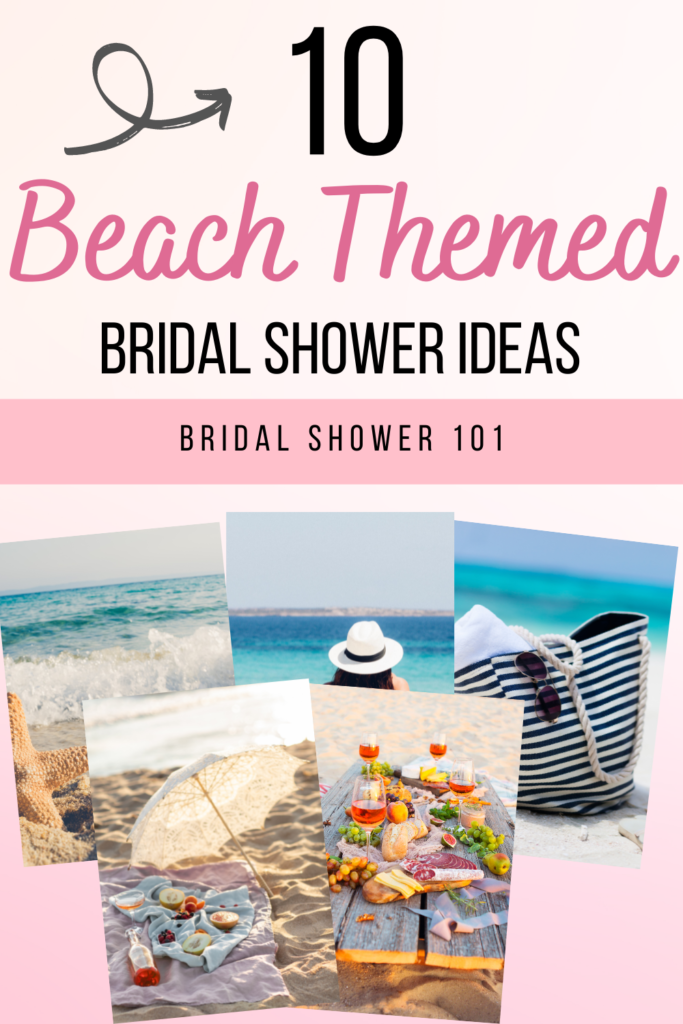 If you are planning a beach wedding then having a beach-themed bridal shower is a very good way to really set the stage for the wedding day. Some things that you could feature in the theme are starfish, coral, seashells and so much more.
In this blog post, we will give you ideas for beachy bridal shower invitations, decorations, games, gifts, treats and so much more. By the end of this post, we hope you have enough inspiration for throwing a beach wedding shower.
This post may contain affiliate links. That means I'll receive a commission if you purchase through my link, at no extra cost to you. Please read the full disclosure HERE.
Invitations
If you are having a beach theme, then you should set the tone of the event with matching invitations. In this example, the invitation shows a beach with summer sky and sand. They are very ideal for a daytime event on the beach.
There are plenty of other examples that are more specific with things such as seashells and starfish designs for bridal shower invitations. You could even take it to the next level and feature a mermaid on the invitations. Click here for more mermaid bridal shower ideas.
Decorations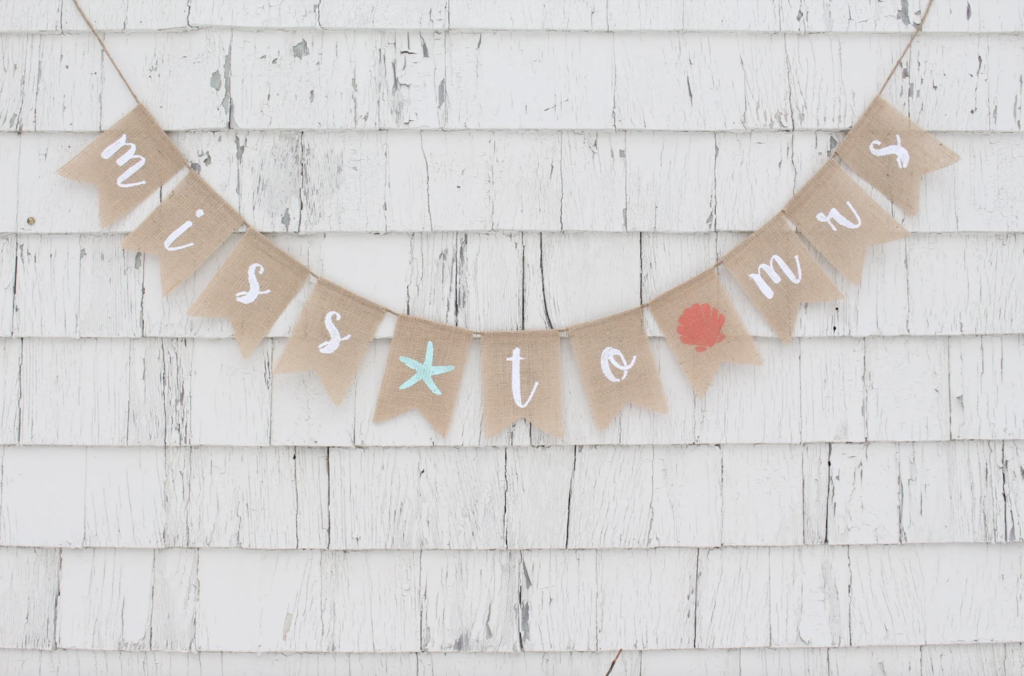 Beach bridal shower decorations are a must! This beach-themed banner is great for a bridal shower taking place at a beach house. This could be placed over a dessert table or across the beach umbrellas set or tent on the beach. This is a great thing to have if part of the bridal shower is taking place indoors.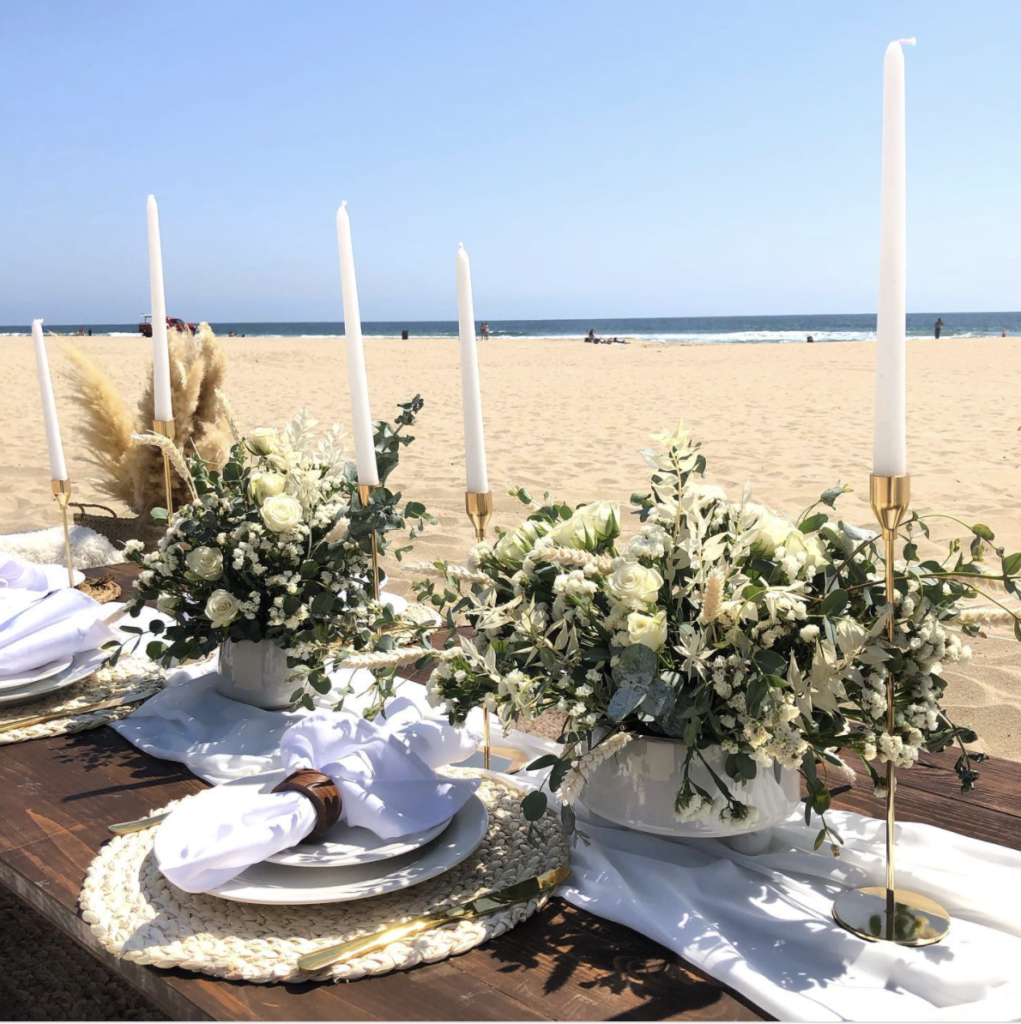 Here is an example of a beach bridal shower table if it is taking place outdoors this is an elegant setup full of florals and candles.
This is so amazing with the sand on the beach in the background. There are so many options for elegant beach-themed tables or simple table ideas for the beach.
Food
You would obviously want to serve seafood or maybe picnic food for a bridal shower on the beach. For example, sandwiched, tuna melts, and lemonade if you are having a picnic.
Or if you want more seafood have some fish, shrimp clams, and more. You could have a local seafood restaurant cater the event if you don't want to cook.
You have to have sweets at any bridal shower. The beach-inspired cookies are so cute they make a great addition to a beach party dessert table.
Since cookies are good for treats and party favors these are sure to make a splash at the event.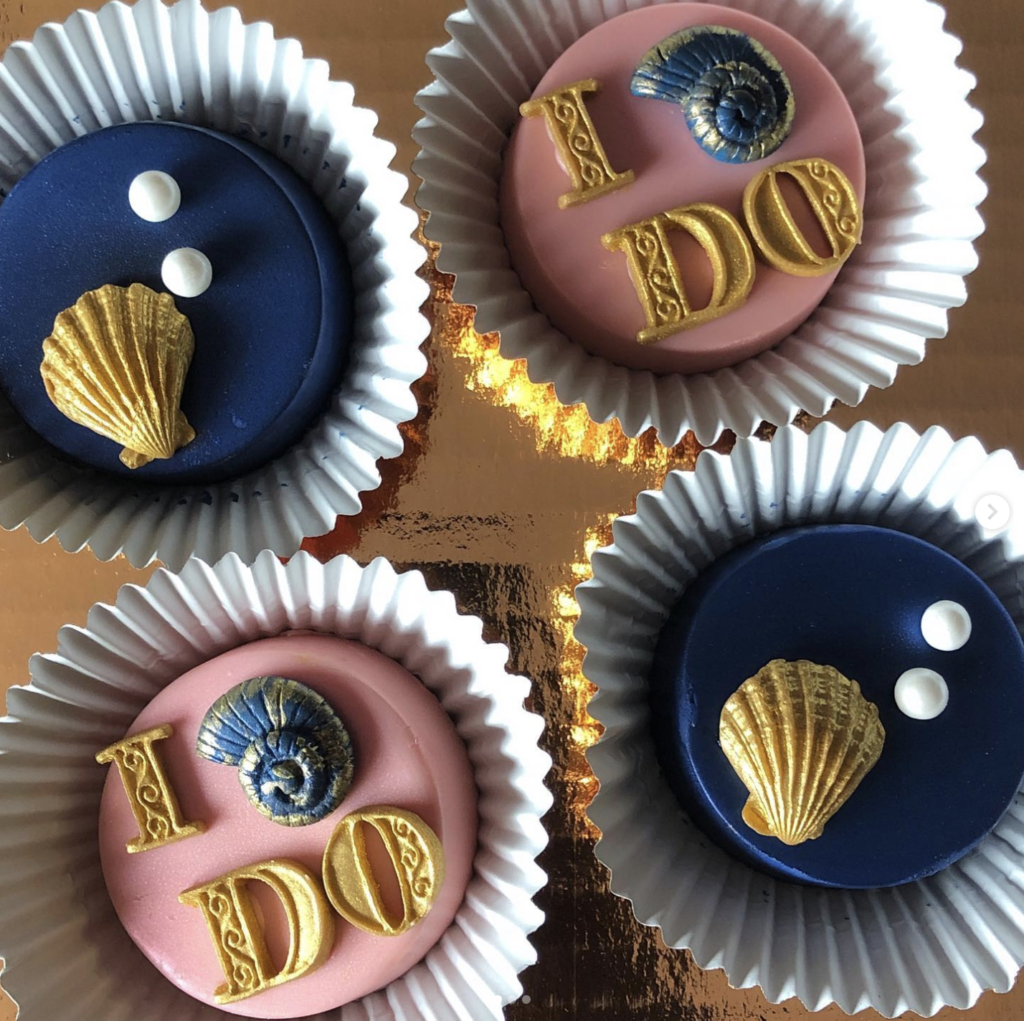 More examples for a bridal shower dessert. These cupcakes are decorated with shells and look too good to eat. Know that bridal showers are all about the little details.
Notice how there are delicately pearls placed on the cupcakes.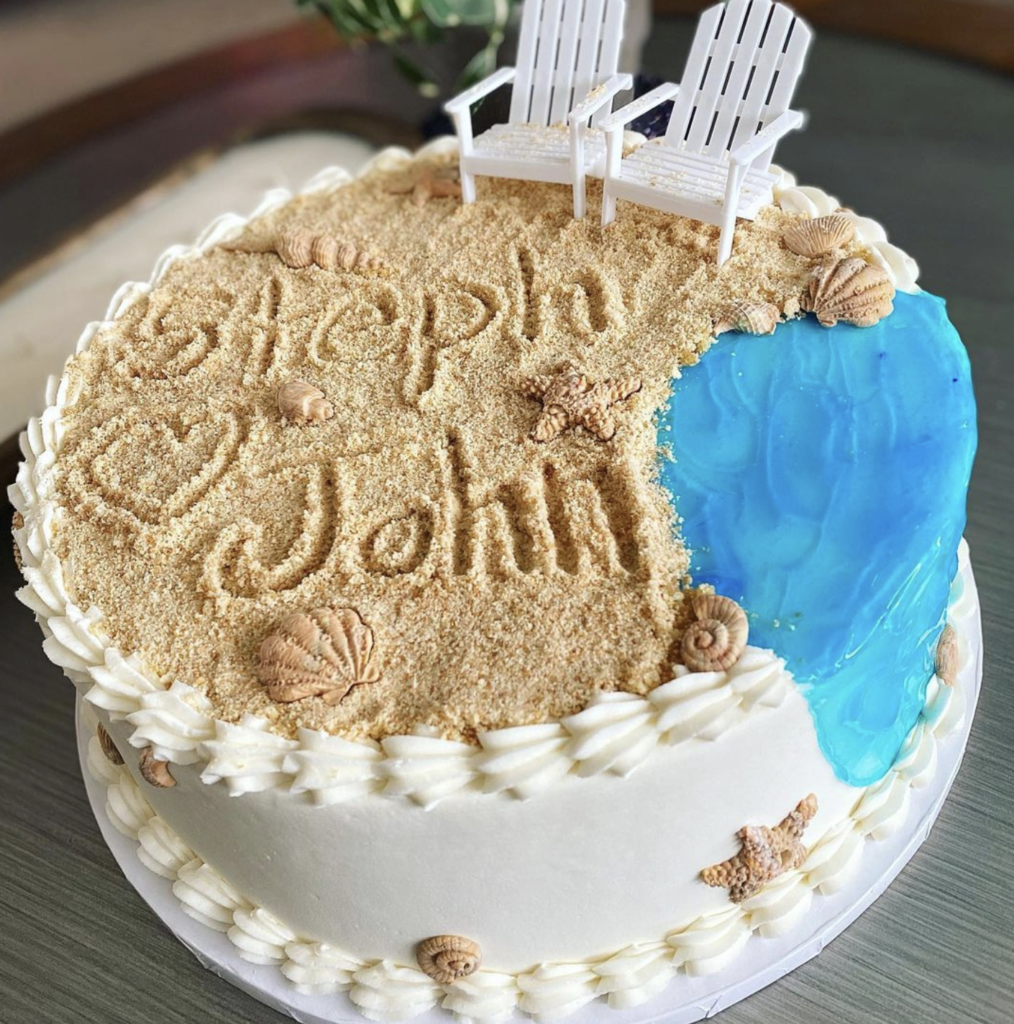 This wedding shower cake is beautiful for a beach party. We just love how the creator used crushed graham crackers to resemble sand.
Their names look like the couple's names were written with a stick in the sand. The beach chairs at the top really make it extra special.
Attire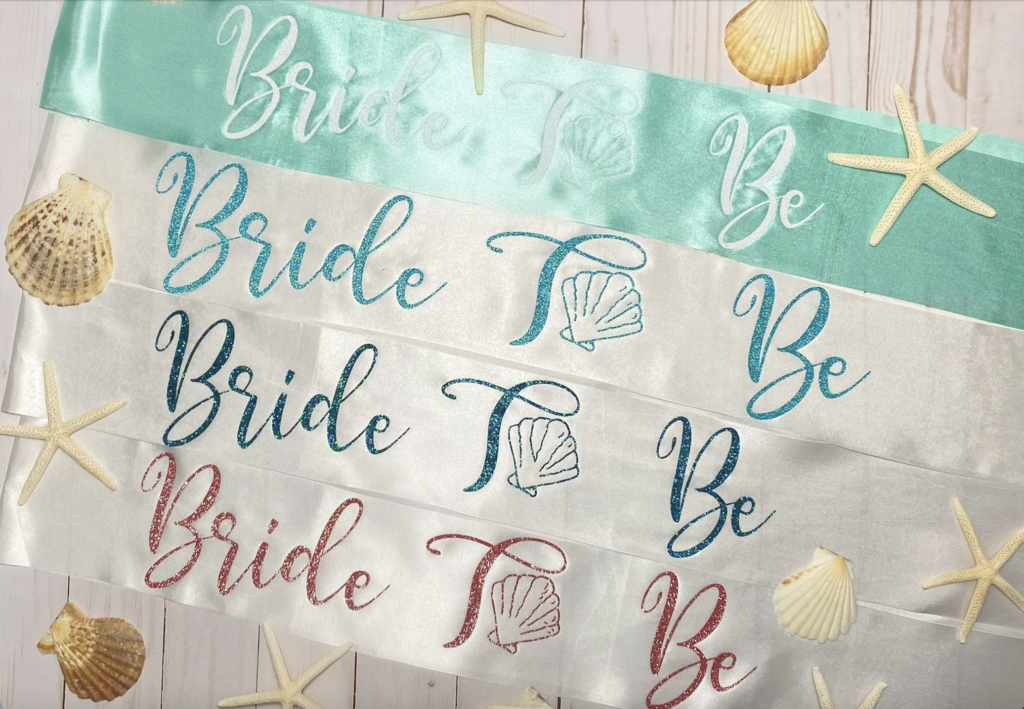 We can't talk about this bridal shower theme without talking about attire. Yes, there are other things that you can wear besides your bathing suit lol.
One thing we thought of is the cute bride-to-be sash that is ocean-themed. It's cute if you know the bride-to-be wants something a little extra to wear on her special day.
Gifts and Favors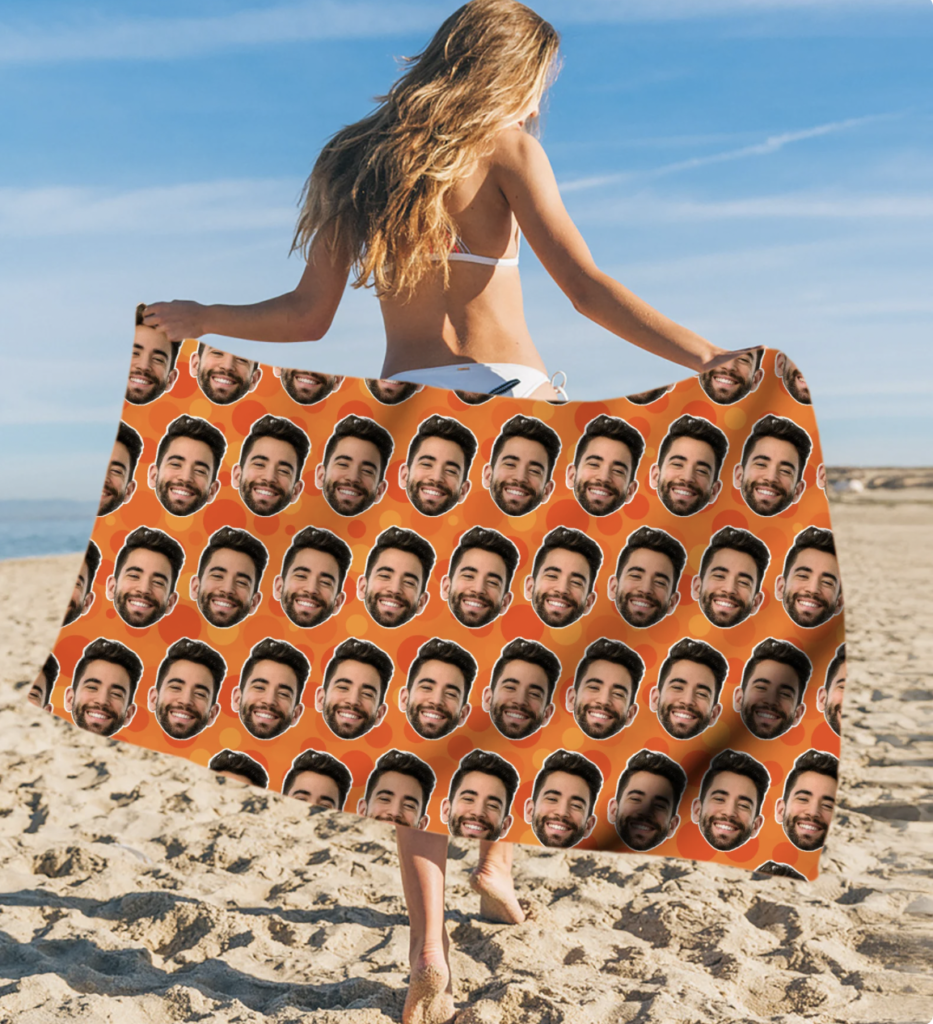 Here's a special gift that you can give the bride-to-be. This is a personalized beach towel with her groom-to-be's face all over it. This is definitely a gag gift but a gift that would definitely fit the beach theme.
We like this gift because it is practical and inexpensive, but it has a creative vibe. It is a gift that the groom will laugh about and the bride would appreciate in the future.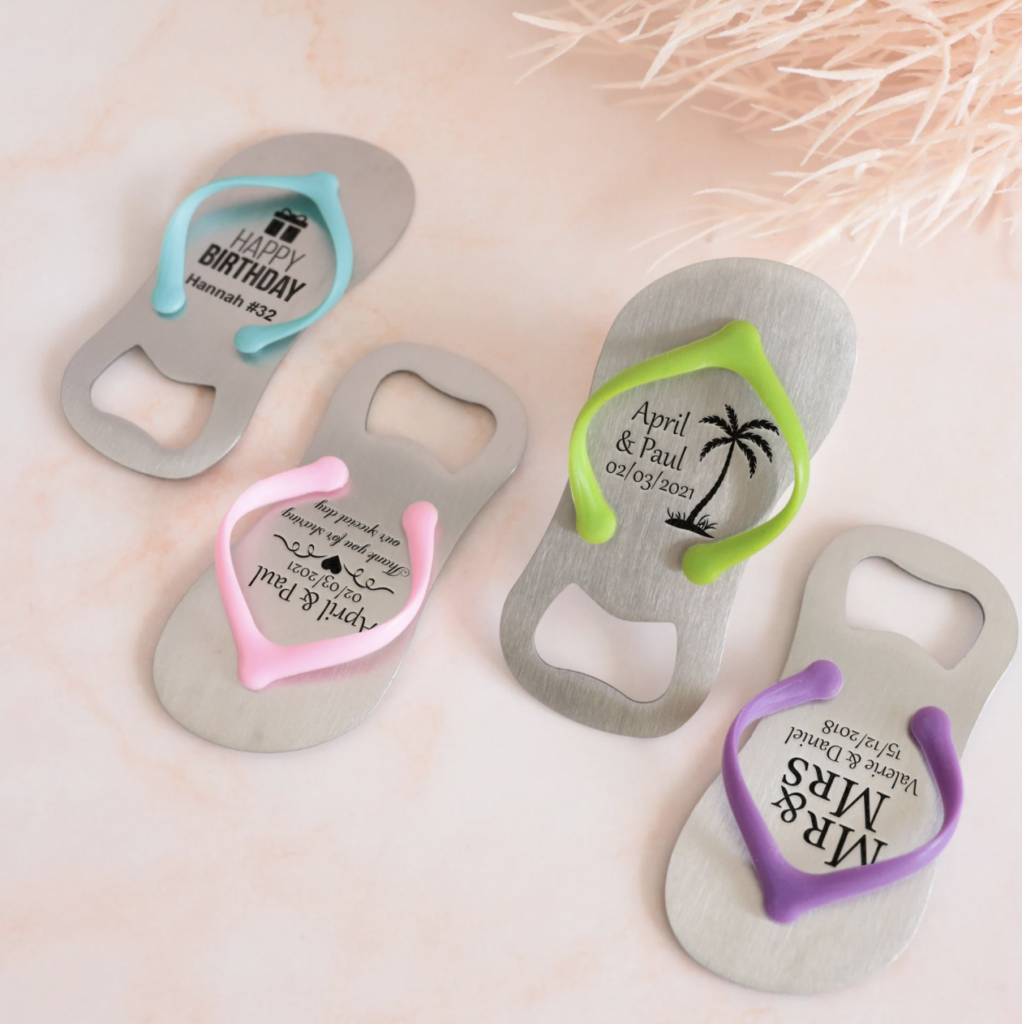 Flip-flop bottle openers make great favors for a beach-themed bridal shower. In this example, you see ideas for birthdays engagement parties and bridal showers.
They come in a variety of colors and designs. Give them away to guests we can then attach them to their keys and they make a cute little keychain.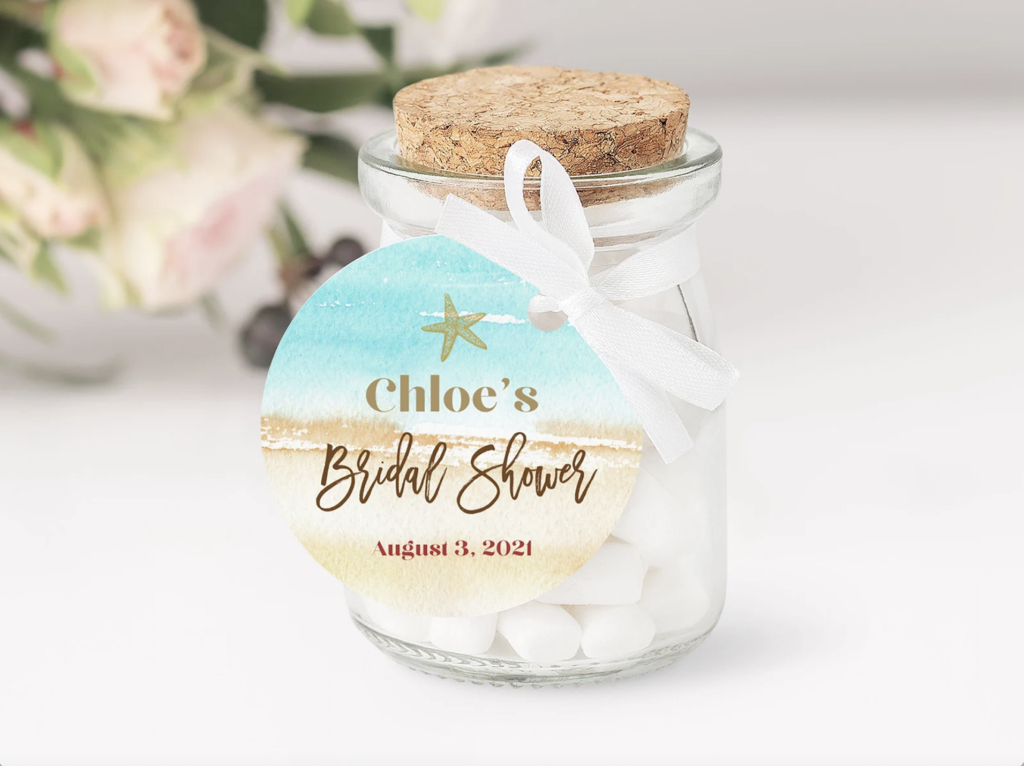 Along with any favors be sure to include these cute beach-themed bridal shower favor tags. They are the perfect addition to beachy favors like sunscreen, sunglasses, and seashells.
We hope you enjoyed these ideas for a beach bridal shower theme. You now have everything you will need to come up with something special on the beach for the couple.